Ocean Monarch preparing to drill in the Otway basin
Jul 31st, 2019

Cooper Energy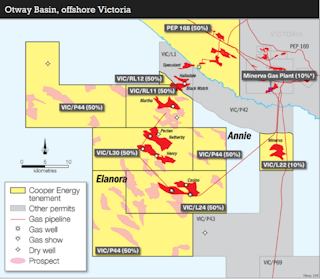 Cooper EnergyOffshore staff
ADELAIDE, Australia – Diamond Offshore's semisubmersible Ocean Monarch has mobilized from the Gippsland basin offshore southeast Australia to the Otway basin, where it is due to drill two wells for Cooper Energy.
Annie-1 and Elanora-1 will be the first offshore gas exploration wells in this basin in seven years, Cooper added.
The company and partner Mitsui E&P Australia will look to develop any ensuing commercial discoveries through the Casino Henry gas infrastructure.
The Ocean Monarch was due to arrive on location at the Annie-1 well-site, 9 km (5.6 mi) offshore Peterborough, today, with the well likely to take 35 days to drill.
Both wells will target reservoirs that are gas-producing in nearby fields: Annie's primary target is the Waarre 'C' reservoir producing at Minerva and Casino-5, while Elanora's is the Waarre 'A' reservoir producing at Casino-4, Henry, and Netherby.
Cooper estimates prospective resources at 71 bcf and 100 bcf, adding that successes could de-risk the remaining prospect inventory in the area.
Subsequent development or appraisal wells could follow during 2020/21, for possible connection to the onshore Minerva Gas Plant.
Planning continues for processing of Casino Henry's gas through this complex, and of the Minerva Cutback Project. The latter would involve connecting the Casino subsea pipeline to the onshore section of the existing pipeline to Minerva, and the Casino Henry control system to the Minerva Gas Plant control room.
A development well could also follow on Henry.
07/31/2019