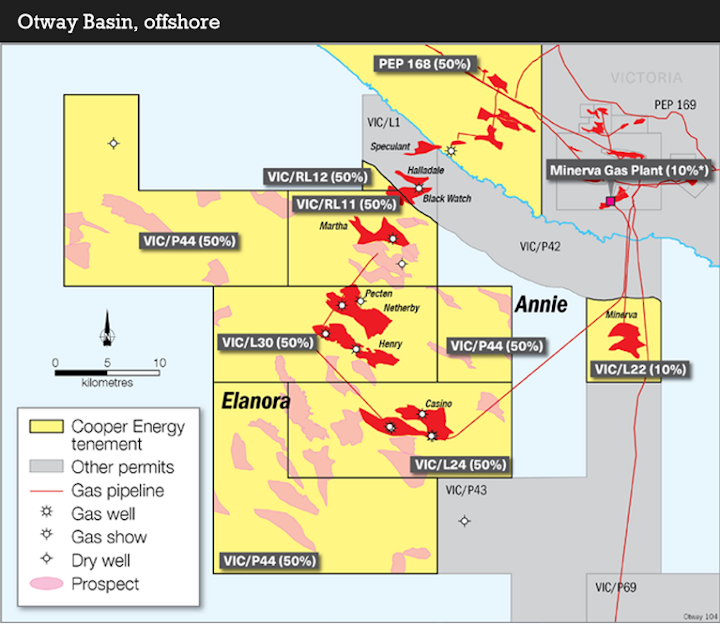 Offshore staff
ADELAIDE, Australia – Cooper Energy expects to drill exploration wells this year on the Annie and Elanora prospects in the VIC/P44 permit in the Otway basin offshore Victoria, Australia.
This follows interpretation of 3D seismic and a re-evaluation of prospectivity in the permit, and approval by the joint venture partnership.
Both prospects are close to established offshore production infrastructure with future access to processing and market via the onshore Minerva gas plant.
Combined prospective resources could be more than 170 bcf, with a 56% chance of success at Annie-1 and 44% at Elanora (both prospects are said to exhibit seismic amplitudes that indicate gas).
Positive drilling results could also de-risk the remaining prospect inventory across the permit.
Preparations are under way for the Diamond Offshore semisubmersibleOcean Monarch to drill the wells in the June quarter, after it has completed a campaign for Esso Australia in the same region.
Elsewhere in the Otway basin, a subsea control system issue that caused production from the Netherby-1 well to be suspended last August will be addressed via a repair and upgrade campaign scheduled for April.
The work will include restoration of full control system functionality and operational redundancy, and upgrades to facilitate connection of additional wells in the event of successes at Annie/Elanora.
Front-end engineering and subsurface studies continue for a development well on the offshore Henry field, pending joint venture approval. Subject to rig availability, the well could be drilled in late 2020/early 2021.
Cooper's Sole offshore gas project in the Gippsland basin was 86% complete at the end of last year. Main achievements during the December quarter included laying of 65 km (40 mi) of reeled pipe by theSeven Oceans vessel.
Earlier hydrotest operations had identified isolated damage which led to a 20-m (65.6-ft) section of pipe being removed. A subsequent hydrotest followed of the remaining pipeline.
TheSkandi Acergy is preparing to install the Sole control umbilical next month. Remaining offshore work includes repair of the damaged section of pipe, integrity confirmation of the pipeline, final connection and tie-in of the pipeline and control umbilical, and finalization of other project elements prior to first gas, which is currently due to flow in June.
Nearby in the same basin, Cooper is looking to drill an appraisal well on the offshore Manta gas discovery.
The Manta-3 well, which will also test the Manta Deep exploration prospect, could get under way during the December quarter 2020.
01/23/2019