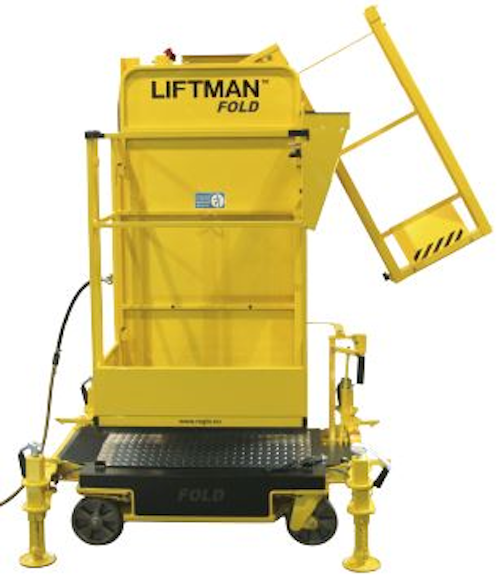 Offshore staff
ANDEBU, Norway – Reglo A/S has introduced its pneumatic manlift to the offshore market.
The Liftman Fold, which is purely driven by compressed air, allows operators to quickly access maintenance and other related work tasks on offshore oil and gas installations.
The manlift is controlled by using a handle and dragging or pushing it into the desired position. When in position, it needs to be connected to compressed air, before it will take the operator up and down for maintenance and normal work in the desired height.
It has a foldable mast which allows the lift to be transported through narrow passages such as doors. It can easily be moved into an elevator and be moved to another level, making the solution very versatile for various job tasks – inside the platform or outside on the deck.
Studies from the six-month pilot project on the Statoil-operated Snorre A semisubmersible platform showed that the lift had a return of investment of less than 45 days and reduced time spent on each maintenance task. This is only related to costs for equivalent rent and use of scaffolding.
Reglo reports that Statoil has ordered more systems for both Snorre A and Snorre B and has also implemented the technology in its LEAN program.
The final product and design is approved and certified by TÜV, UL, and ATEX compliant from DNV.
02/09/2017