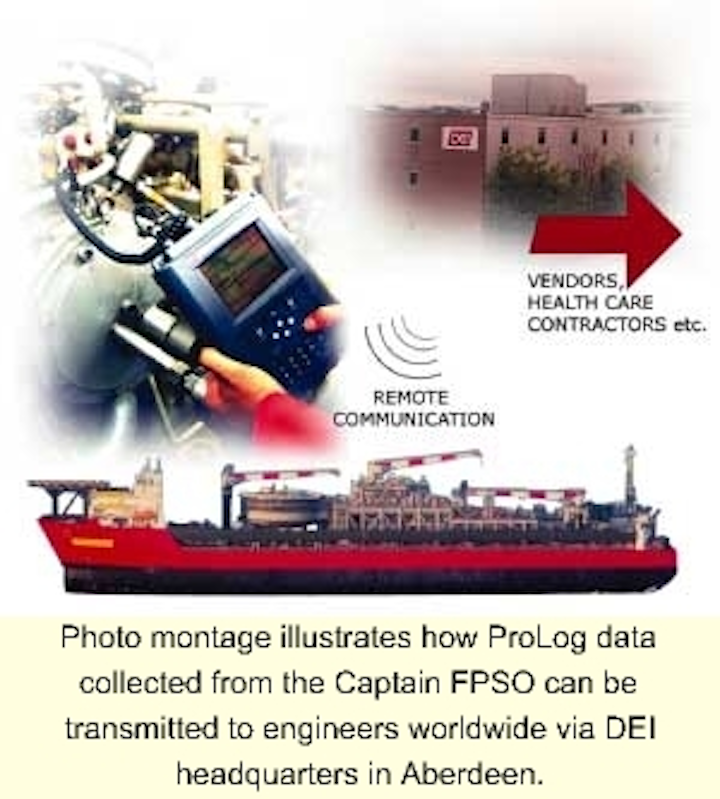 Since joining SKF last year, DEI has become part of a worldwide mainten-ance and condition monitoring group, with over 1,000 personnel. DEI, in turn, is helping SKF consolidate its position in the market, due largely to its client base in the North Sea and Far East.
The local service industry has been at the forefront of moves to cut North Sea operating costs. "Where we can achieve results is through reducing downtime and cutting maintenance expenditure," says DEI's Managing Director Dr Brian Murray.
"The days of carrying out major overhauls of equipment at fixed intervals are gone," he adds. "Today, we have a range of tools that can detect early signs of distress in equipment and we can plan overhauls when they are needed. This minimizes not only maintenance costs but also the risk of losses through equipment being out of service."
Another strand of DEI's activities is to bring a business focus to maintenance planning. "An enlightened view is to regard maintenance as a profit center and to measure the value of maintenance tasks through their profit contribution," Murray claims. Following a DEI-led maintenance review on one North Sea installation, it was able to reduce planned maintenance manhours by half.
BP Miller is another good example. The Miller platform has one of the UK North Sea's lowest lifting costs. Four years ago, operator BP established a millennium project team to manage declining reservoir performance, looking at working methods and establishing a continuous review process. DEI was asked to assist with maintenance optimization. The review involved analyzing the maintenance regime of equipment on the platform using the company's CyberAlpha software to build a model of the economic output of the maintenance factor.
"As production declines and the oil price varies," Murray says, "the approach becomes one of matching maintenance effort to business needs in a structured way rather than by slashing maintenance costs when faced with declining revenue." The same logic applies to spares. By comparing the cost of spares with the risk cost of not holding spares, DEI claims it can typically cut spares procurement costs by 30%.
Laminaria/Captain
"We have a through-life involvement with assets," Murray adds. "On Woodside Energy's Laminaria/Corallina development in the Timor Sea, we were involved from the earliest stages of design of the fields' Northern Endeavor FPSO in developing a cost-effective maintenance and spares strategy. The procedures were then input to Woodside's computerized maintenance management system. DEI was also responsible for ensuring that the client's conventions were applied to the facilities asset register." DEI Australia now has a rolling contract for Laminaria.
In 1998, Texaco's Captain FPSO in the North Sea benefited from another DEI condition monitoring system which provides continual infor-mation about the health of offshore machinery to engineers anywhere in the world. "The Captain system brings together and interprets the wide variety of vibration and process data which is collected on the Captain FPSO and wellhead production platform," says Murray. "It then develops a clear picture of the health of each machine and produces rectification plans for any faults. Engineers can access the data, reports and plans almost in real-time and quickly address any fluctuation or deterioration in equipment performance."
This ability to tap into condition monitoring information is especially useful to contractors remote from the field. In the Captain system's case, this feature has been used by engineers in Sweden. In the Laminaria/Corallina case, that means engineers more than 2,000 miles away in Perth.
Under SKF's stewardship, DEI is now working on the next generation of tools for condition monitoring and reliability engineering. "Our ProLog 2000 system is an interesting example of where the technology is going," Murray says. "ProLog was launched around four years ago as a means of replacing the pencil and paper for collecting watchkeeping information. Instead of writing figures down on a log sheet, which had been traditional practice, the user gathers data on an intrinsically safe electronic notepad, which can then be downloaded onto any computer for further processing." More than 150 ProLog units are already in service in the North Sea, the Middle East and Far East.
"As part of SKF, we are now tapping into global developments in data collection technology and telecommunications. This should transform the way offshore personnel collect and manage information from the field."
For more information contact Sue Archibald, DEI. Tel: +44 1224 723321, Fax: +44 1224 723341, E-mail: archibalds@dei-ltd.co.uk