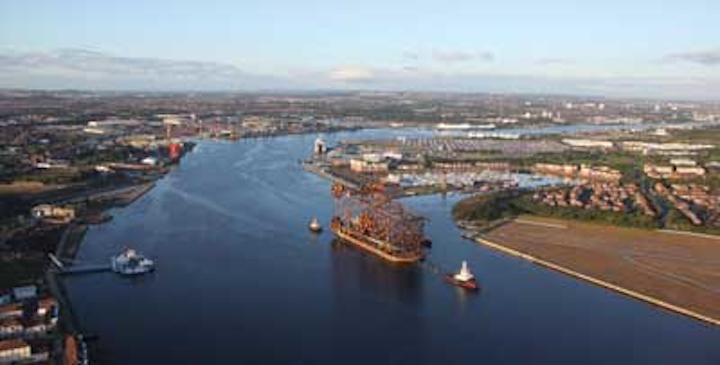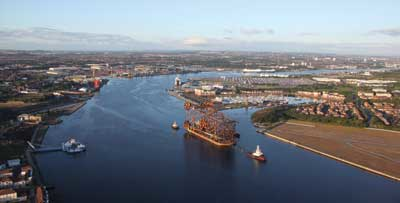 The jacket for Apache Corp.'s Forties Alpha Satellite Platform leaves the OGN yard in Wallsend, England, on the River Tyne. (All photos courtesy Apache)
New platform, better seismic give longevity to North Sea stalwart
Russell McCulley
Senior Technical Editor
Apache Corp. has installed and commissioned the Forties Alpha Satellite Platform (FASP), the latest infrastructure addition at the venerable Forties field. The new structure, linked to the existing Forties Alpha platform by a 90-m (295-ft) bridge, includes a four-pile jacket and deck, weighing a total 17,000 tons, in water depths of about 110 m (360 ft). The FASP adds 18 new well slots to accommodate new drilling to begin this year, boosts processing capacity at the field by as much as 25,000 b/d, adds gas compression capacity for Forties Alpha, and provides additional power generation for field operations.
This year marks the 10th anniversary of Apache's entry into the North Sea with the acquisition of the Forties field from BP, at a cost of roughly $667 million. At its peak in the late 1970s, Forties produced 500,000 b/d; by the time of the 2003 sale of BP's 97% operated interest, production had fallen to about 40,000 b/d and the field had 144 MMboe of proved reserves remaining on the books after the recovery of close to 2.4 Bbbl. Plans had called for the field to cease production by 2013 and for decommissioning to follow.
Technology and considerable capital investment have extended that date by at least a generation. Over a decade of operation, Apache has produced more than 200 MMboe from Forties, and at the end of 2012, estimated proved reserves stood at 114 MMboe. The company has invested some $4.3 billion to upgrade facilities and drill more than 114 new wells, and extended the field's life by almost 20 years. Daily production rates have reached up to 70,000 boe/d, and now run an average 57,000 boe/d.
The Forties infrastructure includes five platforms - Forties Alpha, Bravo, Charlie, Delta, and Echo - in UK block 21/10, along with the new FASP. A subsea field in block 22/6s, Bacchus, which Apache operates with 50% interest, ties back to the Forties Alpha platform. The installations are in water depths ranging between 95 m (312 ft) and 128 m (420 ft) approximately 177 km (110 mi) east-northeast of Aberdeen. Alpha, Charlie, and Delta are drilling, production, and processing platforms; Bravo also has a drilling package but now directly exports fluids to Charlie for processing, and Echo exports production for processing via the Alpha platform. Charlie serves as the central export hub and is connected to Alpha by a 20-in. diameter pipeline, to Bravo by a 14-in. multi-phase production pipeline, and to Delta by an 8-in. flexible pipeline. Forties production is exported via the BP-operated Forties Pipeline System.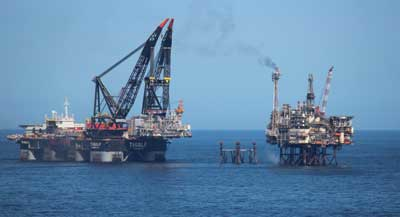 Heerema'sThialf crane barge lifted the FASP topsides into place June 2, 2013.
Soon after acquiring Forties, Apache launched a drilling program off the Echo platform using a jackup rather than the platform's outdated and inefficient drilling equipment, which was removed. The company sought to reduce unplanned downtime by modernizing controls systems at Echo and upgrading and improving equipment throughout the field. A high-pressure gas lift system was installed on the Charlie platform in 2010, and a ring main system was installed to enable power generation from field gas rather than purchased fuel oil.
Jim House, Apache's North Sea divisional managing director, calls this the largest brownfield renovation project conducted in the North Sea. "Virtually all equipment that moved or rotated was replaced or upgraded, from cranes through export pumping systems," he said.
Employing 4D vision
Better imaging has helped the company discover new reserves in a field that was expected to have reached the end of its life by now. To identify "unswept" oil targets, Apache has made extensive use of 4D seismic at Forties. The technique compares data from a series of 3D surveys to create a time lapse view of a formation. In the first half of 2011, the company brought a pair of wells onstream that had been identified through 4D: Charlie 4-3, which began production at a rate of 12,567 b/d of oil, making it the field's most productive well in more than 20 years; and Delta 3-5, which started production at 8,781 b/d of oil. Earlier that year, the Charlie 2-2 well began flowing with an initial production of 11,876 b/d of oil. Apache is scheduled to launch an additional 3D seismic survey soon for further 4D interpretation of Forties.
"Initially, Apache's drilling targets were predominately defined by a successful integrated interpretation approach that focused on direct hydrocarbon indicator and lithology volumes," Jeff Towart, North Sea region exploitation manager, said last year. "However, with the improved 4D seismic volumes, the geoscientists have been able to better define and target unswept oil accumulations in Forties."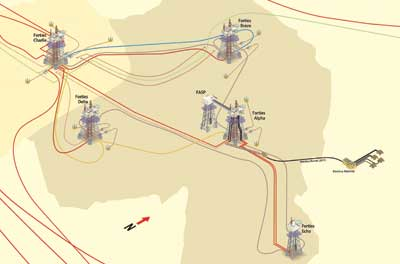 Forties field layout.
Other discoveries have expanded the Forties area's reach: in the past few years, Apache has brought onstream three new fields that produce through the Forties infrastructure. The Maule field started production in mid-2010, about eight months after discovery, at a rate of 11,750 b/d of oil. Maule taps an Eocene-age Brimmond reservoir, identified through 4D seismic interpretation, located above the main Forties Paleocene reservoir. Production has leveled off at 1,300 b/d from two producing wells. Apache has identified further targets within the Maule feature, which it operates with 100% interest.
Apache, with field partners Endeavour International and First Oil, recently drilled a third horizontal well at Bacchus, a Jurassic-aged Fulmar field adjacent to Forties, which came onstream in May 2012. The 2005 discovery ties back to the Alpha platform via a 6.7-km (4.2-mi), 40.5-in. diameter pipeline bundle manufactured by Subsea 7. The bundle includes two insulated 6-in. piggable production lines, two 4-in. heating/produced water reinjection lines, a gas lift line, scale inhibitor, and control system lines with power cables, hydraulic lines, a chemical injection line and a methanol line. The bundle was installed in in 2011 after being launched from the shore near Wick, Scotland. At mid-year, Bacchus was naturally flowing at a rate of more than 11,000 b/d of oil, House says, with a third well due online by now following tie-ins to the subsea manifold.
In April of this year, Apache brought the 100%-owned Tonto field into production, testing over 10,000 b/d of oil. The deviated Tonto-1 well, drilled from the Forties Bravo platform, also taps the Eocene-aged Brimmond reservoir above the main Forties reservoir. Apache recently spudded the second development well; further tests will follow the analysis of data from the seismic program now under way at Forties, House says.
Made in the UK
In early June, Heerema'sThialf crane barge lifted the Forties Alpha satellite platform topsides onto the jacket, which was installed in September 2012. Both components were built by UK manufacturer Offshore Group Newcastle (OGN) at the company's Hadrian yard on Tyneside. According to OGN, FASP is the first central North Sea platform to be built at a single UK construction yard in more than 25 years, and the jacket, at 5,200 metric tons (5,732 tons), the largest ever to sail out of the yard.
OGN, which acquired the Hadrian yard in 2009, won the design and build contract the following year. Company and government officials have hailed the project - which OGN says was responsible for as many as 7,000 direct and indirect jobs - as a sign of renewal in the British manufacturing sector, not unlike what the still-viable Forties field represents for the UK North Sea oil and gas industry.
"This is a great testimony to the manufacturing capabilities and skills of the oil and gas supply chain in the Northeast and to Apache's commitment to building locally within the UK," said OGN Group board chairman Dennis Clark upon completion of the FASP. "It also shows that the Northeast region's track record of engineering and fabrication could have a bright future at the heart of a thriving offshore energy sector."
Buoyed by its success at Forties, Apache increased its stake in the UK North Sea with the $1.44-billion acquisition in 2011 of ExxonMobil assets held by its Mobil North Sea Ltd subsidiary. The transaction gave Apache operated interest in the Beryl, Nevis, Nevis South, Skene, and Buckland fields, and non-operated interests in Maclure, Scott, and Telford. Last year, the company reported two successful wells drilled from the Beryl Bravo platform that tested at a combined rate of nearly 20,000 b/d of oil and 19 MMcf/d of gas. In November 2012, the UK Department of Energy & Climate Change awarded Apache 11 new licenses covering 19 full or partial blocks near Beryl and Forties.
Meanwhile, the RowanGorilla VII jackup is being mobilized for a drilling campaign to support the newly installed FASP. Apache plans to begin first production at the platform before the end of the year.
House called the FASP "a major milestone crowning 10 years of significant investment and many successes."
He added: "I'm especially proud that Apache is installing this new platform at the same time when production from Forties was projected to reach cessation of operations. Ten years later, the field has already produced 50% more than estimated when acquired and is currently best in class in terms of operational efficiency while being one of the more mature assets in the UKCS."