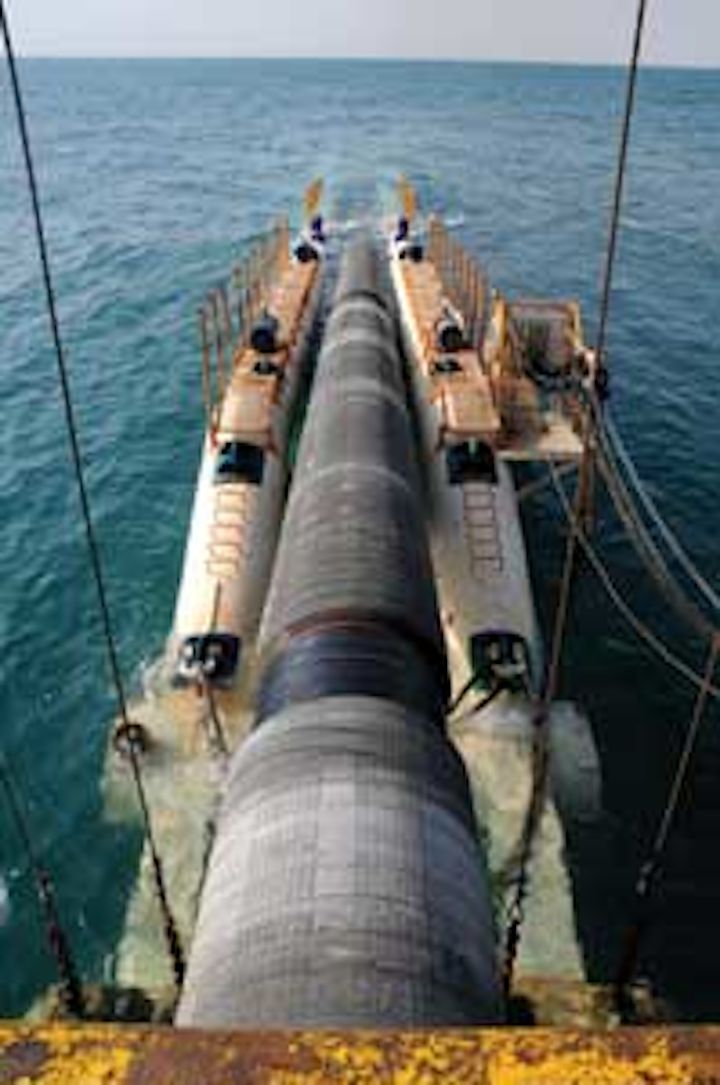 Karen MacPherson
Louise Denly
McDermott
Engineering and construction contractor McDermott has seen a major shift in the type of field development projects coming up for tender in the Middle East. "There are strong growth prospects in the region with a particular increase in shallow water brownfield work offshore the Arabian Peninsula," said Jonathan Kennefick, vice president for McDermott's Middle East operations.
"We are also seeing new shallow water greenfield 'mega' projects off Abu Dhabi and enhanced oil recovery (EOR) projects offshore the Kingdom of Saudi Arabia, Abu Dhabi, and India," Kennefick continued. "With regards to deeper water projects in the Middle East, although full-scale developments are several years away, we are beginning to see the emergence of these markets off the East Coast of India and in the Red Sea."
The EOR programs, such as water injection or upgrading existing offshore facilities for electrification, require contractors to perform both greenfield and brownfield work in unison. This imposes various challenges, including working under a permit system, and working in confined spaces, often in extreme temperatures. "On one recent project we had three jackup barges and 300 people working solely on the brownfield scope in a confined space, while more than 400 personnel simultaneously worked offshore on the greenfield scope through installation and hookup support," Kennefick recalled. "But despite the difficult working conditions, we were still able to achieve strong safety results."
A key offshore market for McDermott in the region is the Kingdom of Saudi Arabia. As Saudi Arabia's demand for gas increases by 5-6% annually, the Kingdom is focused on ways to raise gas output, at the same time allowing an equivalent quantity of oil to be exported.
McDermott recently completed a large standalone gas project in this regard, which initially had a target production rate of 1 bcf/d. This was later ramped up to 1.8 bcf/d, and to meet the rising domestic demand, the project schedule was also brought forward by one year.
The scope of work included construction of four wellhead complexes, clustered around a tie-in platform, each with gas production, chemical injection, and control facilities, as well as a bridge- connected auxiliary platform and associated flares. Installation tasks included construction of intra-field pipelines, a trunkline to the shore, and subsea power distribution cables. By working closely with the client during the design, procurement, construction, offshore installation, hookup and commissioning phases, McDermott was able to achieve start up of the project on schedule and under budget.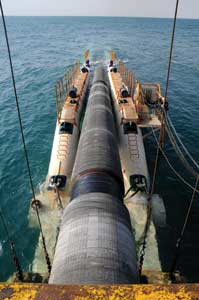 Forty-two inch pipe exits the stinger of DB27 during shallow-water installation work totaling 3,133 welds and no repairs.
The company applied its extensive experience in engineering, procurement, construction, and installation (EPCI) projects for sour service gas facilities during execution of the program. More than 250 vendors and subcontractors from 20 different countries were also involved in the project.
Critical path planning during the procurement phase required rigorous expediting and inspection of these vendors to ensure equipment and material arrived on time and to the required quality.
McDermott's project team worked with the client to develop a "combined operations" procedure prior to the offshore phase of the project, allowing offshore hook up and commissioning activities to progress simultaneously with the drilling program at the four wellhead sites.
This innovative approach negated a one-year delay based on the original client stipulation that drilling would have to be completed prior to McDermott mobilizing offshore. Time savings were also achieved by using jackup vessels instead of floating barges to mitigate the risk of weather delays, ensuring all critical milestones were met.
Additionally, optimizations to the facilities during the front-end engineering design (FEED) stage of the project resulted in decks that were easier and safer to construct, install, operate, and maintain. During offshore operations, a dual lift of one of the larger topsides, weighing 3,200 metric tons (3,528 tons), by the construction bargesDB101 and DB27, also saved significant time on hook-up.
Detailed oversight of equipment vendors during their manufacturing process ensured that few problems were experienced after the equipment was installed, and the completed facilities have met the required gas production targets. To date, 10 million manhours have been racked up without a lost time incident.
Platform overhauls
Another current simultaneous brownfield/greenfield EPCI project offshore the Arabian Peninsula is employing McDermott's full turnkey capabilities. The brownfield hookup scope is the largest the company has undertaken in the region. Strengthening the 30- year-old platforms to accommodate the new equipment has presented a challenge due to the need to minimize scheduled shutdown periods. This is being addressed through extensive Simultaneous Operations (SIMOPS) studies with the client.
Procurement and engineering are being performed in Jebel Ali, UAE and the Chennai engineering offices in India. The construction program at the Jebel Ali fabrication complex includes a 705-metric ton (777-ton) switchgear building, the largest standalone electrical building built to date in the region.
The offshore campaign involves float-over installation of the topside usingCBL102, a specially modified transport and launch barge, and laying of 12- and 42-in. pipe (recently completed) in an already congested field layout. The derrick/pipelay barge DB27 performed the pipelay which involved 3,133 welds. According to Kennefick, "detailed planning…along with good field liaison and pre-planning with the client, assisted in reducing the amount of downtime, by minimizing anchor movements and set up times."
The welding execution plan, defining the welding parameters and procedure to be followed, was approved onshore to ensure not only reliability, but also repeatability. Once offshore, the crew had the opportunity to "cycle" the pipe, optimizing the lay system and performing in-field testing to check the parameters were correct. Careful planning and time management allowed this to take place simultaneously alongside other project work. It also gave the crew the opportunity to practice the welds to ensure they could repeat the same process time and time again.
"It's one thing to have everything running smoothly onshore in a controlled environment, but it's a different story when you try to perform the same task offshore when you cannot control your surroundings," Kennefick said. "Nevertheless, we were able to complete this project with zero weld repairs by following the pre-planned execution procedures."
McDermott was also responsible for installation of a 44-km (27-mi), 115 kV cable, and will soon lay the world's longest (44-km) 230-kV offshore cable taking electricity directly from shore to the tie-in platform to power downhole pumps on the surrounding platforms, the aim being to increase pressure in the wells to boost production. Installation of the 115 kV cable should be completed shortly, while the 230 kV cable should be installed later this year by the fast-transit DP-2 subsea construction vesselNorth Ocean 102 (NO102), which features a horizontal lay system.
TheNO102 carousel has a 7,000-metric ton capacity and is capable of flexible pipelay in up to 3,000 m (9,842 ft) of water.
The 230-kV cable is over 10 ½-in. in diameter and weighs around 70 kg/m. Its total payload for 44 km is close to 3,500 mt (3,858 t): there are few vessels in the world with the capability to install this type and size of product. But transpooling large, heavy cables is a complex procedure. The cables need to be handled as little as possible, so the project team decided to use the installation vessel for loading, transport, and laying. Some modifications had to be made to theNO102's 7,000-mt (7,716-t) carousel to enable it to take the full length of product.
Installation of both the 115-kV and 230-kV cables will follow the same execution plan. In preparation for the first phase of the offshore cable campaign,NO102 traveled to Norway earlier this summer to transpool the smaller 115-kV cable direct from the manufacturer, before heading to the Middle East location to begin product lay.
The project involves working across a range of near-shore water depths, some down to 8 m (26 ft). The challenge was to devise a procedure to allow the heavy payload to be effectively installed in such ultra-shallow depths.
Over 20 vessels are employed in the program, including the company's primary cable-lay and ultra- shallow water cable vessel, along with anchor handling, support and accommodation vessels, and with more than 350 personnel offshore. "The complexity of the interface structure amongst the fleet must rigorously follow the execution plan to ensure coordination of transpooling activities and lay operations," Kennefick said.
Going forward, McDermott sees operators in the region continuing to focus on enhancing fields and upgrading ageing facilities to maintain production, in conjunction with development of new fields.
"I believe we are seeing this shift in how traditional projects are being executed as a result of significant pressure that expanding regional populations are placing on national oil companies to meet domestic demands," Kennefick said. "We foresee an increase in field upgrades to existing infrastructure, requiring more brownfield modifications and pipeline replacements. In addition, Qatar will eventually need to sustain production from its offshore Alpha field."
In anticipation of the new EOR projects, McDermott recently opened a new engineering office in Al-Khobar, Saudi Arabia.