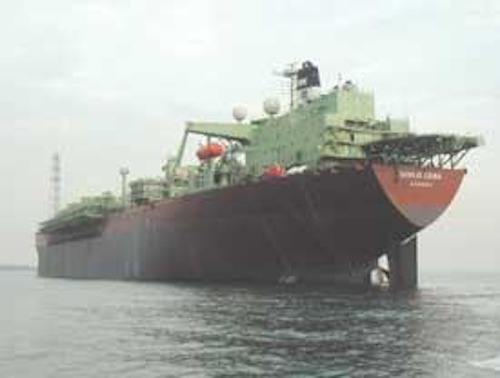 By Nick Terdre, Contributing Editor
ABB Offshore Systems has received repeat orders worth $130 million to supply process systems for Bergesen Offshore FPSOs. The new contracts follow the earlier supply of a system to a Bergesen production ship, marking a further step in ABB's strategy of turnkey process deliveries to floating production systems.
The original equipment, commissioned before Bergesen had a contract for the vessel, was sized at 60,000 b/d to provide future flexibility of application. The vessel, Sendje Berge, and its generic case equipment were subsequently chartered by Triton to produce the Ceiba Field off Equatorial Guinea, which came on stream in November 2000.
ABB has now received three new orders, two of which are for Bergesen's Berge Hus, now renamed Sendje Ceiba. With production capacity of 120,000 b/d of oil and 160,000 b/d of liquids, these deliveries take the scale of processing operations onto a higher plane, according to Mikkel Martens, senior vice president at ABB Offshore Systems with responsibility for process deliveries.
The process system is divided into two parts. First is a 60,000 b/d process module, knock-out drum, flare tip and control container which form the generic case equipment. The second part includes additional equipment supplied to Triton's specification: a 100,000 b/d process module, a 135,000 b/d water injection module, a subsea module with chemical injection facilities and the control system for the subsea wells, 10 mini-manifold modules, and five control containers. A total of 15 wells, 12 producers and three injectors, will be tied back to the ship via risers hung off the side.
The topside equipment was fabricated by Thai companies under contract to ABB Thailand. It was delivered in about 8.5 months and installed on the ship in the third quarter of 2001. Sendje Ceiba, a 275,000 dwt tanker with 2 MMbbl storage capacity, the same as Sendje Berge, sailed from the Jurong shipyard in Singapore in mid-December, mechanically complete, within budget and on schedule, Martens says. It arrived on the field ahead of the targeted date in mid-January.
While the generic equipment is included in the ship's charter, the additional equipment has been purchased by Triton, which also has an option to buy the ship and the generic equipment at a later date, Martens says.
Sendje Ceiba was brought on stream in phases, with the 60,000 b/d process module coming into operation in late January, followed by the 100,000 b/d process module and the water injection module in February. As with the first vessel, ABB is responsible for the topsides delivery up to final acceptance on the field, and for operating and maintaining the equipment. Meanwhile Sendje Berge may be redeployed on another part of the field.
Working together, Bergesen and ABB are able to offer their clients a substantial degree of flexibility, Martens stresses. When Triton decided to increase production capacity, the initial plan was to upgrade the process plant on Sendje Berge. But this would have involved disrupting production operations. Instead it was decided to install a complete new system on Sendje Ceiba while Sendje Berge continued to produce. "By doing all this at the shipyard, in a controlled situation, both cost and risk were reduced," Martens says.
The experience with Sendje Berge has been very good, he adds. Following field installation, only a few days were required to get the systems up and running, and no significant modifications were needed. The ship has achieved uptime of 99.8% consistently since start-up. In the six months prior to December there were no shutdowns at all. The plant is operated by an ABB crew of eight, including the process supervisor. For Sendje Ceiba the ABB process crew is 17, while Bergesen's marine and catering crew is about 35.
ABB's third new order from Bergesen is for another generic 60,000 b/d system for installation on the Berge Helene tanker. The ship was due to enter a yard for conversion in March, to be ready for operation this summer. The process system is due for delivery in April. Bergesen does not yet have a contract for Berge Helene, but is in discussions with several operators in the area.
ABB has also focused on optimizing its turnkey process system deliveries for FPSOs. Under its process plant R&D program, it has developed an inline electrostatic coalescer (IEC), the 4C three-phase separation system and the CODEFLO produced water treatment system. These are compact and efficient systems which ABB claims provide weight, space, and capex savings. A test skid incorporating the IEC and 4C systems has been installed on Sendje Ceiba to enable them to be field-tested. A CODEFLO pilot plant is also available for field testing.
The IEC is a fully modularized, compact coalescer unit, with significantly reduced weight, footprint, and cost compared with a typical traditional coalescer. One 14-in. pipe module, 92-in. long, has a treatment capacity of 20,000 b/d. It can handle water and gas fractions up to 100% without shut-down requirements.
The 4C (Compact Concentric Cylindrical Cyclone) separator employs centrifugal forces on the cyclone principle to separate liquid, sand, and gas in one process, and has been designed for use as a scrubber, degasser, or three-phase oil/gas/sand separator.
The 4C is motion-insensitive. It can separate a large liquid flow with the size of a gas scrubber and is suitable for coarse desanding. Scrubber quality of 5-14 ppb carryover can be reached for all applications with no liquid limitation on feed. It has low pressure-drop, low weight and space requirements, and low capital and operational costs.