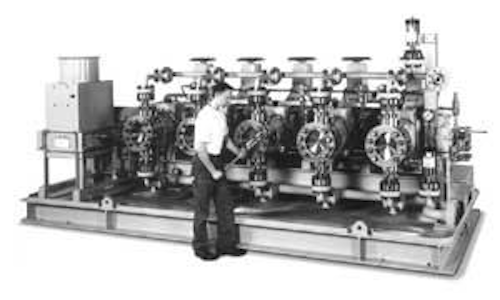 BOP fluid
Stack Magic EV is a reformulated BOP fluid from Houghton Offshore that provides lubrication, corrosion protection, biodegradation, and toxological properties for oil and gas production and exploration equipment. The product is environmentally sound, meets the stringent governmental requirements of Norway and for the North Sea, and has the highest listed environmental rating based on the Chemical Hazard Assessment and Risk Management model, which measures biodegradability.
Methanol injection packages
A series of methanol injection packages for offshore platforms is designed to prevent hydrate formation within the pipelines and wellhead. The injection packages from American LEWA Inc.'s various config-urations provide up to 12,500 psi with flow rates up to 100 gpm for inhibiting hydrate formation in the pipelines and wellhead of offshore platforms. The product features hermetically-tight, sealless-diaphram pumps to isolate the process fluid from the hydraulic system, and can be built to fit the platform footprint and other customer requirements.
Tornado Tool
The Tornado Tool is a jetting assembly that enhances the coiled tubing cleanout process. The tool is to be used with BJ Services' Tornado Pro coiled tubing job-modeling software that analyzes solids transportation and deposition. The tool's specialized jetting assembly combines forward and rearward facing jetting nozzles. After the sand in the well has been re-distributed, the crew switches the jetting assembly from forward to the rearward facing nozzles. This creates a rearward facing turbulent flow stream. As the coiled tubing is pulled out of the hole, the rearward jetting action entrains the front of the sand bed, allowing it to be carried out of the hole in the flow stream above the equilibrium bed.
Rubber-based covering
Arma-Chek R is a rubber-based covering ideal for elastomeric insulation substrates. Arma-Chek R is lightweight, easy to install and reduces offshore installation and maintenance costs, according to the manufacturer. The high-density EPDM rubber product meets all requirements for use on platforms, FPSOs, and other applications where the pipework needs protection against corrosion and high-mechanical impact. The product is suitable for temperatures between -50º C to +105º C on the surface of the insulation. The flexible EPDM-based black rubber sheets are UV- and ozone-resistant for up to 10 years.
3M Scotchlite Glass Bubbles
3M Scotchlite Glass Bubbles are tiny glass microspheres that the company says improve produc-tivity and reduce costs in a variety of applications. Low-density drilling fluids made with Scotchlite glass bubbles do not require aeration, eliminating costly and space wasting compressors. Because they are virtually incompressible, Scotchlite glass bubbles simplify hydraulic calculations. These tiny microspheres also improve lubricity, thereby reducing casing wear, improving the rate of penetration and extending the life of the drill bit.
Continuous-operation pipeline strainers
Automatic self-cleaning pipeline strainers from Hayward routinely clean the filter element at preset intervals of when the element becomes loaded with dirt. Strainer element cleaning is an unattended, automatic process during which the system flow is never shut off. Self-cleaning is accomplished by a rotating back-wash arm that continually iso-lates and cleans a small portion of the strainer element, while the remainder of the strainer ele-ment surface area remains in service and continues to remove debris. The control system also incorporates a differential press-ure gauge and switch that allows the strainer to start a cleaning cycle between set time should the dirt loading of the process media change.
Victrex PEEK-HT polymer
Greene, Tweed & Co. has specified Victrex PEEK-HT high temperature polymer as the base for its Arlon 2000 used in its 8-pin SealConnect connector moldings. Specifically developed for use in oilfield exploration and production, these connectors are designed to withstand prolonged exposure to an applied pressure of 138 MPa at 204° C. Short-term exposure to pressures of 172 MPa at 260° C is also possible. Fully tested and proven in down-hole and sub-sea environments, Victrex PEEK-HT polymer provides long-term product reliability when exposed to the extremes of temperature and pressure.
Measurement and automation catalog
The Measurement and Automation Catalog 2003 from National Instruments features comparison charts, schematics, configuration diagrams, and product specs. It also has directions for offline access to the complete NI product line and contact information. Other features include NI LabVIEW, which is a graphical development environment for measurement and automation, NI PXI-4070 6 1/2-digit FlexDMM, NI PXI-5660 RF signal analyzer that calculates fast measurements, PXI/ CompactPCI modular instrumentation, data acquisition and signal conditioning, and sound and vibration measurement and analysis.
FlexMASSter ST98 flowmeter
The FlexMASSter ST98 flowmeter from FCI now has the high-speed communication and cost savings of the Profibus-DP protocol option. The ST98 flowmeter provides enhanced process flow information, advanced remote instrument health and diagnostic status. The product's advanced thermal mass sensing element delivers precision measurements over a wide flow range. It features an accuracy of ±1% of reading, plus ±0.5% of full scale.
Load measuring pins
Load measuring pins from Magtrol are based on full-bridge strain gauge technology, with full temperature compensation. Standard models include the LB Series with mV output, and the LE Series with integrated signal amplifier. The models are available in 10 standard capacities from 2.5 to 2,500 kN. All are made of rugged, tight construction and high resistance stainless steel. Special options include an IP 68 hermetically-sealed waterproof version, OIML certification, and special material testing and certification for use in low temperatures. Load pins can also be custom designed and mounted on new or retrofitted installations.
Dantorque hydraulic valve actuators
Emerson Process Management will supply 34 Dantorque hydraulic valve actuators for use on the FPSO vessel being built for the White Rose development project, offshore Newfoundland. The compact, concentric designed, double-acting actuators will operate Galperti double ball valves on the riser connections in the turret loading area of the PFSO. The units will provide automated on/off control and emergency shutdown service in that area.
Worldwide connectivity
Atwood Oceanics Inc. selected the Schlumberger DeXa.Net global connectivity solution to provide communications for its offshore and land facilities around the world. Atwood Oceanics will use the new technology as a secure connectivity solution for communicating between rigs and land offices in Asia, North Africa, and the company's Houston headquarters. Atwood required voice, fax, and data connectivity between each remote location and its corporate network. Additionally, Schlumberger deployed its DeXa.Net Secure Private Network connection to link Atwood's Singapore office with its headquarters in Houston.
Industrial-duty wireless intercoms
Wireless industrial intercoms allow users to set up, take down, and move around heavy-duty intercoms with ease. The intercoms from At-kinson Dynamics do away with the need for running audio lines between stations, making them ideal for temporary applications where cabling is not feasible. The two-way intercoms are engineered and built for indus-trial duty, and are typically found in applications where extreme weather, high noise, or harsh usage require-ments are present.
Portable water polyurea
Sherwin-Williams Industrial and Marine Coatings' General Polymers brand EnviroLastic polyurea high-performance coatings for use in the water and wastewater industries have been approved. The coatings are rapid-return-to-service finishes that allow coated substrates to be returned to use in minutes, significantly reducing downtime. The coatings combine tensile strength and elongation properties with low permeability and high impact resistance.