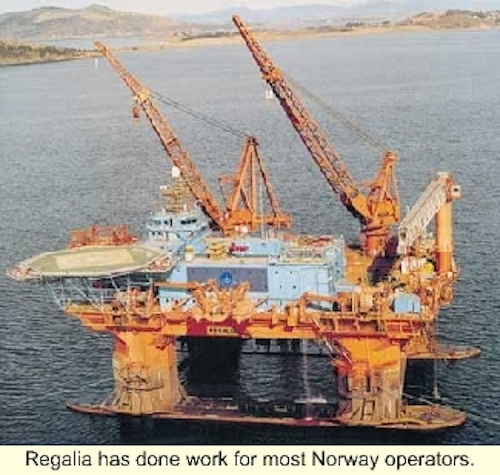 Prosafe has formed an alliance with Schlumberger Oilfield Services to offer subsea well intervention services. Prosafe brings its multipurpose rig Regalia, its experience in rig operations , drilling and well control, while Schlumberger contributes its range of technology and services related to downhole operations and reservoir management.
The alliance is run by a steering committee, on which Prosafe is represented by Trygve Arnesen, Vice President for well activities and Bjørn Henriksen, Managing Director of Safe Services. Schlumberger is represented by Kjell Erik Østdahl, Marketing Manager Scandinavia and Brian Imrie, Marketing Manager Subsea Interventions. Operations manager for the alliance is Prosafe's Stig Hetlevik.
For Prosafe the subsea well intervention market represents a fourth market niche for Regalia, in addition to subsea construction, diving support and accommodation. The rig, which was acquired by Prosafe last year, is a familiar sight in the North Sea. "Most operators in Norway have used Regalia and the rig is also well known in the UK sector," says Hetlevik.
Regalia is a semisubmersible unit built in 1985 to the GVA 3000 design. It has a main deck measuring 82 meters by 77 meters, a deckload capacity of 2,000 tons, a 6.5 meters by 6.6 meters moonpool, and a 226-ton capacity derrick after modifications, a craneage of close to 400 tons at 400 meters depth, and a DP3 stationkeeping system. Prosafe believes the rig has advantages over a monohull for most of the light and medium intervention work based on its larger deck capacity and facilities.
A large investment will be made to take on intervention work, Hetlevik says. An engineering team has been working on the project for six months, and some initial modifications have already been made to Regalia. Towards the end of the year, the rig will come to port for a more extensive program of modifications. Bids for executing these and for equipment supply were due to be submitted to Prosafe in March.
The operations envelope for the alliance will include the performance of all types of wireline and coiled tubing operations, running and retrieving conventional trees, performing well cementing and stimulation, hydrocarbon control and well cleanup, and field abandonment. The alliance aims to take on all coiled tubing work, and 60% of all slickline work in vertical and deviated wells. Its market analysis shows the following breakdown:
Reservoir - reperforation, logging, gas-lift, shut-offs: 56%
Downhole failure - downhole safety valves, ESP: 20%
Seabed failure - christmas tree, control pod, choke: 16%
Consequential - related to previous intervention: 4%
Abandonment - perforation, cementing, tree removal: 4%.
Regalia's equipment package will include a full-bore high-pressure riser of 7-3/8-in inner diameter rated to 10,000 psi. "This means we will be able to intervene on most current subsea trees and wells without restrictions with regard to diameter," says Hetlevik. A core component in the equipment package will be a new and improved lower riser package (LRP) which will form the primary component for well control in all interventions. Regalia will in some circumstances be able to pull production tubing but will not be equipped with a drilling riser or BOP or take on work involving rotating pipe at this stage.
The alliance is already in dialogue with potential customers in the Norwegian sector, notably Statoil and Norsk Hydro.
While it is fully committed to the project, Hetlevik stresses, customers need soon to provide a clearer idea of the contracting strategy they intend to implement. "It's our intention to take this to the limit, and we'll take as much risk as it is reasonable to take. But some kind of support from our clients is also required," he says.