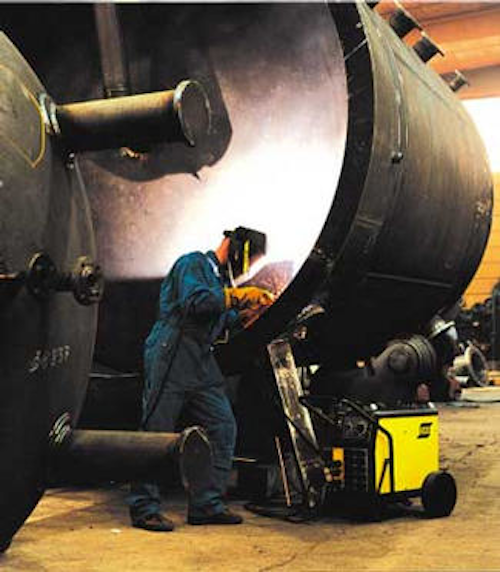 Welding specialist ESAB has launched the Aristo, designed as an intelligent and flexible module-based welding system. The Aristo is the first welding machine to be produced with a chassis of extruded aluminum sections called Alutech - a strong, robust and corrosion-proof material that increases the life span of the equipment. The material is capable of withstanding tough environmental conditions and is easy to maintain.
ESAB is making Aristo System equipment available in a range of units, which can be tailor-made to the user's specific MIG/MAG, DC-TIG or MMA requirements. The flexibility of the system allows the equipment to be adapted each time it is used for a new application. Aristo has a modern and compact design and is equipped with many practical improvements.
These include two large and ergonomically designed handles, which have been integrated into the chassis, to facilitate lifting the machine. There are three series of control panels, all easy to use and the re-designed slanted front panel has provided both practical and ergonomic advantages.
The digital CAN-bus communications and control system means that flexibility has been optimized enabling all units both inside and outside the equipment to communicate easily with each other. Service and maintenance are aided by the system controlling and registering any disturbances or faults that may arise.
Three power sources, the AristoArc, AristoTig and AristoMig, are currently available (each designed to be integrated with a water-cooling unit and/or multivoltage unit), together with two wire feeders, the Aristo Feed 30 and Aristo Feed 48 (see accompanying chart).
ESAB has also recently been appointed a member of the International Pipe Line & Offshore Contractors Association (IPLOCA), the service and communications network for pipeline and offshore construction. According to ESAB, its election has been due to its wide-ranging and extensive experience and reliability in the supply of machines, consumables, and technology.
All ESAB's units will now be included in the official IPLOCA directory and ESAB labels will henceforth display the IPLOCA's worldwide recognized symbol.
For more information, contact Marcel Stemvers, ESAB. Tel: +31 30 248 5911, Fax: +31 30 241 1535, E-mail: marcel.stemvers@esab.nl