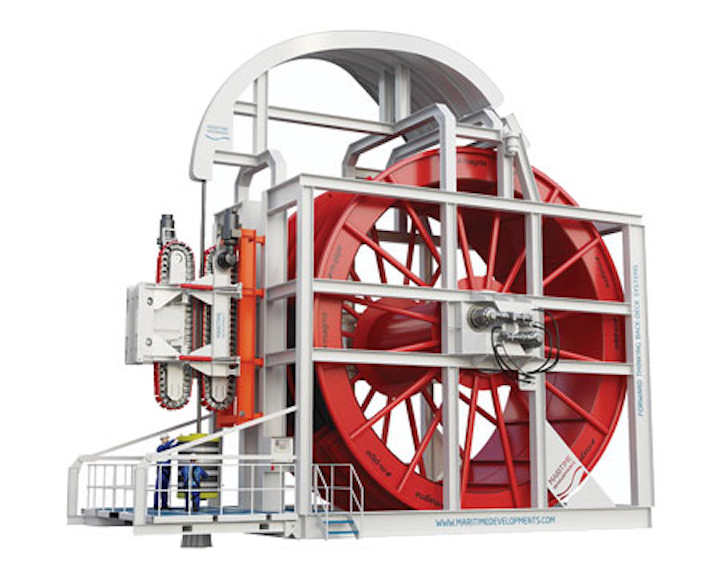 Joint venture highlights well intervention technology
According to the findings of the recently published Wood Report, supported by data compiled by the industry body Oil & Gas UK, the equivalent of up to 24 Bbbl of oil may still lie in the UK continental shelf, on top of the 42 Bbbl already produced. The report recognized, however, that a number of actions are required for this to happen; alongside regulatory and fiscal changes, the need for closer cooperation between operators and investment in improved oil recovery (IOR) was also raised.
"While aging assets are a factor, there are strong signs that under-investment in assets and sufficient uptake of improved oil recovery and enhanced oil recovery (EOR) techniques will have a significantly adverse effect on maximizing economic recovery for the UK," the report reads.
"It is acknowledged that some EOR schemes are costly and complex to operate, but industry must be encouraged to invest more in these schemes to avoid leaving significant value behind."
With that in mind, and following a series of meetings with oil and gas service suppliers in the UK and overseas, Maritime Developments Ltd. entered into a partnership with Magma Global.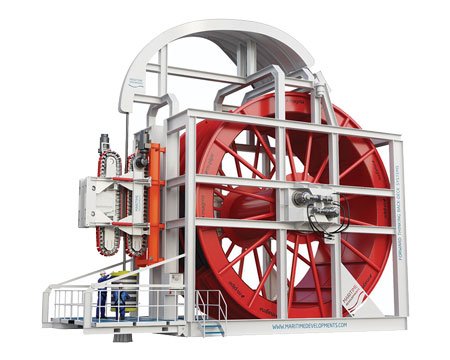 The integrated reeler and tensioner system can operate and store the pipe on a minimal footprint. (Image courtesy Maritime Developments)
Magma's carbon fiber and PEEK polymer pipe, the m-pipe, has the capacity to withstand high flow rates, pressures, and temperatures thanks to its composite microstructure. In comparison to conventional steel, aluminum and titanium solutions, the m-pipe is significantly lighter, yet more resistant to highly corrosive and aggressive fluids. The micro-structure of the m-pipe allows for ultra-deepwater applications where conventional steel and non-bonded flexible risers have reached their operational limits.
All these attributes can potentially contribute to increased safety, reliability, and viability of intervention operations.
The cost-saving benefits of the m-pipe extend even further, when considering the prerequisites for its deployment and retrieval using back-deck equipment.
One way Magma Global says m-pipe can reduce costs is that the pipe can be used on a reeling system for fast and reliable deployment.
To maximize the potential return on investment for the operator who chooses to use Magma's product, Maritime Developments designed a compact back-deck solution.
The integrated reeler and tensioner system can operate and store the pipe on a minimal footprint. Because of the light weight of the pipe and therefore low tension required to operate it, the structural design of the solution is simpler than that designed for non-bonded and steel pipes.
The design of the reeler complements the functionality of the pipe, allowing for a significant cost reduction for the duration of an offshore project
The joint venture targets the well intervention market as its first point of call.
Halliburton unveils next-generation acoustic evaluation service
Halliburton's Wireline & Perforating business has introduced the Xaminer Sonic Service, an acoustic formation evaluation tool that provides operators with high-fidelity data and advanced processing capabilities to more accurately characterize a wide range of reservoirs, including those in deepwater, mature fields, and unconventionals.
This technology works by recording acoustic waveforms that travel from a transmitter through the formation to a receiver. As a result, operators can measure seismic properties and analyze reservoir characteristics and geomechanical properties. These acoustic applications provide information to help customers optimize completion and stimulation design and reduce drilling and completion risks.
The Xaminer Sonic tool includes 104 receivers on a 6-ft (2-m) array providing the longest transmitter to receiver spacing in the industry and the purest acoustic signal to evaluate near and far fields in real-time. The tool features a unique design that eliminates coupling between transmitters and receivers while maintaining strength to carry other tools below.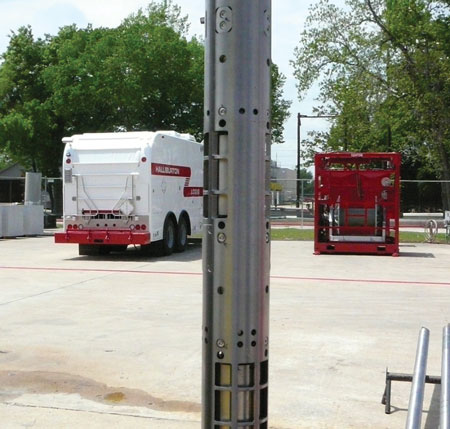 The Xaminer Sonic tool also functions in high-pressure/high-temperature environments to provide optimal response to borehole pressure waves. (Photo courtesy Halliburton)
The company says the technology is especially beneficial in environments with soft rock and wells containing large boreholes, which increases signal attenuation.
"The Xaminer Sonic tool is the culmination of four years of engineering, modeling, and testing to provide our customers with innovative logging technologies," said David Topping, vice president of Wireline and Perforating. "Halliburton is in a strong position to work with operators to generate high-fidelity acoustic data through a single trip in the hole to evaluate reservoirs with greater precision."
Clariant chemical solution averts well shut-in
Clariant Oil Services recently worked with an oil producer in the Gulf of Mexico to develop a new anti-agglomerate chemistry to reduce the amount of methanol concentration in the oil phase to prevent the shut-in of a pipeline.
An 11 mi-long (17.7-km) subsea tieback ran from a new well deposit back to its existing production facility in the GoM. The line was responsible for producing 3,500 b/d of oil and another 3.8 MMcf/d of natural gas.
Keeping the line clear of blockages or pressure spikes required 1,500 gal/d (5,678 l/day) of methanol to remain outside of the hydrate risk region. While this high dosage of the chemical can work for controlling agglomeration in wet oil production, it can also result in significant methanol concentration spikes when working with a subsea tieback that produces less than 1% basic sediment and waste.
"In this case, the low water cut resulted in the methanol transferring into the oil phase," says Scot Bodnar, global flow assurance manager for Clariant Oil Services. "The methanol concentration in the oil phase spiked to levels exceeding 2,000 ppm (using gas chromatography analysis), which is well over the pipeline specification of 50 ppm."
As a result, the pipeline company threatened to shut in the well if the producer could not lower the methanol concentration in the oil to within spec limits. This is when the producer worked with Clariant Oil Services to develop another method for controlling hydrate agglomeration, reducing methanol concentration and increasing the oil quality.
Efficiency gains were achieved with the development of Clariant Oil Services' HYTREAT DF 12851A hydrate management and control product, developed for the oil producer in the GoM. Whereas high dosages of methanol were required to control hydrate agglomeration, using the company's chemical solution resulted in a 97% drop in chemical use, a substantial savings for the producer and a significant advancement in sustainability efforts.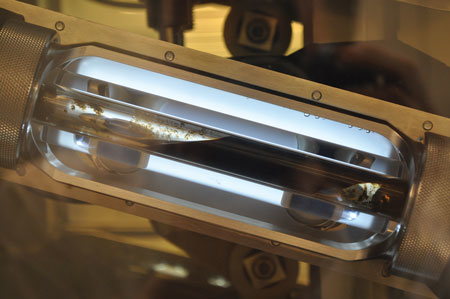 HYTREAT DF 12851A reduced methanol- in-crude concentration nearly 98%. (Courtesy Clariant Oil Services)
HYTREAT DF 12851A provided a dual benefit in this application. First, the anti-agglomerate controlled hydrate formation to keep the flowline from pressure spikes and blockages. Equally as important, HYTREAT DF 12851A reduced methanol-in-crude concentration nearly 98%, from 2,000 ppm to 43 ppm, below the 50-ppm pipeline specifications to eliminate the need for any well shut-ins.
Clariant Oil Services' thinking affected the bottom line for this Gulf oil producer as well. Traditional practice would have required installation of an expensive water wash system to mechanically reduce the methanol concentration levels in the oil. However, HYTREAT DF 12851A eliminated the need for the water wash system and production deferments, enabling the operator to realize even greater production figures valued in the millions of dollars per year.