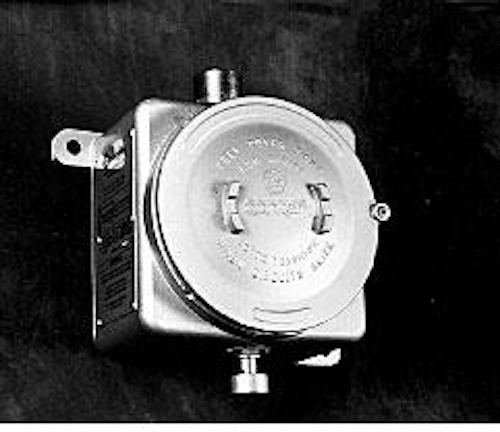 Shock protection
Frank W. Murphy MFR. (Tulsa) has introduced CSS Series Shockwitch, which provides protection from vibrating compressors, pumps, and other machinery. The CSS series is an electromechanical device designed to protect equipment from damaging shock. The CSS Series Shockwitch is housed in a CENELEC certified enclosure and may be used for requiring an execution of EEx-d-iiC-T6.
Oil/Water Separator
Alan Cobham Engineering Ltd (Dorset, Holland) has released a compact self-contained oily water treatment system. The unit already is in use in the Terra Nova field offshore Canada. The system will treat 100 cu meters/hour of oily water to meet a discharge consent of down to 15 ppm.
Transfer units
Welker Flow Measurement Systems (Sugar Land, Texas) is now fabricating lease automatic custody transfer (LACT) units for offshore crude oil custody transfer measurement, designed to API and ANSI specifications. Skid-mounted LACT systems can be provided with bi-directional meter provers and are capable of handling volumes from 500 b/d to 500,000 b/d, and utilize P.D. meters, turbine or Coriolis computers, PLCs, sample systems, and BS&W monitors.
Drilling reamer
Andergauge (Aberdeen) announces the Anderreamer, a tool allowing the customer to drill float equipment and an oversized full gauge hole for complete target interval, using a rotary assembly or steerable motor. The Anderreamer provides a concentric cutter design, allowing for back reaming and hole cleaning.
Metering Pump
LINC Manufacturing (Conroe, Texas) introduces the newly designed, electrically driven, 86 Series Chemical Metering Pump. New key design enhancements include ceramic plungers with lifetime warranty, utilization of uniseals and TeflonRegistered encapsulated o-rings including Teflon graphite, single-piece seal packing that does not require adjusting, and increased pressure ranges up to 5,000 psi.
Capabilities/fabrication
FirstWave/Newpark Shipbuilding (Houston) has published a new twelve-page, full-color capabilities brochure offering a comprehensive overview of the company's six shipyards, with specifications and explanation of each. The brochure also details the company's custom fabrication services.
Suppression system
CRP Marine (Lancashire, England) launches its new Uraduct vortex-induced vibration suppression system (VIV). The Uraduct VIV uses polyurethane elastomer strakes, molded to form a continuous 3-strake helix. The new system provides the riser or pipeline with VIV suppression and may also protect against abrasion and dropped object impact.
Composite bridge plugs
Baker Oil Tools (Houston) announces its new Quik Drilltrademark Composite Bridge Plug system. Quik Drill is constructed of composite material rather than metal. The system already has been demonstrated on a Phillips Petroleum well located in the Webster Field in Louisiana. Four plugs were used, treating multiple zones with varying bottomhole pressures. The plugs were installed at depths of 9,200 ft, 8,210 ft, 7,550 ft, and 6,890 ft.
Integrated application
Oracle Corporation (UK) introduces the Oracle Energy Upstream integrated applications suite. The application allows for one comprehensive information management system, handling the company's E&P business operations; and open standards, allowing to easily integrate needed third-party tools, such as geological, geophysical, and engineering applications.
Canada oil guide
Petroleum Communication Foundation (Calgary, Alberta) has released the newest guide to Canada's oil and gas industry. "Exploring Canada's Oil and Gas Industry" is the 6th edition, with full-color photos and illustrations detailing the processes and operations of the industry, coast to coast.
Particle counter
Parker Filtration (Nottingham, England) and Cameron Controls Aftermarket Service Center (Aberdeen) have worked to improve the reliability of hydraulic systems and equipment used to control the production of oil on key North Sea Platforms and floating production facilities. The PLC-3000 Portable Laser Particle Counter from Parker is a sampler, both on-line and bottle, sensor and counter, and is compatible with mineral and lube oils. PLC-3000 provides fluid analysis reports within 60 seconds.
Emissions control packing
The James Walker Group (Glenwood, Illinois) has developed a new fugitive emissions control valve packing for V.O.C. and H.A.P. services. Supagraf Premier packing is available in both preformed ring and length form. The packing has been firesafe tested and certified to API 607.
Flanged closures
R&M Energy Systems (Houston) has added a flanged model to its line of Yaletrademark quick-opening closures. The Figure 515trademark Flanged Yaletrademark closure is ideal for flanged pipe applications, according to R&M. The threaded design of the Figure 515 Yale closure is used to fasten the cap to the hub. The pressure seal is achieved by an O-ring set in the face of the hub.
Radiation safety study guide
The American Society for Nondestructive Testing (ASNT) (Columbus, Ohio) has issued the latest in its series of NDT study guide publications - Gamma Radiation Safety Study Guide. The new issues include the mandatory changes to the rules governing radiography personnel, equipment, and training requirements. The guide includes information on radiography history, radiation fundamentals, certification requirements, biological effects or radiation exposure, and control of radiation exposure.
Off-line tool
MDC Technology (Teesside) announces the development of version 1.1 of MSPC+Registered. This is the further development of the first version of the software released in September 1998 following MDC Technology's involvement in the Fourth Framework European project under the ESPIRIT program. The software provides an off-line tool to analyze the data by applying PCA and PLS, and an on-line tool to process real-time data through a predefined model. It also includes functionality to cater for processes involving multiple set points, recipes, or grades.
Electric work-class ROV
Alstom Automation Schilling Robotics (Davis, California) delivers the electric Alstom ROV delivers to current work-class systems but is smaller and lighter and can be configured for a wide range of functions. The system allows for a reduced umbilical cross section and weight, resulting in a smaller deck footprint and reduced overall system weight. To be available in March 2000.
New wellsite service brochure
Knowledge Systems (Stafford, Texas) releases the publication of a new brochure detailing its wellsite service offered through Geopressure Systems, a division of Knowledge Systems. The brochure highlights areas of the world where Geopressure Systems consultants have worked and provides a step-by-step description of the process that the consultants undertake to provide up-to-date analysis. It also provides detailed information about DrillWorks/PREDICT and the training courses offered by the company.
Lifting device brochure
Drafto Corporation (Cochranton, Pennsylvania) has released its four-page "Coil Handling Lifting Device" brochure. The four-color bulletin details the various motorized and automatic lifting devices manufactured by Drafto for the purpose of coil handling with overhead cranes. The most often used coil handlers are "Rack and Pinion" types where the lifter arms move horizontally and rest against the coil sidewalls.