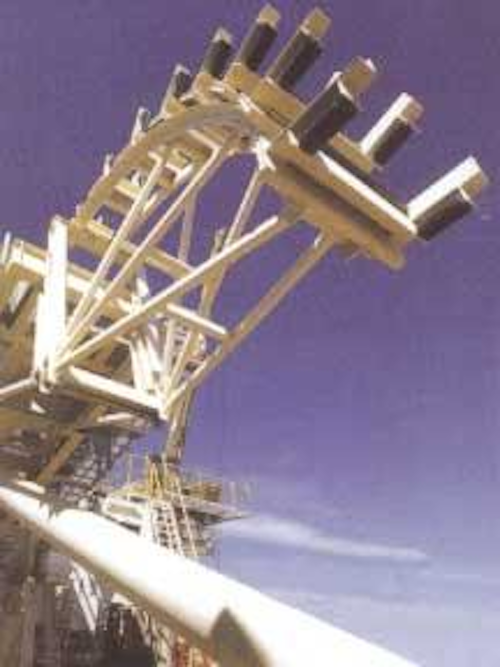 Since delivering its first pipe tensioner 35 years ago, SAS Gouda has become one of the leading designers of rigid and flexible pipelay systems for shallow and deepwater. Its current capability includes S- and J-lay pipe handling, tensioner, carousel, umbilical, and hose-reeling devices.
The company is looking to strengthen its market share through alliances with complementary contractors and/or suppliers. According to Managing Director Raymond Kerkvliet, the Gulf of Mexico, Middle East, Far East, and Nigeria will provide the main pipeline construction opportunities in the years to come.
SAS' most recent success is a multiple order from pipelay contractor Adamac, based in Port Harcourt, Nigeria. The scope of the contract includes identical pipelay systems for two work barges undergoing conversion into shallow water barges, and tensioning equipment for another barge, the Vermilion Bay, which is being upgraded to work in deeper water.
There are numerous technical and logistical challenges in this contract, Kerkvliet says. SAS is supplying complete pipelay spreads for the shallow water vessels, namely a 25- metric-ton pipe tensioner, a 4-in. to 32-in diameter pipe-handling system and a 6-in. piggyback line handling system. These will give Adamac the capability to handle large diameter pipes, smaller umbilicals, and piggyback lines, all bundled together.
For the Vermilion Bay, SAS is providing a second 45-ton horizontal pipe tensioner. It also supplied the existing tensioner, although the original client was in India, and a 90-ton abandonment and recovery winch. Here, the workload includes upgrading the barge's hydraulic power unit and installing a new control system with more up-to-date PC and PLC technology.
These packages are due to be delivered within four months of contract award, which compares with six to eight months for a typical SAS offshore assignment. "This will be about our tenth project as a single-source supplier for the complete pipelay system," Kerkvliet says.
One of these contracts was its largest in value terms and encompassed all the pipe handling for double and multi-jointing about the size of a football field for Heerema's construction vessel Balder, which was converted for deepwater J-lay in 2001.
In September that year, crane and subsea module handling specialist Hydralift formed a long-term cooperation agreement with SAS. The target market was deepwater pipe J-lay systems, combining Hydralift's experience with cranes, winches, and tower structures with SAS pipe handling and tensioning systems.
Despite National Oilwell's acquisition of Hydralift last year, the alliance remains intact. Unfortunately, only one new J-lay package has since been awarded anywhere, and that went to their main competitor, Huisman-Itrec.
"At the moment, our main prospects for this market are upgrading existing J-lay systems," Kerkvliet says.
SAS has been more successful bidding on its own in the Gulf of Mexico. Last year it upgraded the pipe-handling systems of two Global Industries derrick/laybarges, the Iroquois and the Hercules. It also supplied the latter with a new 200-ton pipe tensioner for S-laying of concrete coated pipes up to 60-in., diameter.
A similar two-track tensioner was commissioned by Allseas for the Lorelay. Due to a shortage of space, the equipment had to be installed at the vessel's stern.
"Because of the strong over-bend at this location, we had to design the tensioner to curve around the pipe, in a banana shape, with a radius of 80 m," said Kerkvliet. "That represents quite a bend in the machine, but the system has since worked well in the Gulf of Mexico."
null
null
When that project was finished, the equipment was removed to another barge called the Tog Mor. Elsewhere in the Gulf, Kerkvliet sees growing interest from Mexico. Construcciones Mexicanas has two lay barges fitted with their equipment. SAS is also in discussions with them concerning upgrades or replacements.
"In the northern Caspian, we're providing operational support for shallow-water pipelaying in the Kashagan project. Parts of the sea are too shallow to be reached by conventional pipelay barges. But you can ship in pipelay equipment and pontoons separately and build a complete lay barge on the spot."
To this end, SAS has teamed up with Rotterdam-based Flexifloat Systems, a specialist in modular floating construction modules. These pontoon lay barges can be designed with a maximum draft of 50 cm to 1 m.
"In the Middle East, we currently have project engineers operating offshore Israel, and we have signed an agreement with the Iranian shipyard Sadra to supply the pipe-handling and davits equipment for a new pipelay barge to be built and used in the south of Iran. And in the Far East, PetroVietnam is looking to build another new pipelay barge similar to the one designed recently by IHC Gusto for (China National Offshore Oil Corp.) Cnooc.
"There has been a trend of so-called 'undeveloped' countries in this region wanting their own pipelay vessel spread, as opposed to contracting work out to international companies. So this is also an interesting market for us."