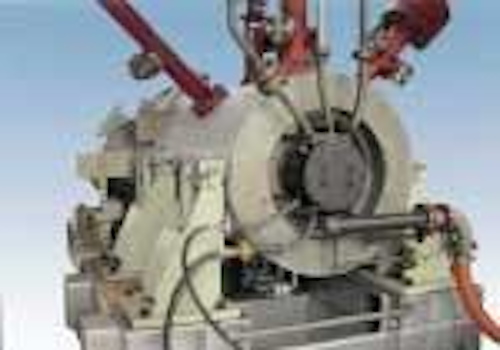 Structural fiberglass
A new eight-page, four-color brochure that describes manufacturing methods, the structural fiberglass product line, and fabrication and installation services is available from Delta Composites LLC. The brochure explains how Delta Composites constructs its products in an ISO 9002-certified facility. Through its engineering and drafting capabilities, the company has developed a 3D, structural finite-element analysis computer design program that incorporates the industry-accepted fiberglass stress design formulas. This structural design program performs a wide range of calculations – stress and deflection computations, plots of deflections, forces, stresses, reactions, as well as resizing over-stressed fiberglass members – to determine the optimum structural design.
Wellhead sensor
AnTech Ltd., a specialist engineering design and manufacturing company serving the international upstream oil and gas industries, has introduced the Sub-Sea MDET detector system, a wellhead sensor. The wellhead sensor not only assists deepwater operators to position specialist equipment on the seabed, it detects the end of coiled tubing inside of a riser. The sensors clamp on to the outside of the riser, so they don't interfere with equipment or necessary activities being carried out on the seabed. The Sub-Sea MDET detector also features a sensor that locates the magnetic marker and simultaneously communicates a visual and audible warning via a control panel on the surface.
MudWare for Windows
M-I has released a windows version of its MudWare software package, which is available to the industry free of charge. MudWare version 2.0 is a collection of mud and drilling engineering programs and is a handy tool for making quick calculations. Modules are available for pressures, volumes, hydraulics, directional well planning, rheograms, and reference tables. The package also includes the MudWare handbook, which is a compilation of M-I and Swaco products, systems, and services, plus a cross-reference of major competitors' latest offerings.
Drilling engineering suite
T.H. Hill Associates Inc. will provide four new drilling engineering applications via the Internet. These products will be offered on a monthly subscription basis via PetrisWinds Now! – an application services provider to the oil, gas, and energy industries. The company will offer its WellOptimizer, CasingDesigner, Rig Toolbox, and Drillstring Toolbox programs that provide well design, optimization, and analysis software. The four programs will be bundled into a single drilling engineering suite to allow a user access to all the applications with a single login. These Web-based applications will help oil and gas producers reduce their internal support requirements and extend the life of existing hardware. By making these drilling engineering programs available via the Internet, consultants and drilling companies also can benefit by having anywhere-anytime access to critical well operations.
Moving Your Rig video
IADC Publications offers Moving Your Rig video. This video not only explains the procedures and steps required to move an offshore mobile drilling unit, but also stresses the need for planning and paying attention to detail. Moving Your Rig covers moving a semisubmersible using the chain-chaser method of anchoring, moving a jackup, moving a swamp barge, and moving a drilling tender. It also covers the procedures for a dry tow. Safety is emphasized throughout the program.
Centrifugal compressor
Mitsubishi Heavy Industries has developed a high-performance centrifugal compressor with the cap-acity to provide a high discharge pressure of 44.1 mega pascals. MHI started the development of this compressor with the aim of entering the gas injection equipment market. Gas injection compressors are used to collect crude oil from aging oil fields through injecting compressed natural gas or inert gases below the ground. Natural gas also can be stored below ground in oil and gas fields using these compressors.
Express encoder offering
BEI's Industrial Encoder division has increased the range of products available under their Express Encoder brand. These products ship within two business days, and selected products are on the shelf for faster delivery. The Express line models H25 and HS35 in incremental and absolute versions, model H20 shafted incremental, and model HS25 hollow shaft incremental encoders. The Express catalog has been expanded to included signal conditioning electronics, an encoder tester, connectors, cable assemblies, a measuring wheel, and other common accessory items.
Marine electrical cable catalog
CME Wire and Cable offers a new comprehensive catalog on its advanced performance Drilmar electrical cable for marine and drilling rig applications. Drilmar features proprietary, specialty formulated compounds that project increased reliability and operational advantages. The 130 page CME catalog presents full technical detail on both Drilmar 125-XE type P cable for extreme conditions, and Drilmar 90, type T/N for conventional marine service. The new CME line is approved for distribution, control, and signal service.
Umbilical termination assembly
Ocean Design Inc., a subsea electrical and fiber optic interconnect systems company, has designed and developed a new umbilical termination assembly, field assembled cable termination. This enabling cable termination technology has been developed to extend the operational depth and increase the reliability of cable terminations. The modularized system isolates the cable elements from the pressure-balanced splice chamber and ambient environment. This approach to cable termination eliminates cable-dependant design limitations and common mode/ single point failures.
CD catalog with email links
Stauff Corp.'s NavCat CD is an interactive electronic catalog featuring the company's entire product line. Users can navigate to specific products in filtration, pipe, tube and hose supports, test equipment, hydraulic accessories, and valves. The CD features auto-start with catalog information presented in Adobe Acrobat PDF form for easy viewing and printout. Navigation is provided using bookmarks as well as the catalog's table of contents. In addition, direct email links include engineering and product support, sales, customer service, and links to the Stauff web site.
Reduced leaking joints
Vector International and the Wood Group have reduced leaking joints to less than 1%, and saved £100,000 by avoiding re-work on the BP Magnus enhanced oil recovery project. The successes are the result of a new leak reduction management service offered by Vector. This new approach to leak reduction involves close management of every stage from joint component manufacture and supply to installation. According to UK Health and Safety Executive data cited by UK Offshore Operators Association, 17% of hydrocarbon releases can be attributed to leaking joints, and 25% of leaks occur on startup. Among the key elements of the initiative is the inspection of all joint components – Vector connectors and associated interfacing equipment – onshore, at each stage of production, and testing prior to shipment. This guarantees that all comp-onents are in working order and is crucial to the high levels of leak-free connections first-time, which generated the significant cost savings.