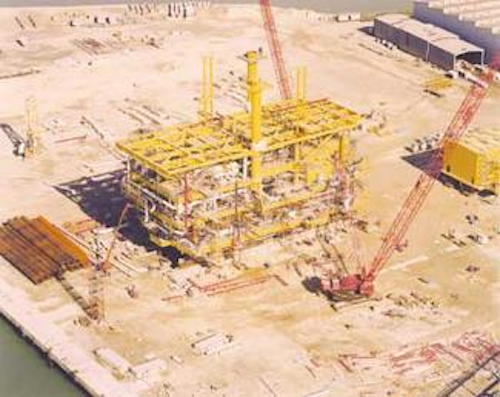 Cantarell expansion leads development boom
Jeremy Beckman
Editor, Europe
Pemex is setting the pace for shallow water field development, with 45 fab-rication projects planned in and around the Bay of Campeche. Aside from the continued expansion of Cantarell, the program includes the large Ku-Maloob-Zaap and Litoral Tabasco fields. According to Pedro Ascorbe, managing director of Spanish fabri-cator Dragados Offshore, Ku-Maloob-Zaap will be the deepest, in 180 m of water.
International engineering, procurement, and construction (EPC) contractors are being invited to participate in the larger projects. Dragados Offshore (Dossa) has been one of the more active foreign fabricators, winning project management work and then subcontracting the work to local yards, design, and installation groups in Mexico. This approach has netted Dossa a major role in Cantarell with four large projects to date for a combined value of $520 million and a total work-scope of around 5.8 million man-hours. One of these is complete, and the other three will be finalized in 2004.
Although not in the elite of global fabricators in terms of volume, Dossa has delivered some very large structures over the years from its yard in Puerto Real, southwest Spain, particularly for the North Sea. Since 1990, it has built a variety of steel jackets for the Britannia, Bruce, and Oseberg 2 platforms; the Snorre B semisubmersible platform hull; and the Captain FPSO topsides. Late in the decade, it also produced the turret for Petrobras' Cairu FPSO. Additional capabilities include drilling and accommodation modules and platform bridge links.
Currently, its target offshore sectors are West Africa, Northwest Europe, and Latin America, and this is reflected in Puerto Real's current workload:
Two mid-size jackets for platforms for ChevronTexaco's Sanha development off Angola
A 4,300-ton riser balcony and flare boom for the new Kristin production semi in the Norwegian Sea
A 24,000-ton LNG plant for Statoil in Norway
A 10,230-ton integrated deck and separators, plus bridges, for Pemex's EPC 78 project.
All other structures under Dossa's supervision for the Mexican Gulf have been subcontracted to Mexican yards, or in the case of the Akal GC compression platform, assembled by Dossa's "project-specific" joint venture in Tuxpan. According to Business Development Coordinator Vicente Alemany, "Dossa has forged relationships with several fabrication yards in Mexico to build the different structures."
This January, Dossa reorganized its Mexican operations by establishing Dragados de Mexico, S.A. de C.V. (DOM) in Mexico City with a local partner. DOM will prepare all future tenders via its staff of Mexican engineers and construction personnel. Dossa staff based in Mexico City, Ciudad del Carmen, and Tuxpan will continue to manage ongoing projects with assistance from DOM where required.
Akal GC, Dossa's first project in Mexico, was awarded four years ago.
"It was the first time we had managed such a project, that is, one that was not built in Puerto Real," Alemany says. "We saw it as a starting point, a way of securing entry to the Mexican market."
Detailed engineering for Akal GC was subcontracted to a local engineering company. Dossa's project-specific joint venture was responsible for procurement of all materials, in addition to fabrication of the compression platform (including a 72-man living quarters), plus three lightweight tripods and interconnecting bridges – total weight around 12,000 metric tons. Transportation and installation of the structures in the Cantarell field were subcontracted, with Dragados managing pre-commissioning, commissioning, hook-up, and testing.
null
Two other projects close to completion are EPC 39 and EPC 60. The former, awarded in April 2000, is a largely conventional engineering, procurement, and construction project involving an integrated services/accommodation platform (70 beds) with a total weight of 5,000 tons. In this case, Dossa is the prime contractor, responsible for fabrication and construction engineering. A multi-national engineering company, specializing in accommodation platforms, was subcontracted for detailed engineering. Fabrication was performed at a yard in Tuxpan, with load-out completed last fall. Transportation and installation were subcontracted, while Dossa was responsible for hook-up and commissioning.
EPC 60, awarded shortly after EPC 39, proved to be a much more complex undertaking, although the time frame for delivery was shorter at 21 months. This project involved modernization and re-vamping of two existing gas/oil production platforms in Cantarell. The program included:
Installing new equipment to increase efficiency of 21 existing oil production wells
Increasing capacity of the oil and gas treatment package through additional pumps and a booster compressor
Inproving the separation system and modernizing all communications and safety systems.
The original scope of work has been modified to include a new four-legged platform and deck, linked to the existing installations, and scheduled for completion in mid-2004.
EPC 78
For this project, Dossa itself is building the compression platform deck and three separators in Puerto Real. The jacket, plus three associated 280-ton tripod platforms, a flare tower, and interconnecting bridges, were subcontracted to a yard in Mexico. Currently, fabrication of these items is 80% complete.
Puerto Real opened for fabrication in 1975. The location, on the Atlantic Ocean, covers more than 45 hectares – enough to take on three offshore projects simultaneously – with a 300-m-long dock offering unrestricted access to the open sea. Skilled labor abounds in Andalusia, with three shipyards, a General Motors plant, and petrochemical complexes close by. Additionally, labor costs in the province are among the lowest in Western Europe.
"Over the last few years, we have performed several large investments at our yard," Alemany explains. "We expanded its size to 150,000 sq m, and at the same time added two new fabrication shops – one for medium/large assemblies with overall dimensions of 145 m long, 30 m wide, and 18 m high, and another for painting of medium and large assemblies.
"We have also improved our production process by adding welding robots and new cutting equipment for rolled profiles and shaping of tubulars. In the near future, we plan to expand the facility further, possibly installing a new fabrication piping workshop and also enlarging our existing assembly workshops. Additionally, we will renovate our office space through construction of a new, integrated building."
The team at Puerto Real also has access to engineering specialists from other divisions of parent organization Dragados Industrial. These include Intecsa-Uhde and Initec-Energy. Personnel from these companies are collaborating on EPC 78, preparing construction/erection drawings, engineering pipe/equipment/electrical supports, and designing the control module. Staff from two other sister companies in Spain, CYMI and MASA, are assisting with the electrical and instrumentation installations and pipe work fabrication.
null
As lead contractor on EPC 78, Dossa's scope of work includes final detailed engineering, construction, onshore pre-commissioning, offshore commissioning, and hook-up. As for procurement, Dossa is providing 60% of equipment and tagged items, 40% of the steel, and 100% of remaining bulk materials. Pemex provided some of the structures, such as steel girders. Pemex also ordered certain long-lead items, such as the oil pumps and the compressors.
Transport and installation (but not load-out) were subcontracted to Sai-pem, which will employ its flagship crane barge S-7000. According to Alemany, "The most direct tow route from Cadiz, via the Azores, to the Cantarell field in the Bay of Cam-peche is roughly 4,700 nautical miles. As such, and based on an average tow speed of 6 knots, mobilization should take 33 days to complete.
"In fact, the S-7000 will take slightly less time to cross the Atlantic, and it will mobilize personnel, bulk equipment, and consumables off the coast at Ciudad del Carmen, just south of the field. Offshore installation and construction activities are scheduled to start around mid August."
Revised deck method
Dossa changed the original concept for the deck assembly. "The original build-method case was for the deck sections to be fabricated and installed in two sections," Alemany says. "This would have entailed significant interconnections and testing offshore; a minimum of onshore pre-commissioning; and potentially, risks in the form of deck alignment and clashes. Pemex and Dossa, therefore, opted for integrated construction, transportation, and installation for the prod-uction deck."
Dossa cites the following benefits of integrating the deck into a single piece:
Installation and interconnection times are greatly reduced
Working with a larger crane vessel, weather downtime becomes less of an issue
Interconnection and pre-commissioning work is maximized on-shore
Offshore electrical and instrumentation commissioning scope is also reduced.
The proposed changes to the original design are:
Mate both deck sections onshore and complete all interconnections
Install compressor modules and generator package offshore
Install pedestal crane onshore.
To save time, Dossa drew up a six-point plan that involves:
Identifying onshore commissioning priorities with regard to construction completion activities
Using temporary cables and piping to maximize onshore commissioning
Ensuring that the commissioning team is fully integrated in the acceptance of equipment and systems completion from construction
Employing commissioning engineers in factory acceptance tests at suppliers' prem-ises
Determining the onshore commissioning work scope at an early stage of the fabrication schedule
Agreeing with vendors the maximum amount of commissioning that could be finalized onshore without having to be duplicated offshore.
The deck will have four levels. Level 1 will house eight crude pumps and one firefighting pump, three air compressors, and a dehydration package, and two lifeboats, each with room for 20 personnel. On level 2, the control room is divided into an upper and lower level, with compartments for electrical equipment, switchgear, communications, and instrumentation such as PLCs. Also on the second level are the emergency power generator, the gas compressors, and the oil-metering package.
null
Next floor up (level 2.5) are three vapor recovery systems, two second-stage separators, and another separator to be used for either first or second-stage separation. Finally, level 3 will accommodate six booster compressors (which will come into play during flaring operations), four generators, one 60-ton lift crane, and one 120-ton crane.
Following delivery to its location in Cantarell and subsequent installation with the jacket, the Akal-L production/compression platform will be connected via a new bridge to an existing living quarters platform. The facility will receive primary separation products from four (also in-place) wellhead platforms via a bridge-linked riser platform. A back-up first/second stage separator will also be provided, capable of taking two-phase fluids from one of the wellhead platforms.
Sour crude will be flashed in two second-stage production separators. The oil will be pumped back to the riser platform at a pressure varying between 51-61 kg/cu m, via a crude metering package, before being transported onward to floating storage vessels. Flash gas from the second-stage production separator will be compressed and commingled with gas arriving on the production/compression platform from the primary separators. Condensate will be removed, and the gas then compressed by six 20% booster compressor packages.
Each of these packages will comprise a booster compressor suction scrubber, a gas turbine-driven booster compressor, a booster compressor cooler, and a discharge scrubber. The speed of the gas turbine, and hence the gas flow rate, will be varied to maintain a constant pressure at the compressor suction. The booster compressors will pressurize incoming gas from 3.8 kg/cu m to the gas export pressure of 10.35 kg/cu m. Compressed gas will be cooled to around 50° C in the booster compressor cooler, then forwarded to the discharge scrubber. Here condensed liquids will be separated and sent to the condensate coalescer, while the gas is exported via the riser platform to a treatment center on the coast at Dos Bocas.
Oil production will remain the priority in the Cantarell field. Should gas processing have to be suspended, produced gas will be flared, allowing oil to be produced without interruption. At peak, the newly expanded Akal-L complex will achieve oil output of 414,000 b/d and 436 MMcf/d of gas. Sour water condensate in the gas lines or in the booster compressor system will be stripped of hydrogen sulfide and discharged to the sea.