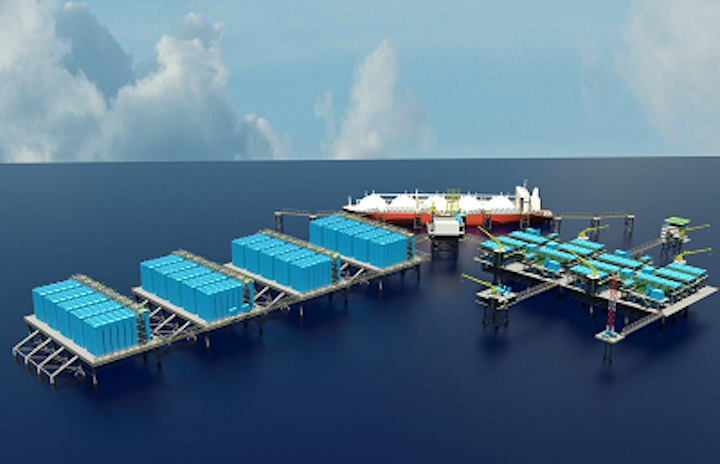 Offshore staff
CHENGDU, China -HongHua Offshore has completed the basic design for its prototype LNG production platform (PLNG).
The LNG production platform development has spanned several years, requiring an investment of over $30 million. Financed and led by HongHua, HongHua Infrastructure Partners as well as several engineering companies were also involved.
HHIP is made up of HongHua Offshore, China Aerospace (CASC), Braemar Technical Services, and EnTX GasTek (Global) Ltd. In turn, HHIP is supported by companies includingWood Group, GE Oil & Gas, ABS, Bureau Veritas, and ARUP.
The prototype and a pre-front-end engineering and design (pre-FEED) study was completed for a planned project offshore the West Delta area of the USGulf of Mexico. ABS has granted an approval in principal for the design. Other projects are under consideration in the GoM, Latin America, Southeast Asia, and Africa, HongHua said.
Wood Group conducted the pre-FEED with the participation of Braemar Technical Services and GE Oil & Gas.
The PLNG facility is comprised of a number of different fixed offshore platforms joined to form a unit for the production, storage and shipment ofLNG. It is designed to withstand weather conditions on the US Gulf of Mexico shelf but can be adjusted to most offshore conditions in water depths up to 100 m (328 ft). The main components are GE liquefaction trains powered by marinized GE LM2500 gas turbines, aluminum FSP storage tanks, and marine loading facilities. 
GE Oil & Gas also designed the power platform, which supplies electric power to the LNG pumps, marine facilities, and accommodations.
The FSP storage tanks were developed by TankTek, Ltd, a HongHua subsidiary, in conjunction with Braemar Technical Services (under license from the Nassco division of General Dynamics), EnTX Tekmar, and Jamestown Metal Marine. The flat-panel, prismatic shape of the tanks is said to allow for maximum storage to space ratio, as well as provide a low-profile design suitable for offshore weather conditions. The light weight of the tanks allows them to be fixed to the jacket in the yard and transported by a heavy lift vessel directly to the site where they are floated over the fixed pilings for installation.
04/27/2017