Saipem selects Sonardyne autonomous monitoring transponder technology
Saipem has extended the capability of its Sonardyne sixth generation acoustic positioning transponders.
Jun 14th, 2016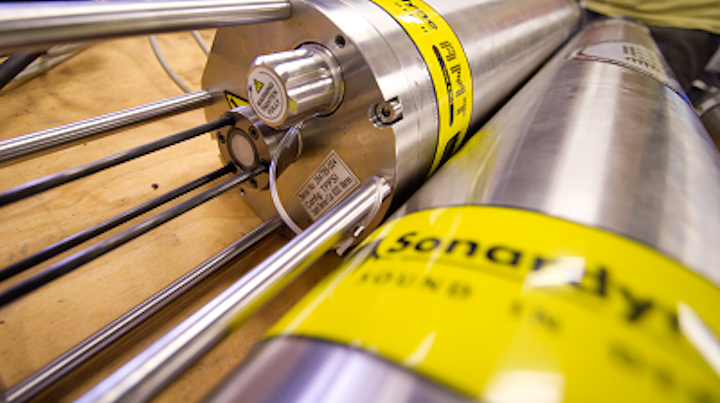 Offshore staff
YATELEY, UK–Saipem has extended the capability of its Sonardyne sixth generation (6G) acoustic positioning transponders, adding functionality that makes the equipment now suitable for a wide range of subsea autonomous monitoring tasks.
The work to convert the Compatt 6 instruments into autonomous monitoring transponders (AMT) was undertaken by engineers based at Sonardyne's Brazilian headquarters in Rio das Ostras as part of a wider scope of work to inspect, service, and re-calibrate Saipem's inventory of long baseline (LBL) acoustic technology located in the region.
Sonardyne's AMT enables users to conduct long endurance, remote monitoring surveys without the need for a surface vessel and ROV to be present throughout the project. Applications range from a single instrument deployed to measure tidal variation to a large, field-wide network capable of detecting subtle trends in structure movement, pipeline creep, and seabed settlement.
The autonomous functionality built into every AMT enables it to operate for several years without operator intervention, the company claims. Measurements from its suite of onboard sensors are logged in the unit's memory and can be recovered at any time by an AUV, ROV or vessel-of-opportunity using high-speed wireless communications.
Paul Smith, operations director ofSonardyne Brasil Ltda, said: "The 6G technology platform on which both Compatt 6 and AMT are built is very versatile, and enables users to upgrade and switch capability as their operational needs grow and stretch.
"The engineering and equipment testing facilities we have here in Rio das Ostras meant the work to service Saipem's LBL hardware and convert some of their Compatts to AMTs, could be completed without the cost and delays associated with sending equipment out the country. For our customers, this means they can get back to work and keep their projects and budgets on schedule. Something that the entire offshore industry is focused on at the moment."
06/14/2016
Share your news withOffshoreat news@offshore-mag.com