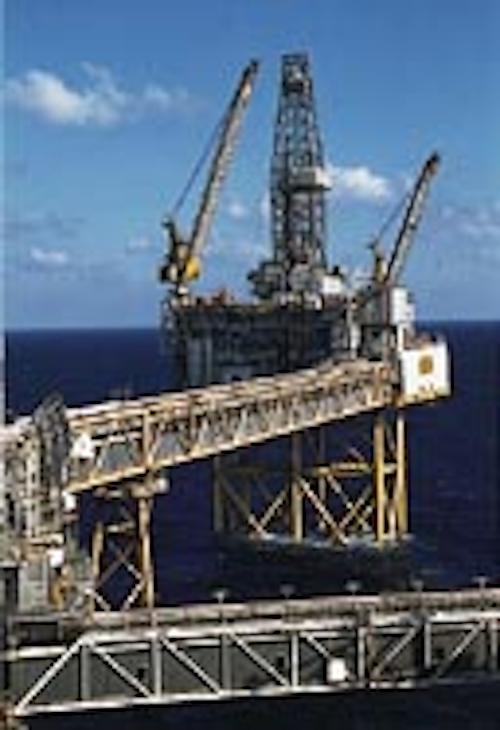 Jememy Beckman
London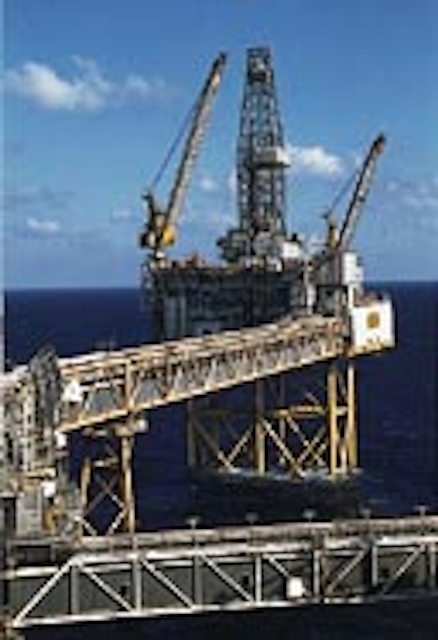 A major new wave of production drilling began late last October from the Ekofisk 2/4X platform.
UK resurgent with oil discoveries
Exploration success oscillates in the North Sea. Following a long dry spell, it is currently the UK's turn to deliver fresh oil. Most of the discoveries look to be in the subsea tieback category.
Amoco announced high GOR crude from its 22/18-6 well in the Central Graben area, flowing 3,500 b/d of 42- API and 10.5 million cf/d of gas. The field, named Wood, is conveniently close to Amoco's Arbroath and Montrose platforms.
ARCO has been delineating another small oil find (3-6 MM bbl) named Q, north of Blenheim. This will be probably be tied back shortly to the production ship Petrojarl, extending the vessel's duty on Blenheim at least into 1999. A 1998 shutdown had formerly seemed probable.
Stena Dee encountered a "significant oil column" for Enterprise in Moray Firth block 13/2/a. The well was plugged and abandoned without testing: further evaluation through 3D seismic is planned this year. Enterprise stressed the proximity of the find to Texaco's new Captain development (two km to the east), and also the similarities of the oil. However, Texaco's expansion plans for Captain, including a new subsea center, have dwelt on its own reserves rather than those of third parties.
Other seemingly minor discoveries have come from Premier's wildcat, five km offshore northern Scotland in the Jurassic, which flowed at over 2,000 b/d. And Shell may have made a strike west of its new Mallard development, itself a subsea satellite to the Kittiwake platform. Elf, meanwhile, spudded a well last month off the Isle of Man in a previously unexplored area north of Point of Ayre, using the timeshare rig Glomar Adriatic XI.
Development pace shows no let-up
Oryx continues to find life in seemingly redundant UK reservoirs. Tests completed on two development wells on the venerable Murchison and Hutton Fields (relinquished by Conoco) flowed at a combined rate of 28,000 b/d. Oryx may also advance development of two 10MM bbl discoveries in block 3/3 as satellites to the Ninian facilities. Chevron sold operatorship of Ninian to concentrate cash on more dynamic, newer developments.
Ranger Oil was one of the partners in the recent Ninian/Columba B buyout. The company has also agreed a swap of interests with Mobil which have brought it operatorship of central North Sea block 29/2c. This includes the 1993 discovery Kyle, which produced oil and gas from three wells at around 4,500 b/d and 28 million cf/d combined.
Ranger is keen to build new core areas in the North Sea outside its southern sector gas stronghold, Anglia. It is committing $60 million to new developments, including the BP-operated Pierce, currently tendering for a floater. Others on the development trail include Kerr-McGee, the new operator of Janice in block 30/17a. Three appraisal wells have just been completed here, yielding total flow of 30,000 b/d from Upper Jurassic sands with pays of 300 ft. A development should be firmed up shortly. Kerr-McGee also looks set to hunt for further oil around Gryphon to prolong the service of that field's FPSO.
Finally, British Gas has revived hopes for the Olympus multi-field development in the southern sector - shelved due to under-inflated UK gas prices - and is also considering expansion of its Morecambe and Armada complexes through tiebacks.
One unexpected dampener on an otherwise buoyant UK development scene was recent government changes to tax relief on drilling development wells. Intangible costs such as manpower and rig hire for planned wells will only gain relief at 25% per year, against 100% relief early in a campaign when logged expenditure is incurred. The impact is not considered devastating, but it could sway some operators towards reconsidering small extended-reach developments.
Norwegian output still climbing
Norwegian oil output will increase by 6% this year to 3.43 MMb/d, according to analysts Wood Mackenzie, following a 12% jump in 1996. The rise will be mainly attributable to six newly onstream fields, led by Balder and Vigdis. But there will also be added production from Draugen, Heidrun, Troll, Gullfaks, Oseberg, Ekofisk, and Snorre.
Saga is moving closer to developing Snorre's four northernmost fault blocks, thought to contain an extra 250 MM bbl. A delineation well may be under way to clarify the picture: however, the development solution may be influenced more by the planned transfer of Snorre oil processing from Statfjord A to the B platform in 2003.
Currently a subsea scheme is favored, but a separate spur or flowline to Statfjord B is also under review which would expand production capacity from the whole Snorre Field. There may even be subsea work on Snorre's southern flank, if a delineation well drilled north from Vigdis proves positive.
Another Saga well, to the north of Varg in block 15/12, looks to have confirmed the presence of oil at deeper levels than previous Varg wells. It terminated in Triassic rocks at a TVD of 3,078 meters. The partners need extra oil to justify the expense of the current wellhead platform/FPSO development.
Finally, Phillips' Ekofisk II redevelopment is meeting its schedules, apart from the pipelaying, which was delayed by bad weather. Drilling of 45 replacement production wells in the field's southwest flank is being handled from the 2/4X platform and by the Maersk Gallant rig, booked for 18 months' duty on Ekofisk. Twelve of the wells will be horizontal, and some will be combined exploration wells. Latest project cost calculation is $18.3 billion, although this may not cover anti-subsidence measures for the Ekosfisk tank, which is understood to be sinking faster than expected.
Abandonment guidelines rubber-stamped
Operators on the Norwegian shelf will have to declare decommissioning plans two to five years in advance of abandonment, according to the newly authorized Petroleum Act. Field partners will be expected to fund the removal, although the government will assume responsibility in certain cases, for a fee, to guarantee that the task is properly executed.
Forthcoming removals include Norsk Hydro's recently approved NKr23.5 million plan to recover to shore its Mime Field 500-ton, aluminum subsea template for recycling: the template is currently on an 80 meter deep seabed in block 7/11. Mime's tree and wellhead have already been retrieved. Statoil's plans for the Tommeliten gas field are due to be issued shortly, although the subsea production template may stay in place if Statoil decides to use it for a new field development nearby.
Copyright 1997 Offshore. All Rights Reserved.