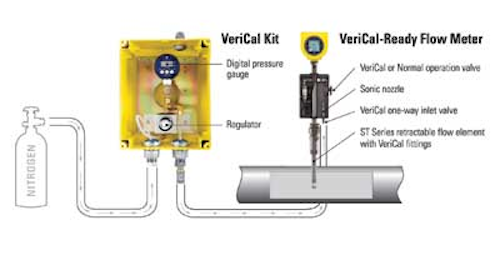 Jaime Kammerzell
Special Correspondent
The 43rd annual offshore Technology Conference will be held April 30-May 3, 2012, at Reliant Center and Reliant Arena in Houston. The largest gathering of offshore drilling, exploration, production, and environmental protection experts reached a 29-year high of 78,645 attendees in 2011, but more are expected to attend this year.
In 2011, OTC expanded its exhibition space to include the PTC Parkway, which ran from Reliant Center to Reliant Arena. Exhibitors totaled 2,520 companies from 41 countries, including 306 new exhibitors.
Susan Cunningham, 2011 OTC chairman, said: "The outstanding attendance underscores that OTC is the show to attend, and reflects the economic recovery as well as the importance of global offshore resource development in meeting world energy demand. This is an industry that rises to and meets incredible challenges, and the best minds from around the world come together at OTC to share our knowledge, to learn about technological advances and innovative approaches, to solve problems, and to discuss important issues that affect the entire planet."
To keep up with the increasing demand for cutting edge equipment and intelligence, OTC has packed the 2012 technical program with the latest technologies, successful projects, health, safety and environment advancements, and regulation updates.
The technical program papers and special events highlighted below are just a sampling of the overall conference and are not intended to be all inclusive. OTC's technical program and schedule are available atwww.otcnet.org/2012.
Technical sessions
OTC has arranged for senior executives from Total, ExxonMobil, Shell, CNOOC, and ADNOC to discuss the future of the industry, operational integrity, and risk management.
Though the offshore oil and gas community will have marked two years since the Macondo oil spill, it remains a hot topic. OTC has scheduled a topical luncheon hosted by Martin Vos of Shell to discuss "Drilling After the Oil Spill, Shell Perspective."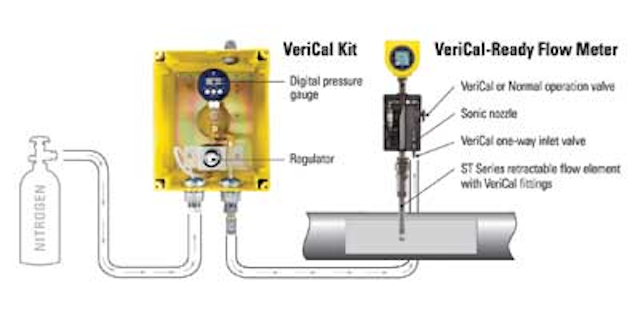 Fluid Components International (Booth 11219) will have its ST100 Series Thermal Mass Flow Meter available with VeriCal In-Situ Calibration Verification System.
Two panel discussions are scheduled including "Risk Management Strategies for Deepwater Exploration and Development" on Monday morning. Moderators Chris Ross, CRA Marakon, and Richard Westney, Westney Consulting Group, along with panelists from Transocean, ReedSmith, Chevron, and Oceaneering will discuss recent events in the Gulf of Mexico that have driven regulatory agencies to develop new business practices and strategies for prevention and drilling safety, containment, spill response, and crisis management.
Buford Pollett, Eni US Operating Co. will moderate the discussion "Improving Operational Integrity in offshore Energy Operations – A Global Perspective" on Monday afternoon. Panelists include Roberto Lorefice, Eni S.p.A.; Russ Davis, Aon Energy Risk Engineering; Robert Patterson, Shell; Magne Ognedal, Petroleum Safety Authority of Norway; Charlie Williams, Center for offshore Safety Governing Board; and Rear Admiral James A. Watson IV, Bureau of Safety and Environmental Enforcement.
Case studies
Milestone projects offer insight into successful uses of new technologies or existing technologies used in novel ways. Companies will highlight challenges faced as well as lessons learned.
Monday morning's technical session is on the Who Dat development. The technical session includes seven papers detailing the various aspects of the project. LLOG representatives will discuss the overall field development from lease sale to first production as well as review the subsurface conditions. Four papers are planned to examine the versatile floating production unit OPTI-EX. The final paper will look at the challenges of producing light and heavy oil in deepwater.
LLOG drilled the OCS-G-27277 well using theOcean Victory semisubmersible in December 2007. The discovery well found more than 380 ft (116 m) of gas and oil pay zones in four separate reservoirs. Two appraisal wells followed in 2010.
The Who Dat field is in Mississippi Canyon blocks 503/504/547 in 3,000 ft (914 m) of water. LLOG brought Who Dat online in December 2011. LLOG expects to achieve a production rate of 20,000 b/d and 22 MMcf/d from the three completed wells. The company plans to drill nine additional wells, which would max out the 60,000 b/d and 150 MMcf/d capacity of the floating production system. LLOG believes the field holds more than 300 MMboe.
Tuesday morning's case study looks at the Pazflor subsea project. One of the world's largest deepwater developments, Pazflor came online in August 2011, ahead of schedule. Operated by Total, Pazflor is in block 17 off Luanda in 600 to 1,200 m (1,970 to 3,940 ft) of water. Total estimates its reserves to be 590 MMbbl.
Yves-Louis Darricarrère, president of exploration and production at Total, said: "Paving a way with new technologies, the project showcases Total's expertise in highly complex environments. The project facilities have been designed and thoroughly tested in accordance with the strictest health, safety and environmental standards."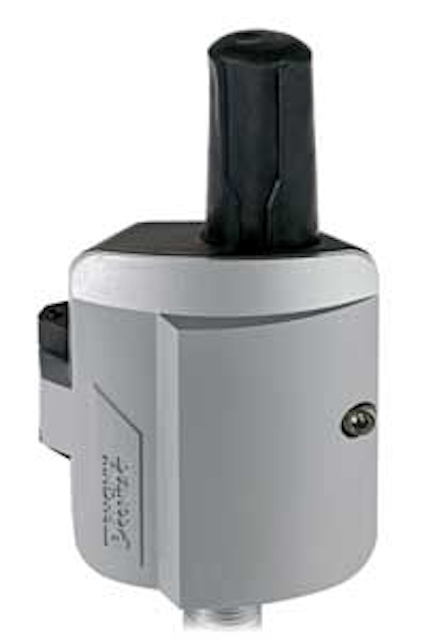 Phoenix Contact (Booth 5617) will introduce its new WirelessHART adapter at OTC.
Comprised of 180 km (112 mi) of lines tying in 49 subsea wells, 10,000 metric tons of subsea equipment and the giantPazflor FPSO, Pazflor's vast subsea gathering network is the most complex in Angola. Sixteen mooring connectors hold the world's largest FPSO on station. The FPSO can store up to 1.9 MMbbl, which is offloaded to tankers via an offloading buoy. Gas is reinjected.
Total said a key technical challenge was producing two very different grades of oil from four separate reservoirs. Producing the heavy, viscous oil from the three Miocene reservoirs, which account for two-thirds of the reserves, and the related flow assurance constraints, represented a major challenge. The gas has to be separated from the liquids on the seabed so that the viscous liquids can then be pumped to the surface. The design and installation of subsea gas-liquid separation units and pumps are a world first on this scale. The pumps were purpose designed and tested for Pazflor.
The technical session papers will discuss project development, challenges, engineering work in Angola, startup challenges, subsea technology and testing, and qualification of the new technology used to bring Pazflor online.
Wednesday morning's technical session case study is on the Jubilee project. Phase 1 of the Jubilee project came online in December 2010. The field is offshore Ghana in 3,609 ft (1,100 m) of water and covers two licenses, Deepwater Tano and West Cape Three Points. Tullow operates the Tano license, and Kosmos Energy operates the West Cape Three Points license. The operators estimate the field holds 1.2 Bboe recoverable reserves. The initial flow rate was 55,000 b/d, but is expected to increase to 120,000 b/d.
Anadarko drilled the discovery well in 2007. Several appraisal wells followed, which confirmed the Jubilee field is a continuous stratigraphic trap with combined hydrocarbon columns in excess of 1,969 ft (600 m).
The field is comprised of several wells with large amounts of prospective oil, thus the operators developed the field in several phases. The Minister of Energy in Ghana approved Phase 1 in July 2009. Phase 1 is comprised of 17 subsea wells tied back to theKwame Nkrumah MV21 FPSO, which is moored in 3,609 ft of water and will process about 120,000 b/d and 160 MMcf/d.
In January, Tullow said it expects production in 2012 to reach 70,000 to 90,000 boe/d. In 2011, production reached 88,000 boe/d before it declined to 70,000 boe/d at the end of the year with average production of 66,000 boe/d.
The government of Ghana approved the next phase of development, Phase 1A, in January 2012. This development will consist of eight new wells; five producers and three additional water injectors, and the expansion of the subsea network. The work will be completed over 18 months at about $1.1 billion.
The seven Jubilee technical session papers will discuss field development, HSE, reservoir characteristics and waterflood performance, subsea system design, and production system installation and commissioning.
Marlim 3 Phase Separation System is planned for Thursday morning's technical session. The Marlim field is offshore Brazil in the Campos basin. Petrobras awarded FMC Technologies a contract to supply a subsea separation system for the project. According to Petrobras, FMC achieved many firsts in this project, including deepwater deployment of subsea separation at a mature field, the first subsea separation of heavy oil and water, and the first subsea reinjection of water for improved recovery purposes.
FMC supplied the subsea separation and pumping system. The separation module separates heavy oil, gas, sand, and water on the seabed under 2,950 ft (900 m) of water. FMC and Statoil developed a pipe separator for the module. FMC delivered the separation system in December 2011.
The six-paper session will give a project overview of the Marlim 3 project, look at the reservoir characteristics, discuss the subsea process design and the challenges and solutions to flow assurance and hydrates, talk about dynamic simulation work, and challenges and solutions for subsea separation.
Technological advancements
Core to OTC's purpose is to share the latest advancements in technology with the industry. New applications and solutions will be discussed in at least five technical sessions.
Monday morning's technical session features Advances in Floating LNG Technology. Chris Carra, AMOG Consulting, and Xianchuan Yu, Technip USA will chair this session. The seven paper topics include floating liquefied gas terminals, liquid spray accidental releases, multicomposite LNG transfer hoses, tank capacity, transportation of LNG and CNG, and CO2 tolerant LNG production system.
Running concurrently is a technical session discussing Innovative FPSO and offshore Offloading Solutions. Frederic Garnaud, Total, and Han Tiebout, SBM offshore, will chair this session. Paper topics include DP-based FPSO offloading vessels, crude oil export, bonded flexible oil offloading lines,Aseng FPSO, TUMAS, cold repair method, and mating operation in shallow water.
Monday afternoon features technical sessions on Drilling and Completions over 15,000 psi, and Deepwater Cementing.
Rusty Bayh, Halliburton, and Orlando Ribeiro, Petrobras America, will chair the drilling and completions session, which include papers about Davy Jones' HP/HT, merging ASME and API design methods for subsea equipment, new control systems, packer and safety valve development, pressure vessel design methods, slickline-retreivable wellhead plugs and downhole plugging system, and HP/HT subsurface safety valves.
Syed Ali and Francois Auzerais, Schlumberger, will chair the deepwater cementing session. Six technical papers will cover deepwater cementing challenges, methods to enhance deepwater cementing, sidetrack plugging using synthetic based muds, deepwater cementing standards, foamed cement job simulations, and chemical and mechanical properties of HT cured oil-well cement.
Innovations in ROV/AUV Technology will run Tuesday morning. Chair Liza Medeiros, consultant, and Jason Stanley, Schilling Robotics, lead the seven-paper session. Topics include space robotics for deep wells, high definition 3D video, subsea wireless technologies, glass-free S3D technology, subsea intervention tool, 3D subsea inspection technology applied for pipelines, and autonomous inspection vehicle.
Advances in Flexible Pipe Technology will be offered on Tuesday afternoon. Krassimir Doynov, ExxonMobil, and Patrick O'Brien, MCS Kenny, will oversee the presentation of seven papers. Three papers will tackle the qualification of three technologies: unbounded dynamic flexible risers with carbon fiber composite armors, flexible dynamic risers for CO2, and composite armor materials for unbounded flexible pipe. Other topics include metal-to-metal seal designs, new standards, reduction of corrosion and improvement of fatigue of flexible pipe, and integrity management of flexible pipe.
Jayesh Antani, Enbridge offshore Pipelines will chair the Wednesday morning session that will introduce New Deepwater Construction Equipment. The session will include topics on deepwater construction equipment, deepwater pipelay and heavy-lift vessels, dry tree semisubmersible riser tensioning equipment, and vertical connection modules.
Doreen Chin, Shell, and Jean Francois Saint Marcoux, Subsea 7, will chair the Wednesday afternoon technical session about Advances in Subsea Thermal Management Technology. Papers include wet thermal insulation coatings, world's first electrically trace heated pipe-in-pipe, phenolic-based subsea thermal insulation systems, steady-state heat transfer from pipelines, electric heating of pipelines and flowlines, and pipe-in-pipe vs. external wet insulation.
Recent Experiences and Advancements in Deepwater Facilities runs Thursday afternoon. Shiladitya Basu, Kellogg Brown & Root, and Scott McClure, Alan C McClure Associates, plan to chair this technical session. Presenters will share a case study on platform foundation failure, structural integrity monitoring, surface drilling/production system designs, CVA for the first FPSO in US GoM, TLP design changes, FPSO relocation, and measured structural data for offshore production systems uses.
Other returning features include:
Deepwater moorings
Drilling and well completions
Flow assurance
Process safety
Geotechnics and soil mechanics
Pipelines
Metocean
Ocean mining
Flexible pipe
Inspection and maintenance.
Alternative energy
As the price of conventional energy increases, many are looking toward alternative energy (wind, solar, geothermal, and ethanol) to ease the financial burden.
Thursday morning features a technical session on offshore Wind Energy. Session chairpersons Puneet Agarwal, Stress Engineering Services, and James Dailey, Technip USA, will facilitate the presentation of seven papers. Topics include standards and third party oversights, offshore wind turbines in hurricane-prone regions, model testing of three floating concepts, stability of suction caissons, stress and fatigue, multimember substructure capabilities in FAST, and 2MW floating wind turbine prototypes.
Charles Knobloch, Arnold & Knobloch, and Chris Ross, CRA Marakon, will moderate a panel session on alternative energy on Thursday afternoon. The panelists will discuss the technologies that have the best chance of succeeding, how they will benefit the global energy crisis, and when the technologies are expected to be commercial.
Local Power Generation for offshore Developments runs concurrently to the panel session. Chairpersons Frederic Garnaud, Total, and Svein Hellesmark, Remora, will oversee the presentation of papers covering Energizing Marginal Oil Reserves in Frontier Regions, wave energy converters, efficient hull design, subsea power delivery, buoy for offshore power generation, study of offshore wind as power supply to oil and gas platforms, and renewable energy.
Events and activities
The four-day event starts Sunday, April 29 at 6:00 p.m. with the Annual OTC Dinner. This special dinner is held at the George Bush Grand Ballroom at the George R. Brown Convention Center. OTC 2012 Distinguished Achievement Award recipients include Joe Burkhardt for engineering Exxon USA's subsea production system, and Shell's Perdido development project. Registration opens at 7:00 a.m. on Monday, April 30.
Topical Breakfasts will be held every morning from 7:30-9:00. Tickets are $40. Monday's topics include Exciting Developments in Subsea Intervention Technology presented by Oceaneering, and Industry Direction and Future Growth presented by BP. Tuesday's topics include Wison offshore and Marine's presentation on Emerging Role of China in the offshore Industry, and Gazprom's presentation on Gazprom Conventional /Unconventional Resources Development Plans. Wednesday's topics include Investment Opportunities in Nigeria in the Era of PIB and NCD presented by Shell Nigeria, and Nikaitchuq, offshore Alaska presented by Alaska Eni, and Petrovietnam – Future Plans and Projects presented by Petrovietnam.
Tuesday also features an Industry Breakfast on Opportunities for Trade and Investment in the United Kingdom's offshore Oil and Gas Sector, and an Ethics Breakfast on Oil Spills, Ethics, and Society. An Industry Breakfast on Norway will be held on Wednesday. An Industry Breakfast on Israel will be held on Thursday.
Topical Lunches will be held Monday through Thursday from 12:15-1:45. Tickets are $50. Monday's topics include The Deepwater Adventure in West Africa: Achievements and Prospects, and Brazil Strategic and Business Plan 2011–2020. Tuesday's topics include Unconventional Resources: Unlocking Their Future Full Potential, A Department of Energy Perspective on the Management of High Consequence Low Probability Risks, CNOOC's South China Sea Development Plan, and Follow the Risk: Process Safety Developments in Shell Deepwater Wells. Wednesday's topics are Unlocking Stranded offshore Gas, Challenges on Major Projects for Independents, Partnering to Win in an Increasingly Complex Oil and Gas Environment, and UAE Energy Mix: Opportunities and Challenges. Thursday's topic is The Nexus of Energy, Environment, and Climate Change Issues.
The Next Wave will be held on Monday from 8:15 a.m.- 2:30 p.m. Challenges and Responsibility: Our Careers Over the Decades to Come is a young professional event that helps prepare leaders for additional responsibility and set goals for a successful career, and arms them with the tools to meet challenges along the way. Lee Tillman, ExxonMobil, will give the keynote address. Richard Loomis, World Energy, will moderate the event with panelists from KBR, Noble Energy, ConocoPhillips, NOV and Schlumberger.
On Tuesday evening relax with a Night at the Ballpark. Join your colleagues for a night of Major League Baseball at Minute Maid Park. Watch the Houston Astros play the New York Mets. Discount tickets and group rates are available.
On Thursday more than 200 high school students will see firsthand the exciting opportunities the oil and gas industry can offer. The program includes a scavenger hunt of the technology exhibits and hands-on energy lessons provided by the U.S. National Energy Education Development Project.
Spotlight awards
Every year, OTC recognizes innovative technologies with the Spotlight on New Technology Award. The award is open only to OTC exhibitors and is designed to showcase the latest and most advanced technologies that are leading the industry into the future.
The 2012 Spotlight on New Technology Award recipients include:
Baker Hughes for its TeleCoil Downhole Communication System, and MaxCOR Large-Diameter Rotary Sidewall Coring Service
ClampOn for its ClampOn Subsea Corrosion-Erosion Monitor
Dockwise for itsDockwise Vanguard
FMC Technologies for its Pazflor Subsea Separation System
FMC Technologies and Petrobras for their Marlim Subsea Oil-Water Separation System
Halliburton for its EquiFlow Autonomous Inflow Control Device
Reelwell AS for its Reelwell Downhole Isolation System
Schlumberger for its Signature Quartz Gauges, and PowerDrive Archer High Build Rate RSS
ShawCor Ltd. for its ShawCor Simulated Service Vessel
Tesco Corp. for its Directional Liner Drilling System
Versabar for The Claw.
The OTC Closing Reception will take place Thursday from 4:00-5:00 p.m. All OTC events, aside from the Annual OTC Dinner and the Night at the Ballpark, will be held at Reliant Park.
MoreOffshore Issue Articles
Offshore Articles Archives
View Oil and Gas Articles on PennEnergy.com