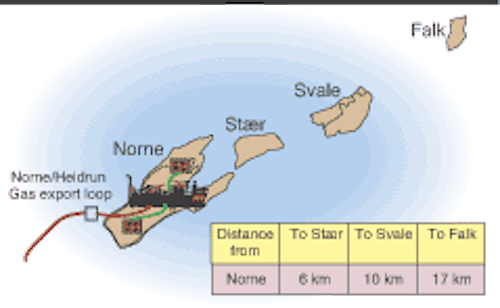 Statoil is investigating the use of new subsea technologies to reduce field development and operating costs. An initiative is under way to study whether three particular technologies are mature enough to be used on upcoming projects at the Norne field in the Norwegian Sea.
This work forms part of the Norne Technology project, for which the personnel and a NKr 3-million budget are being provided by Statoil's technology division and the PL 128 partnership. Head of the project is Geir Mellgren, head of subsea operation systems in the technology division.
The three technologies in question are:
The integrated production umbilical (IPU) developed by Kværner Oilfield Products, which incorporates a flowline with the power, control, and service functions normally included in an umbilical
A subsea water injection pump - pumps from two suppliers, Aker Kværner and Framo, are under consideration
Subsea separation - systems from the three subsea equipment suppliers with which Statoil has framework agreements. ABB, Aker Kværner, and FMC Kongsberg Subsea are under consideration, as well as ABB/ Framo's Sepdis subsea power distribution system.
The first phase investigates the use of an IPU and subsea water injection to develop Stær, a recent discovery that Statoil aims to tie back 6 km to Norne and bring on-stream in 2004. In a second phase, subsea processing will be considered for Norne when the water cut reaches higher levels.
The project, which got under way in May, is working to a tight schedule. Decision number one comes in November, when the project team is due to report whether the technologies under study have reached a sufficient level of qualification to justify their use, Mellgren says. Working to a design basis provided by the Stær organization, the suppliers involved are carrying out studies of the applicability of their products and will deliver final reports by Oct. 1. Internal evaluation and recommendations will take place a month later.