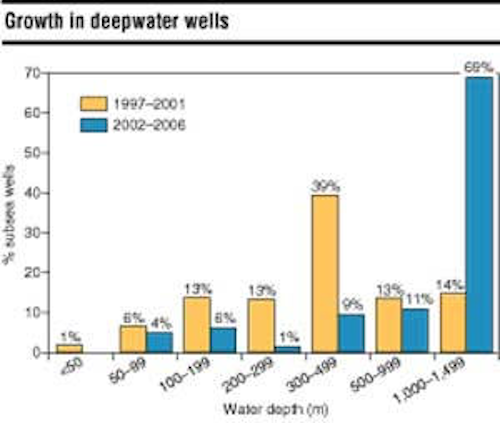 To date, the bulk of West African offshore production has been achieved through the "conventional" fixed platform/surface completion approach, but this is set to change in the near future.
Since the start of offshore development in this region in the 1960s, almost 700 platforms have been built and 250 fields brought into production.
Although the region's first subsea wells were installed in the late 1970s, subsea activity remained muted for the next two decades. To date, a total of 106 subsea wells have been installed, of which 84 are currently operational. The vast majority of these installations took place in the late 1990s.
Over the period 2002-2006, however, very strong growth can be expected in the region's subsea market. Our work on The World Subsea Report 2002-2006 shows the stage is set for a four-fold increase in subsea wells installed. Deepwater developments - particularly off Angola - are the main driver of this future growth. Forecasts suggest that subsea development expenditure off the region could amount to $7.2 billion over the period.
Deepwater potential
The geology on the African side of the South Atlantic basin bears a marked resemblance to that found on the Brazilian side, and a major new deepwater province is emerging. The first brace of West African deepwater "elephants" - Shell's Bonga on OPL 216 off Nigeria and Elf's Girassol on Block 17 off Angola - were discovered in the spring of 1996. Since then, West Africa has emerged as perhaps the most significant deepwater region in the world, although there also have been some high-profile failures and disappointments along the way.
Oil company interest in the region, and particularly in its deepwater prospects, can be expected to generate globally significant contracts for subsea activity. Our work on The World Deepwater Report 2001-2005 found that the average reserves of individual deepwater developments in the region (486 million BOE) far surpasses those in other regions of the world, as does their expected productivity (which averages over 100,000 BOE/d).
Subsea projects
Over the 1997-2001 period, 69 subsea wells were installed but, according to the Infield Systems' database, the next five years will see a dramatic expansion in the subsea sector with a further 289 subsea wells being planned or possible, representing growth of over 300%.
Examining the water depth distribution (in percent terms) of the subsea wells installed in 1997-2001, the most remarkable feature that emerges is the spectacular growth in deepwater installations (water depths greater than 500m) over the latter period. In the 1997-2001 period, 19 subsea wells (27% of the total) were installed in deepwater. In contrast, the period to 2006 could see over 230 new wells (both production and injection) installed in water depths greater than 500 meters, corresponding to 80% of all the subsea wells planned and possible for the region. The majority of these are associated with deepwater projects off Angola.
The importance of deepwater developments is also reflected in the development scenarios proposed for the future subsea projects listed above, with stand-alone floating production systems (FPSs), typically floating production, storage, and offloading (FPSO) units predominating. Such stand-alone FPS developments account for over 50% of the projects, with subsea tiebacks to floating production systems accounting for a further 27%.
Subsea nations
Additional prospects for subsea development over the period to 2006 could well be revealed by ongoing exploration in the region. Acreage off Equatorial Guinea, the deepwaters off Gabon, and the Kwanza Basin off central Angola, for example, are deemed highly prospective but have been only sparsely explored to date.
Once discoveries are made, progress to their development can sometimes be remarkably swift. ChevronTexaco's Kuito Field on Angola's Block 14, for example, was brought onstream just over two years after its discovery while Triton's fast-track Ceiba Field development in 671 meters water depth on Equatorial Guinea's Block G achieved first oil less than 14 months after its discovery.
According to the Infield Systems' data, Angola is far and away the most important subsea market in the West African region. The 14 Angolan subsea projects identified for development over the 2002-2006 period account for 53% of the region's planned and possible subsea wells - more than twice the share of the region's next biggest market, Nigeria. In addition to the continuing development of ChevronTexaco's Kuito Field on Block 14, and of TotalFinaElf's flagship Girassol project in deepwater Block 17, there are 14 new projects on screen for the 2002-2006 period all but two of which lie in water depths of 1,000-1,400 meters. Major projects are detailed below.
ExxonMobil's $3 billion Kizomba A project, targeting the Hungo and Chocalho fields on Block 15 in water depths up to 1,350 meters. The development will feature a tension leg platform (TLP) with dry completions linked to a newbuild FPSO from which a total of 23 subsea water and gas injection wells will be operated. The TLP is being supplied by ABB in partnership with Heerema. A consortium comprised of Hyundai, Fluor Daniel, and Amec has been contracted to deliver the newbuild FPSO. This vessel will have processing facilities capable of handling peak production of 250,000 b/d oil with storage capacity of 2.2 million bbl, making it the world's largest FPSO. First oil from the project is currently scheduled for 4Q 2004.
Xikomba is a smaller project in 1,355 meters water depth on the same acreage. It lies north of Kizomba and is due to yield ExxonMobil's first production from Block 15 in 2003. A fast-track development scenario featuring subsea wells connected to a leased FPSO has been selected. SBM has secured the contract for the FPSO, and a total of nine subsea wells are planned over the period to 2006.
Further south on Block 18, BP's Plutonio project is moving ahead at last. Halliburton's subsidiary Granherne has conducted pre-FEED studies and the full FEED award is expected in early 2002. BP is said to have opted for subsea wells producing to an FPSO moored in water depths of 1,362 meters. Eleven wells are on screen here for the period to 2006 with a further two possible if the Paladio Field is also tied back to the production facility. Start-up on Plutonio is scheduled for 2005.
Back on Block 17, TotalFinaElf is seeking to tie its Jasmin Field back to the Girassol FPSO in 2003, and a second phase of the Girassol development - referred to as Girassol C - is slated to start in 2005. The French operator is also eyeing a second major stand-alone project on Dalia (water depth 1,360 meters) following the Girassol model of subsea wells producing to an FPSO. The Infield Systems' database lists a total of 20 wells on this project over the 2002-2006 period, with a further 10 possible under a subsequent development phase.
Off Nigeria, there currently are nine subsea projects planned or possible for the 2002-2006 period. In addition to Agip's Abo (OPL 316) and Okpoho/Okono (OML 119), significant subsea projects include:
Shell's Bonga, in water depths of 1,015 meters on OML 118 (formerly OML 212). This field features a newbuild FPSO with a processing capacity of 225,000 b/d oil and 170 MMcf/d gas, and a storage capacity of 2 million bbl. A total of 36 subsea wells (including 16 water injectors) are planned for the development, and 23 of these are scheduled to be installed over the period to 2006.
TotalFinaElf's Akpo in water depths of 1,375 meters is located on OPL 246 where an early production system featuring a leased FPSO is planned to start in 2003. The subsequent full field development could involve a total of around 40 subsea wells.
ExxonMobil's Erha project in water depths of 1,350 meters on OPL 209, is expected to feature a leased FPSO with a total of 17 subsea wells planned and possible over the period to 2006.
The indigenous company Famfa Oil in partnership with Texaco's subsidiary Star Petroleum, Petrobras, and the Nigerian National Petroleum Corporation (NNPC) operates Agbami, on OPL 216 in water depths of 1,400 meters. The development scheme is expected to be similar to that adopted for ExxonMobil's Kizomba A project off Angola, in that it will feature a dry completion unit linked to an FPSO from which a number of injection wells will be operated. The tender process for subsea equipment, installation, and a dry tree unit has begun, and tenders for the 200,000 b/d FPSO are being evaluated. A final decision on project sanction is planned for the first quarter of 2002. First oil from the field is planned for mid-2005, with peak oil production of 200,000 b/d expected to be reached in 2007.
Off the Republic of Congo (Congo-Brazzaville), seven subsea projects are identified for the 2002-2006 period. Of these, six are operated by TotalFinaElf and one (Hinda in water depths of 95 meters on the Marine VI block) by Agip. TotalFinaElf's deepwater Moho and Bilondo projects account for 12 of the 19 subsea wells currently planned or possible in the nation's waters through 2006.
Equatorial Guinea was the first West African nation to achieve production from deepwaters with the 1997 start-up of the Topacio subsea satellite on ExxonMobil's Zafiro project. Currently three other subsea projects are in progress. All are located on Block G off the country's mainland Rio Muni province where the continued development of Triton's Ceiba Field is progressing. Triton, which is now part of Amerada Hess, also plans to develop the Okume and Oveng fields with start-ups slated for 2002 and 2006 respectively.
Subsea activity off Gabon will be led by Vaalco's Etame project in water depths of 60 meters. The South African operator has leased the Petroleo Nautipa FPSO from a Norwegian joint venture between Fred Olsen and Prosafe under a 2-year contract worth $30 million. The vessel is due to be installed on the field by September 2002 with production following shortly after.
Off the Ivory Coast, Canadian Natural Resources is pondering its Baobab discovery in water depths of 1,484 meters on Block CI-40. Depending on the results of appraisal and delineation drilling, this will either be produced as a subsea tieback to the Espoir Ivoirien FPSO located on the operator's Espoir field 8 km to the north or as a stand-alone development featuring a leased FPSO.
Subsea operators
The French major TotalFinaElf is clearly the most important operator in the region with a portfolio that is more than twice as big as that of its nearest rival ExxonMobil.
With its acquisition of Triton, Amerada Hess has picked up some highly attractive acreage off Equatorial Guinea and the subsea projects planned there lift it into third place, ahead of supermajor Shell. These four companies, along with ChevronTexaco and BP, account for 93% of the subsea wells planned or possible over the 2002-2006 period.
Subsea capex
Our market forecasts suggest that the anticipated growth in the region's subsea sector will call for an expenditure of over $7 billion over the period to 2006. This figure includes development drilling and the supply and installation of subsea hardware, including the pipelines and umbilicals associated with the subsea wells.
The West African region will thus account for 14% of global capex on subsea developments over the 2002-2006 period, which is forecast at over $50 billion.
Editor's Note: The World Subsea Report 2002-2006 and The World Deepwater Report 2001-2005 are published by Douglas-Westwood/Infield Systems: www.dw-1.com, e-mail admin@dw-1.com, Tel: +44 (0) 1227 831879.