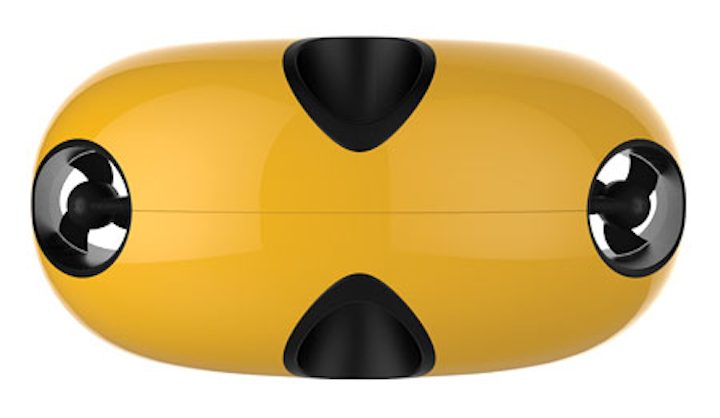 Exhibitors showcase new technologies at SEG 2015
The exhibit floor at the 2015 Society for Exploration Geophysicists Annual Meeting, held this year in New Orleans, was brimming with new technologies and products.
While companies slash budgets and continue to search for more cost-effective methods of doing business, the overall focus on the floor was how seismic companies could offer high-quality imaging at a lower cost. A quick scan of the exhibition floor was testament to the fact that necessity does, in fact, beget invention. Highlighted here are just a handful of products and technologies introduced or discussed at SEG 2015.
Flying Node concept
Thalassa Holdings' Autonomous Robotics Ltd. (ARL) debuted its Flying Node concept, which the company says operates as a "swarm" of AUVs descending upon the seabed to record data. The Flying Node concept is designed to combat the cost of obtaining ocean bottom seismic data in extreme water depths or in complicated geological structures. With a maximum operating depth of 3,000 m (9,842 ft), the ARL Flying Nodes are positioned on the seabed using an ultra-short baseline acoustic navigation system mounted on an unmanned surface vessel. According to company representatives, the accuracy of the nodes' positioning is comparable to ROV-deployed nodes. Each node, which is said to have a flexible receiver geometry and an integrated acoustic transponder, can record on the seabed for up to 60 days, and is capable of both 3D and 4D seismic. Multiple receiver rows can be deployed at once, and ARL said that it foresaw the deployment of 3,500 Flying Nodes from a vessel.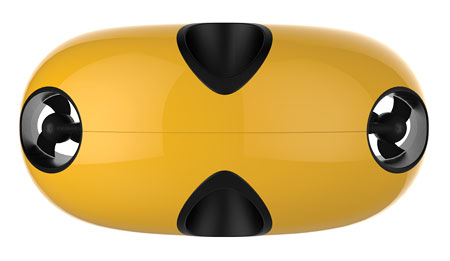 The autonomous Flying Node uses acoustic placement to navigate to the seabed. (Image courtesy ARL)
Portable Modular Source System
Fellow Thalassa Holdings company WGP highlighted its Portable Modular Source System and Dual Portable Modular Source Systems (PMSS / D-PMSS) as part of its permanent reservoir monitoring services. Statoil uses the system at its Snorre and Grane fields, both located in the Norwegian North Sea. BP is also a customer, utilizing WGP's life of field seismic products in both its Valhalla field in the North Sea, and its Chirag Azeri Reservoir Seismic Project in the Caspian Sea. The PMSS is a modular, containerized system based on ISO-sized containers, designed to be both land and sea transportable. The system can be quickly, temporarily installed on a vessel of opportunity, even one already assigned to a field for a different application, which could help contain costs. WGP announced this summer that the permanent reservoir monitoring operations at Snorre and Grane were completed ahead of schedule. More than 6,000 km (3,728 mi) of data was shot over the two fields.
Reservoir benchmarking
Cray Inc. announced it had achieved a new performance benchmark for reservoir simulations using Stone Ridge Technology's ECHELON reservoir simulation software and the Cray CS-Storm cluster supercomputer. ECHELON models oil, water, and gas flows in a reservoir, and is specifically designed for leveraging graphics processing units (GPUs) computer architectures. It also has scalability across multiple GPUs. With ECHELON running on Cray's CS-Storm system, it can deliver speed that can be used by reservoir engineers to study many more realizations of their models and run large, high-resolution cases, said Vincent Natoli, founder/CEO, Stone Ridge Technology.
MASS
Present in Magseis' booth to demonstrate its Marine Autonomous Seismic System (MASS) was a smaller version of the Lysaker, Norway-based company's automated industrial robot technology. Magseis' MASS sees small, autonomous sensors inserted into steel cables. As part of that process, the robotic "arm" handles the sensor capsules, data downloading, and battery management aspects of the system.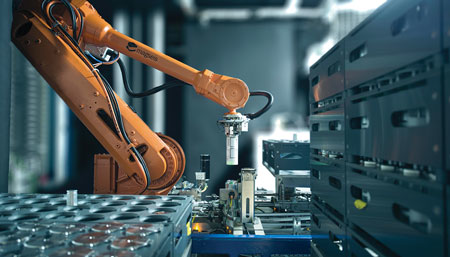 Magseis' docking robot operates onboard the research/survey vessel Artemis Athene.(Image courtesy Magseis)
Following the show, in mid-November, Magseis announced an agreement with Shell for the further joint development of a system to deploy the MASS technology in ultra-deepwater. The agreement regulates the further work leading up to a full-scale pilot test which is planned for completion in early 1Q 2016 and through to the commercial deployment of the system which is planned for early 2017. The project will be jointly financed by Shell and Magseis with a significant contribution from Innovation Norway.
New geotech collaboration
Halliburton's Landmark software provider and CGG agreed to a geosciences technology collaboration. The collaboration aims to allow seamless access to interpretation and reservoir characterization technologies and geoscience data from both companies using Landmark's DecisionSpace. A series of workflows enabled by the platform will be delivered through connectivity of geoscience applications and data, the companies said. Additionally, Landmark and CGG will engage with customers to develop a new class of E&P workflows to meet existing and emerging industry challenges.
FlexNode
Seabed Geosolutions introduced FlexNode, a scalable node deployment solution. An express seabed seismic service, FlexNode has completed two successful projects for different operators, with one located offshore West Africa and the other in the North Sea.
Through its transportable, modular solution, nodes can be deployed using existing support vessels already on site, optimizing vessel usage. The FlexNode service solution is designed for deepwater projects up to 3,000 m (9,842 ft) under tight time constraints, and projects where targets are obstructed by platforms and seafloor infrastructure. While the number of nodes to be deployed can be flexible, Seabed Geosolutions said that between 200-500 nodes are typically needed, as FlexNode offers sparse node geometry with a high-density shot point coverage.
Currently, customers could employ Seabed Geosolutions' existing Trilobit in using FlexNode, a four-component broadband seabed node which already offered prolonged recording times and flexibility in deployment methods. However, the company representative explained, by 2H 2016, IT is planning for its new fully-autonomous Manta node to be available. This model could also be used in the FlexNode service.