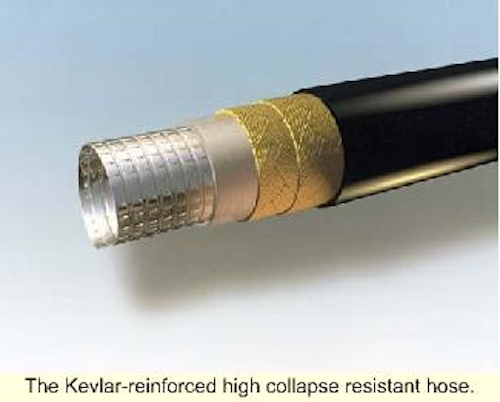 Spending on subsea oil and gas production could hit $12 billion in 2003, nearly double last year's level, according to UK-based analysts Douglas-Westwood Associates. Umbilical and flowline suppliers will play a major role in fueling this upsurge, as subsea developments go deeper and tiebacks become more remote. In anticipation, Oceaneering Multiflex says it is altering its global production capability.
Multiflex was deep in debt in 1994 when it was acquired by Oceaneering for $12 million. Since then, the situation has been turned around, following a series of investments in R & D and new production equipment at the Houston headquarters, plus two new bases just outside Rio de Janeiro and Edinburgh, Scotland. Both of these purpose-built sites are fully owned by the company.
The Niteroi, Brazil complex, which was assembled from scratch, has cost $23 million to date, compared with just $11 million for the plant in Rosyth, Scotland. However, much of the staff base and production machinery here were virtually in place already - it was simply a case of transferring them from the old site in Leith on the opposite bank of the River Forth.
Niteroi, which opened last December, manufactures umbilicals and flexible flowlines up to 4 in. in diameter, which are currently contracted exclusively to Petrobras. In Europe, however, Oceaneering Multiflex took the view that there was too much competition on flexibles from such companies as NKT, Coflexip Stena, and Wellstream, so Rosyth (which opened this summer) will concentrate on thermoplastic hose, steel tube umbilicals, and eventually, electric cables.
Houston remains the group's principal design center for new products. Under an R&D agreement with Petrobras, it developed a new thermoplastic steel hose with high collapse resistance for deepwater fields. This design has been produced for the past two years in 1/2-in., 5,000 psi collapse rated versions for several projects. Work on a new 1/2-in. hose with 10,000 psi collapse resistance is close to completion, with a debut application likely in the Campos Basin next year.
Currently, Oceaneering Multiflex maintains two sites in Houston with manufacturing and load-out capability. Output this year has included 20 miles of umbilical section for BP Amoco's Pluto project in the Gulf of Mexico. The plan is to centralize operations into one facility in the near future.
Improved vessel access
Several factors forced the company out of Leith, including its unfavorable position on the River Forth, where large vessels and semisubmersibles could not be accommodated. The company evaluated alternative sites in Dundee to the north, Tyneside to the south, and western Norway, before settling on Rosyth. This site had two big advantages, according to Sales & Marketing Manager Paul Gahm.
That part of the river is tidal - the depth is 8.4 meters at low tide - and there is a larger and deeper quayside, suitable for most umbilical transportation vessels (most of which are small enough to squeeze past the Forth Bridge).
There was plenty of land available on this industrial, European Union-funded park. "We designed the factory around producing higher volume business," Gahm said. "We wanted to be able to put out 2.5 times what we had been capable of at Leith."
Although the new location wasn't officially inaugurated until June, it began taking on assignments from Leith this winter, including a reel for Ranger's Kyle subsea development in the central UK North Sea. This was loaded onto the Coflexip Stena Offshore vessel in February and subsequently installed, although it remains to be commissioned, due to problems with the host FPSO on Conoco's Banff Field. Rosyth has subsequently shipped out deliveries to Talisman's Orion and Amerada Hess' Triton projects in the UK sector.
For projects in other parts of the world, Rosyth is currently working on Soekor (via main contractor Stolt-Comex Seaway), Girassol via ETPM ($20 million order for 10 dynamic umbilical sections in super-duplex, plus flexible jumpers), and CACT in China.
Longer umbilicals
As the industry prepares for 80-90 km offsets, Gahm anticipates growing demand for longer umbilicals. Rosyth is equipped with two 1,200-ton carousels situated on the quayside, capable of unloading or rolling at 1,000 meters/hr. Elsewhere at the complex, a further four 400-ton carousels are available, plus five 250-ton reels for storing and handling large diameter steel tube umbilicals. Oceaneering Multiflex says it can arrange for reels to be shipped out to remote areas such as Australia or Angola.
Rosyth's hose manufacturing department has equipment for core tube extrusion, hose cover extrusion, and braiding. New machines have been designed for steel tube umbilical and electric cable manufacture - these include a high speed horizontal planetary cable machine, commissioned this March.
This 16-bobbin machine features a horizontal axis with three bays (expandable to four bays), each with four equal size bobbins. It weighs over 240 tons, is approximately 55 meters long, and is one of the world's largest of its type. The central tube with nominal through-bore diameter of 250 mm, plus the 400 ton handling carousel positioned behind the machine, allows it to generate integrated service umbilicals with large diameter central components - either flexible flowlines, rigid steel pipe or power cables. An overhead crane facilitates rapid, dual-bobbin change-out via fast-release pintles.
Another new piece of equipment is a 96-bobbin umbilical armoring machine, also commisioned this March. This incorporates a single, replaceable, hollow longitudinal central tube for conveying the umbilical. The tube is also static to insure that no torsional loading is transmitted to the umbilical bundle during armoring.
Hose developments
All three Ocean Multiflex production centers manufacture the range of 27 thermoplastic hoses introduced two years ago, following a three-year R&D campaign. The high collapse resistance (HCR) range is basically a thermoplastic hose constructed around a stainless steel flexible carcass, with two layers of aramid fiber-braided (Kevlar) reinforcement.
Strip thickness is selected according to the strength required to resist a collapse pressure of up to 6,870 psi. The HCR hoses can be used in dynamic mode in deepwater applications or incorporated in integrated service umbilicals for injection of methanol or lift gas. Other applications are umbilical flying leads, annulus monitoring and water injection.
This hybrid hose was a response to Petrobras' concerns over pure metal hoses for deepwater floater applications in areas of high current speed. The first project was Marlim Sul in 1,700 meters water depth, brought onstream in spring 1997, followed by Barracuda in 1,000 meters water depth later the same year. Here, Oceaneering Multiflex delivered 23,000 meters of umbilical incorporating HCR pipe.
Simultaneously, the company developed a high temperature chemical and permeation resistant (HTCPR) thermoplastic hose range which features a fluoro-polymer liner that insures operability in temperatures up to
250° F. Another key characteristic is minimal methanol permeation - over 500 times lower than the industry standard Nylon 11, the company claims.