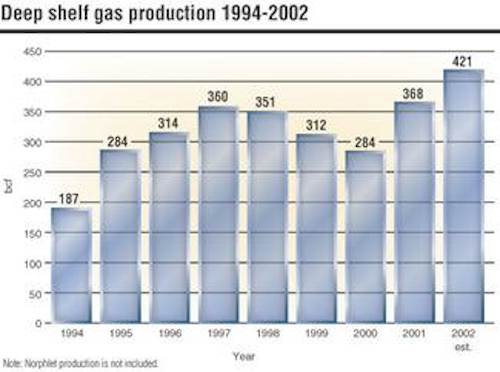 Jennifer Pallanich Hull • Houston
Deep shelf reserves estimates increase
The US Minerals Management Service believes natural gas reserves in the deep shelf area of the Gulf of Mexico are far more abundant than originally forecast. Officials from the MMS recently increased the estimated resources by 175%.
According to MMS officials, new data and a better understanding of the deep gas potential due to recent discoveries led to increasing the resource estimate to up to 55 tcf of gas, up from 20 tcf. Recent deep discoveries that are now onstream, including Anadarko's Hickory, El Paso's South Timbalier 204, and Shell's Alex discoveries, led to better understanding of deep potential, the MMS said. Additionally, McMoRan's JB Mountain and Mounds Point finds in the South Marsh Island portion of the Gulf played into the revision.
Other factors impacting the reserves estimates include new seismic data acquired and processed using the latest technology to improve imaging at increased sub-surface depths. The MMS also considered conceptual plays, or areas with potential for natural gas resources that can be outlined and mapped using the new seismic data. Finally, the MMS incorporated gravity and magnetic data.
The MMS said it uses a series of calculations to account for the probability of discovering recoverable amounts of gas.
Deep shelf gas production has increased by an estimated 137 bcf between 2000 and 2002. Production in 2000 was 284 bcf, while an estimated 421 bcf was produced in 2002. New wells coming online could help raise this production level.
The MMS defines the deep shelf as 15,000 ft or greater below the outer continental shelf in water depths up to 656 ft. Much of the deep shelf is accessible for energy production from existing infrastructure in the Gulf.
Drilling, logging reach depth records
A drillship set a new world water-depth operating record, and a service company and supermajor set measurement-while-drilling and logging-while-drilling depth and pressure records in the Gulf late last year.
The Transocean Discoverer Deep Seas drillship surpassed the previous world water-depth drilling record of 9,727 ft, set in October 2001, when it spudded an exploration well in 10,011 ft of water on the Toledo prospect on Alaminos Canyon block 951 late last year. According to Minerals Management Service officials, this is the first time that a drilling rig has explored for oil and natural gas in more than 10,000 ft of water.
Transocean's Discoverer Spirit drillship, working for Unocal, held the previous record at a well on Alaminos Canyon block 903.
In December, Schlumberger Oilfield Services and ChevronTexaco said they set new measurement-while-drilling and logging-while-drilling depth and pressure records for the GoM. The results were recorded while drilling ChevronTexaco's deepwater Tonga exploratory prospect on Green Canyon block 727. The new record is 31,824 ft TVD, exceeding the previous depth record by 700 ft, with a maximum-recorded downhole pressure of 26,138 psi in the Tonga No. 1 well. Schlumberger said it delivered continuous real-time surveys, allowing the well trajectory to be kept on target during the entire drilling and logging process.
Four go onstream
A quartet of deepwater wells began production in 4Q 2003.
Shell's Princess subsea wells went onstream in December and were producing at 9,000 b/d and 15 MMcf/d of gas in January. The field, on Mississippi Canyon blocks 765 and 766 in 3,650 ft of water, is set for phased development. The initial development phase consists of Shell's Ursa A10 TLP well and an expandable three-well subsea system tied back to Ursa less than 4 mi away. Peak production for Princess' initial stage of development is estimated at 55,000 b/d and 110 MMcf/d of gas with total gross recovery for the project estimated at 175 MMboe. This is the first project on which Shell has used 15,000-psi subsea equipment in the Gulf.
Princess also includes an intervention system located on the subsea trees' BOP, which is a first for the industry and will reduce maintenance costs for Princess.
Operator Shell holds 45%, BP 23%, ExxonMobil 16%, and ConocoPhillips 16%.
Shell's Habanero subsea development also began production late last year and is expected to peak at 22,000 b/d and 75 MMcf/d of gas by the end of 1Q 2004. The subsea project, located at Garden Banks block 341 in 2,015 ft of water, ties back 11.5 mi to Shell's Auger TLP, making this the fourth subsea development to tie back to the Auger hub.
Operator Shell holds 55%, Murphy Oil 33.75%, and Callon Petro-leum 11.25%.
The first well of Kerr-McGee's 10-well Gunnison development is onstream at 35 MMcf/d and 500 b/d of oil. Two additional subsea wells were expected to go on production, with daily production from all three wells estimated at 125 MMcf/d of gas and 5,000 b/d.
Production should peak at 165-180 MMcf/d of gas and 28,000-30,000 b/d of oil by the end of 2004 when all wells are completed.
"Utilization of the truss spar, similar to our Nansen and Boomvang spars, reduced development costs, accelerated first production, enhances operating efficiencies and provides excess capacity for future satellite developments in the greater Gunnison area," said Dave Hager, Kerr-McGee senior vice president responsible for oil and gas exploration and production.
Partners are developing Gunnison through a truss spar system in 3,150 ft of water on Garden Banks block 668. The facility has a capacity of 40,000 b/d and 200 MMcf/d of gas, which will allow capacity for developing satellite prospects in the area. Operator Kerr-McGee holds 50%, Nexen has 30%, and Cal Dive has 20%.
Pioneer Natural Resources brought its Harrier field onstream in early January. The discovery well in East Breaks block 759 in 4,100 ft of water was developed as a single-well subsea tie-back to the company's Falcon field facilities and is producing 120 MMcf/d of gas and 300 b/d of condensate. Pioneer operates the Harrier and Falcon fields with a 100% working interest.
"The development team will now concentrate on completing the tie in of our two other Falcon corridor satellite discoveries, Tomahawk and Raptor, expected during the third quarter," Pioneer Chairman and CEO Scott D. Sheffield said.