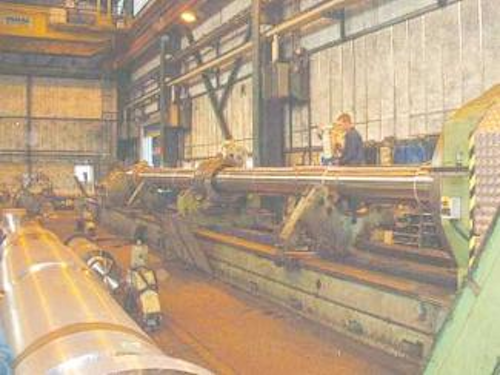 Thick, special steels are often required to withstand the forces generated at seabed stress joints. The tapered connections between the wellhead manifold and the riser system must endure twisting motions and vibrations generated along the thousands of meters of deepwater riser column connecting wellhead-produced fluids to surface facilities.
Scana Steel Björneborg can design joints tailored to the unique stresses at each offshore site, and it can also forge, form, cut, and mill large steel pieces for special applications. Aside from subsea applications, the company specializes in design and fabrication of high stress components for many industries, including propeller shafts for ships and windmill columns for power generation.
null
The company produces forgings based on the customer's specifications and drawings. Two electric arc furnaces can produce the specialty steel needed for the application. Hydraulic press forging, heat treatment, and tempering are available for very large components. Components can be rough machined and shipped for completion by third parties, or Scana's specialist machinists can complete final machining using computer-controlled lathes.
Scana can produce up to 60,000 tons of ingots per year with a maximum weight of 70 tons for any one ingot. Forge lengths up to 20 m are possible, enabling fabrication of long shafts and tapered cylindrical pieces.
Other components produced for the offshore sector include valve blocks for subsea pipelines, anchor flanges, connectors for platform tension legs, and mating hubs. Eight different furnaces are available for heat treatment, providing a variety of different treatments to produce the final steel properties required.
For more information contact, Henning Olsen, Scana Steel Björneborg. Tel: +46 55 02 51 00, fax: +46 55 02 74 20, email: henning.olsen@scana.no.