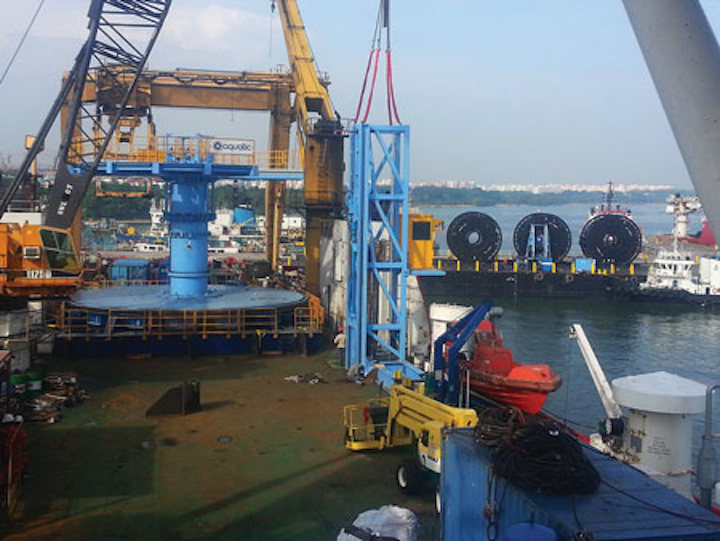 Robert Porter
Aquatic Engineering & Construction
How much pipe can be placed on a reel? That seems a simple question, but there is no simple answer. There are many variables depending on the weight and the diameter of the product.
Over the past few years handling subsea equipment has become increasingly critical because as operations extend into deeper water, the product becomes heavier, reducing the standard reel capacity.
In response to current and future requirements, Aquatic Engineering & Construction recently introduced a 1,500-metric ton (1,653-ton) modular carousel system. For its maiden project, on behalf of Kreuz Subsea in Singapore, the deployment team transpooled three cables with two 8-m (26-ft) midline connections from a barge, using a multi-reel system, first to the vessel and then onto the carousel. This project pushed the carousel capacity close to its limit; the midline connections had to be joined, sealed, and cured for 24 hours. However, performing this work on the quayside instead of offshore at the field location ensured a cost-effective outcome for the operator ConocoPhillips.
The carousel will mobilize again from Scotland in May to install a 35-km (22-mi) umbilical, 110 mm (4 in.) in diameter, and weighing 826 metric tons (910 tons), at a location in the UK central North Sea, 240 km (150 mi) east of Aberdeen. The subsea control system infrastructure currently serving the area is degrading due to aging, non-optimal design and faults. At some point, a combination of these factors will result in loss of either power or communications and the operator plans to address these vulnerabilities via the new umbilical.
In deeper water, the liquid inside the product to be installed becomes much colder and flows very slowly. The design will therefore typically include internal heating elements to help the fluid flow properly, increasing the structure's overall weight. Umbilical end termination assemblies (UTAs) are also becoming so large that there may not be enough capacity to accommodate the entire product on a single reel. The new carousel system addresses this issue by positioning the UTA on the 'lid' of the carousel.
However, some UTAs are so large and heavy, perhaps up to 20 metric tons (22 tons), that support beams and additional assembly may be necessary on reels. This affects the reels' weight and maneuverability, especially offshore, and the extra handling and cranage required also calls for larger construction vessels capable of handling the heavier reels, such as Technip's DP-3Skandi Africa. This vessel features a 900-metric ton (992-ton) active heave compensated main crane, a 150-metric ton (165-ton) ancillary crane, and a 650-metric ton (716-ton) tiltable lay system with a 3,500-metric ton (3,858-ton) carousel below deck.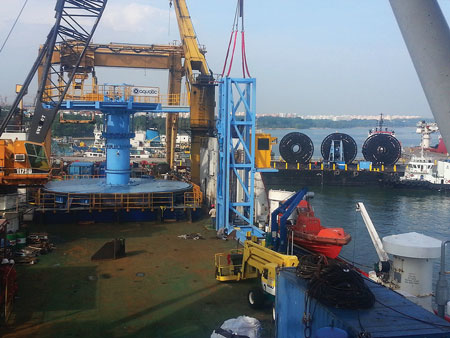 Transpooling from barge to carousel in Asia/Pacific region. (Photo courtesy Aquatic Engineering & Construction)
Aquatic has been involved in operations onboard the vessel for Total's Moho Nord subsea project offshore Republic of Congo. The company's tandem 500-metric ton (551-ton) multi-reel lay system will be used to install multiple diameter reels for this project, from 8.6 to 11.4 m (28 to 38 ft), with a varying reel-plus-product weight of 150 to 330 metric tons (165 to 364 tons).
Enquiries for larger reels are increasing: the challenge is that larger reels have a higher center of gravity, substantially increasing the loadings through the reel drive system. However, the main limiting factor is not the weight of the reel and product but the vessel motion and acceleration forces. The solution is to mobilize and assemble kit within 12 hours on the company's modular drive systems, then transporting the equipment to the easiest location for mobilizing the vessel. This removes the need for the vessel to transit to pick up the kit (subject to facilities being available locally), leading to greatly reduced vessel downtime and a more efficient mob/demobilization operation.
It is also essential to consider the whole deck layout to accommodate larger product safely. Working early with clients in the planning process, assisting with the design of the vessel's deck, allows space to be optimized, mobilization costs to be lowered, and the appropriate equipment modes identified to ensure the product is protected throughout the installation.
On average, the diameter of the product to be installed is around 150 mm (6-in.), although this varies significantly depending on what is included inside (i.e. composites, electrical cables, hydraulic lines, telecommunications cables). Each type of product has to be handled according to its own specific requirements. The largest product diameter Aquatic has installed was a 60-cm (24-in.) riser for the Hibernia production platform, 315 km (196 mi) offshore Newfoundland, which features spikes around its circumference to protect it from damage by roaming ice bergs.
The company operates in various regions. One project currently under investigation is off Pointe Noire, Congo, in water depths of 500 to 600 m (1,600 to 2,000 ft). For the Atlantis project in the Gulf of Mexico, Aquatic installed mooring lines in water depths ranging from 1,300 to 2,200 m (4,250 to 7,250 ft). More recently, the company installed the first mooring line anchor arrangement for a new FPSO in the Gulf of Pirea, Venezuela, for project operator PDVSA.
Over the past two decades, clients have requested higher capacity drive systems and tensioners as projects have moved into deeper waters and new development regions, while also calling for higher standards of HSEQ (health safety environment and quality) to facilitate safe and effective processes and procedures.
The constant in all of this is that product installation by modular equipment remains the most cost-effective way to get flexibles onto and off the seabed. But clients also favor long-term opex relationships that allow them to focus on their core business, leaving the subs-supplier/contractor to design, preserve, maintain, and operate the equipment on their behalf.