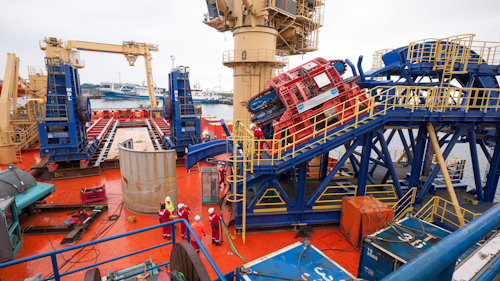 Maritime Developments Ltd.
Offshore staff
ABERDEEN, UK – Maritime Developments Ltd. (MDL) is working on three subsea projects in the North Sea for Rever Offshore.
Work started in April on installation and decommissioning of products in two fields, using a horizontal spread solution onboard the Normand Clipper.
For the first work job, MDL used a second-generation reel drive system and a Rever HLS with a 50-metric ton tensioner to install flowlines and an umbilical.
The vessel then proceeded to retrieve flexible lines as part of the decommissioning campaign using the reel drive system to recover the product onto reels for trans-spooling along the quayside.
Dave Gardiner, MDL's commercial manager, said: "Due to the construction and age of the product, there was no guarantee that it would not flatten over the chute, making the tensioner option a risk…
"The MDL solution [the second-generation reel drive system] reduced project costs for the mobilization, demobilization, operational rates, and manpower requirements as a result of the tensioner not being required for the project."
For the third and final project MDL will deploy its horizontal spread to recover and tie-in subsea flexibles and umbilicals.
06/04/2019