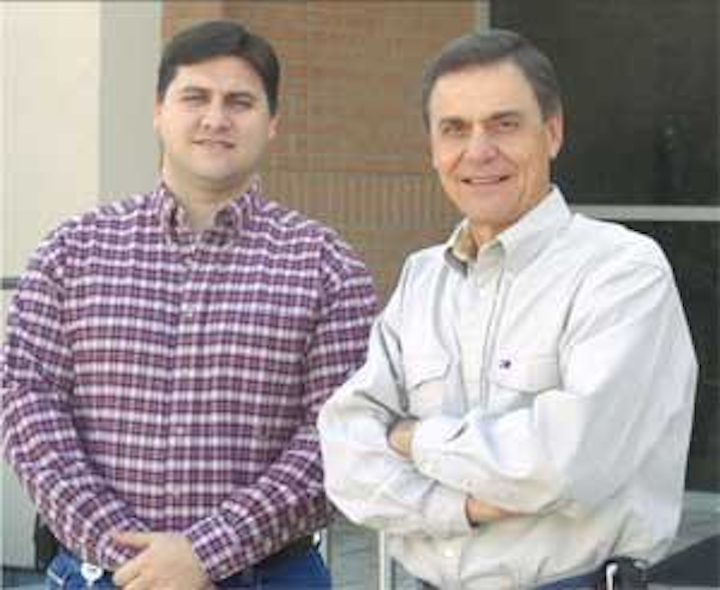 Deepwater activity stays the course amid pullback
Jim Redden Contributing Editor
Buoyed by deepwater activity that shows no sign of drying up anytime soon, Port Fourchon is sidestepping the economic malaise gripping most of the nation and is not just coping, but flourishing.
While cash-strapped independents operating on the continental shelf have pulled back appreciably, the bread and butter for Port Fourchon is the deepwater, where it functions as the primary support base for more than 90% of existing projects. According to a recent Minerals Management Service (MMS) study, that bread and butter is in no danger of going off the shelves in the foreseeable future. In early 2009, the federal agency listed 59 "pending" deepwater projects in the Gulf of Mexico, which is in addition to the 33 wells currently being drilled in deep and ultra deepwater. Factoring in the 135 deepwater fields already developed, there are nearly 230 deepwater projects in need of products and services flowing from the port.
The port's daily traffic count appears to confirm that the global recession has not yet made its way into Port Fourchon, the southernmost port in Louisiana, strategically nestled on 1,300 acres at the mouth of Bayou Lafourche in Louisiana's southernmost parish of Lafourche.
"Interestingly enough, our daily traffic count in January (2009) was 13% higher than it was in January 2008. So, as you can see, our activity level certainly hasn't diminished here," says Ted Falgout, executive director of the Greater Lafourche Port Commission (GLPC), who will retire at the end of the year after 30 years at the helm of Port Fourchon.
Today, more than 250 operators and service and supply companies, from international conglomerates to home-grown, family-owned enterprises, operate out of Port Fourchon. The port's director of Economic Development, Chett Chiasson, who will succeed Falgout in January, says that number promises to rise considerably as companies stand in line to acquire space being made available through the entity's aggressive northern expansion project.
"We've been averaging about one new lease a month and as fast as we can build these new facilities, they're taken," he says.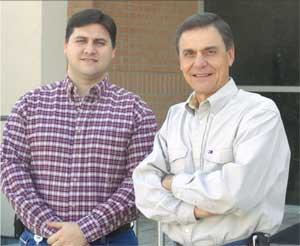 Retiring Port Fourchon Executive Director Ted Falgout, right, and his successor, Chett Chiasson, at the port's Galliano headquarters.
Click here to enlarge image
The latest MMS report follows on the heels of an eye-opening study released in 2008 that examines the regional and national impact of a three-week disruption in oil and gas deliveries from the port's jurisdiction. Considering that the Gulf of Mexico provides upwards of one-third of the nation's domestic oil supply, with 80% expected to flow from the deepwater by 2010 when some new developments come on line, the ramifications on US energy security of any supply interruption are momentous, the study concludes. What's more, some 87% of the nation's offshore gas production comes from the Louisiana outer continental shelf.
Along with its impact on domestic production, Port Fourchon also is home to the Louisiana Offshore Oil Port (LOOP), the only deepwater facility in the US capable of offloading supertankers carrying imported oil. An estimated 13-15% of the imported oil entering the US market is delivered through LOOP, which also is connected to 50% of the nation's refining capacity. The latest figures show LOOP handling more than 1 MMb/d of imported crude along with 300,000 b/d of domestically produced oil.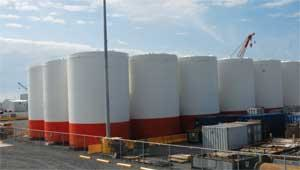 Tanks for the fifth M-I Swaco drilling fluid plant in Port Fourchon are staged for installation at the new Gulf Offshore Logistics (GOL) facility.
Click here to enlarge image
Taking all this into account, the study entitled "Economic Impacts of Port Fourchon on the National and Regional Economies" concludes any long-time disruption from a hurricane or other event would remove some 18% of the nation's energy supply. Dr. Loren Scott of Loren C. Scott and Associates of Baton Rouge compiled the study, which was funded by the Louisiana Department of Economic Development.
Based on an average 2006 oil price of $66/bbl, Scott concluded a three-week loss of service for any reason would equate to a national economic impact of $9.9 billion in lost sales, a loss of $2.9 billion in household earnings, and a drop of more than 77,000 jobs across the nation.
Closer to home, the study estimated the economic impact of a supply disruption on the Houma Metropolitan Statistical Area, which includes Port Fourchon, to be $1.5 billion in lost business sales and a $350 million drop in household earnings.
"We have long felt that the impact of this corridor to our region and nation was huge, and now we have well-documented evidence that even our own estimates were understated. Port Fourchon's significance is growing every day," Falgout said when the report was released.
The impact of even a comparatively shorter disruption was driven home in August and September of 2008 when hurricanes Gustav and Ike slammed into the southern Louisiana coast, temporarily shutting off production coming out of the port.
"It is estimated that as a result of Gustav and Ike, over $7 billion worth of oil and gas was made unavailable to the American public," Falgout said at the time. "The Port is ramping up very quickly to play its role in recovery of the Gulf of Mexico energy industry."
Port, tenants expanding
Ramping up, indeed. In light of the most recent MMS calculation on the present and future growth of the deepwater oil and gas operations and expectations for 19 newbuild deepwater drilling rigs entering the Gulf of Mexico between 2010-2112, the optimism of port executives and tenants alike is easily justified, and both sides are responding accordingly.
The port, which the Louisiana legislature created in 1960, is moving closer to completion of its 4,000-acre northern expansion project, which essentially would double the facility's operational area. Port officials say they are close to completion of Phase 1 north of the E-Slip development that comprises a 700-acre (2.8-sq km) site that includes 180 acres of non-waterfront property and 21,000 linear ft (6,400 m) of water frontage.
Construction of 2,314 linear ft (705 m) of steel sheet pile bulkhead along Slip B is well under way, with an additional 1,800 linear ft (549 m) of bulkhead expected to be completed by the end of this year. Chiasson says 84% of the property included in the Phase 1 project already has been leased.
"Slip B is nearing completion. Right now, 4,100 ft (1,250 m) of bulkhead is under construction and another 1,425 ft (434 m) is in the planning stages. We also are working on permits for Phase 2 that will include the 7,000 ft long x 700 ft (2,134 m x 213 m) wide Slip C. We expect those permits any day now," Chiasson says.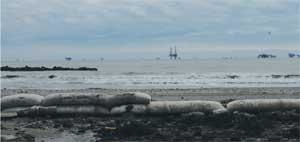 A jackup works off the coast of Port Fourchon in aftermath of Hurricane Gustav.
Click here to enlarge image
Furthermore, Port officials say that when Lafourche Parish votes abolished the drilling rig ad valorem tax in 2004, it cleared the way for property within the northern expansion to become an attractive venue for the growing rig repair and refurbishment business.
The South Lafourche Leonard Miller Jr. Airport, which came under the GLPC umbrella in 2001, likewise, is in the midst of a major expansion. The airfield, which the Federal Aviation Administration (FAA) named Louisiana's Airport of the Year in 2006, has completed the extension of its runway from 3,800 ft to 6,500 ft (1,158 m to 1,981 m), allowing it to accommodate mid-size business jets.
"Since the (runway) expansion, we've see a big increase in jet traffic. Business jets used to make up about one-fourth of our total traffic, but now it's more like 50-50," says airport manager, Jason Duet, who adds that Edison Chouest Offshore is completing a hangar to house three of its jets.
Duet says the airport also is looking at developing an industrial park, which would double available crew quarters and other facilities for offshore workers and those engaged in other local projects like the LA 1 highway construction.
The companies operating out of Port Fourchon say the optimism of port executives is clearly justifiable.
"The bottom line is, Port Fourchon provides quick access to the deepwater; so as long as there is an oilfield in the Gulf of Mexico, this will continue to be the hub," says Karl Boffanie, manager of John W. Stone Oil Distributors.
---

Rally Point to keep information flowing
The next time a hurricane or similar catastrophe strikes South Louisiana, communications for employees and companies operating out of Port Fourchon will continue unabated.
By the start of the 2009 hurricane season, Port Fourchon will have its "Rally Point" network in place. It is designed to give employees and companies operating out of the port an uninterrupted communications system. Port Fourchon IT Director April Danos says the Web-based system will provide continual updates.
"During storms, people evacuate and we have no contact information for them. What this will do is allow us to communicate with them, advise them of what is happening at the port, and when they can return," she explains.
The way it works is each facility and employee will receive access cards and a link where they can provide contact information in case they have to evacuate because of a storm.
Danos says to further facilitate uninterrupted communications, the port is looking at establishing an off-site e-mail service that will provide a "fail over" should electronic communications at the port become inoperable.
"We also are looking at having a mobile communications trailer so the administrative offices and harbor police can be up and running immediately after a storm," she says.
---

VIH Cougar joins Port Fourchon helicopter fleet
By April, Idaho-based VIH Cougar Helicopters will be flying out of a new hangar and passenger facility at South Lafourche Leonard Miller Jr. Airport.
The company has been operating in the Gulf of Mexico since 2005 as part of an alliance with Pacific Helicopter Tours Inc. where it flew passengers for BP Americas. In October 2008, VIH Cougar completed its Part 135 Federal Aviation Regulations (FAR) certification, allowing it to fly passengers directly, says General Manager Bill McDonald.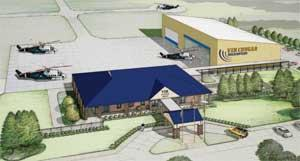 An artist's rendition of the new VHI Cougar Helicopter hangar and passenger facility at South Lafourche Leonard Miller Jr. Airport.
Click here to enlarge image
"We will be conducting passenger flights for Heerema Marine beginning in the March/April timeframe and will also conduct flights for BP on an as-required basis. We also have hopes of securing more passenger contracts with Gulf operators," McDonald says. "Additionally, VIH Cougar has a depth of experience in search and rescue and we plan to evolve into that role with the Sikorsky S92 by mid-summer."
McDonald says the company plans to move into its new passenger facility by the end of March and into the new hangar by the end of April. Three 20-passenger Sikorsky S61 helicopters will be based at the airport with an additional S92 expected to join the fleet in June.
VIH Cougar Helicopters claims it is the only such operator in the Gulf with 100% satellite-based tracking and voice communications. Consequently, it says there is no interruption of service or safety even during inclement weather.
VIH Cougar Helicopters also operates from an office in Bellingham, WA.