Transocean drilling rig refloated
The UK Maritime and Coastguard Agency says the Transocean Winner drilling rig was successfully refloated in Dalmore Bay.
Aug 23rd, 2016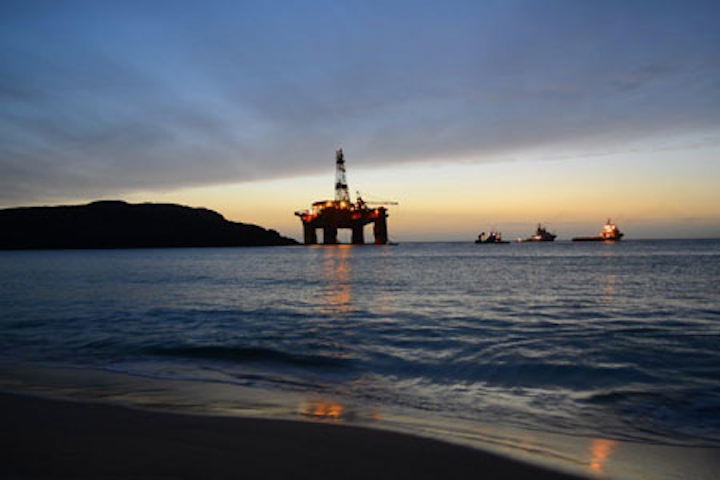 Offshore staff
SOUTHAMPTON, UK– The UK Maritime and Coastguard Agency (MCA) says the Transocean Winner drilling rig was successfully refloated in Dalmore Bay.
The drilling rig is expected to resume its journey and reach Broad Bay by tonight, on schedule.
Over the night of Aug. 7, Stornoway Coast guard was in communication with tugAlp Forward, which had encountered severe weather and storms west of the Isle of Lewis, Scotland, during towing operations of Transocean Winner. Originally, the tug had remained connected to the semisubmersible but was unable to continue with the tow, prompting the MCA to deploy its emergency towing vessel from Orkney that night to assist.
However, early in the morning of Aug. 8,Alp Forward reported that the tow line had parted and, due to the severe weather conditions, was unable to reconnect the tow line. The rig was grounded on the west side of the Isle of Lewis near Carloway.
MCA said that the salvage team, from Smit Salvage, has agreed to the towage plan with Hugh Shaw, Secretary of State's Representative (SOSREP) for Maritime Salvage and Intervention.
The 300 m (984 ft) exclusion zone remains in place, MCA said. There will be a 1,000 m (3,280 ft) exclusion zone around theTransocean Winner for the duration of the passage from Dalmore Bay to Broad Bay, on the east coast of Lewis.
A verification aircraft will be sent to monitor for any potential pollution. A survey yesterday picked up a sheen which turned out to be 200 ml and was quickly broken up using boats by Briggs Environmental.
While there were no personnel on-board the semisubmersible and no risk to life, there was originally diesel oil aboard the vessel. On Aug. 20, Transocean confirmed to MCA the safe transfer of the diesel from the pontoon tanks to a position above sea level.
08/23/2016