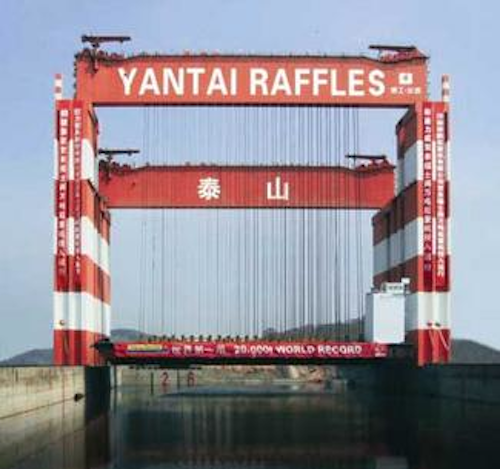 Yantai Raffles Shipyard Ltd. (YRS) set a new world record for the heaviest weight lifted by crane, hoisting a 20,133-metric ton (22,193-ton) launching barge 30 m (98 ft) above the water. The record was certified by Guinness World Record Ltd. and World Records Academy.
Taisun, the world's largest gantry crane, also won the ASME Woelfel Best Mechanical Engineering Achievement Award 2008. The award adds to Taisun's growing list of accolades – it also received the inaugural OTC Spotlight on New Technology Award.
Taisun's unprecedented lifting capacity of 20,000 metric tons enables super segments such as a deck box to be joined or mated onto the pontoons of a semisubmersible drilling rig in a single operation, which can result in greater efficiency and a reduction in time-to-market by concurrent construction of the deck box and pontoon-column assembly, YRS says. It also has the potential to reduce overall project man-hours due to the increased accessibility of the deck box during construction and improvements in overall product quality and safety levels by reducing the work carried out at height.
Brian Chang, chairman of YRS, says the ability to lift 20,000 metric tons at a time will save about 2 million man hours on a project that would normally have to move smaller pieces one at a time.
Yantai Raffles expects its Taisun crane to see its first lift in August or September. The crane has been earmarked for at least nine lifts over the next 24 months.
Taisun was commissioned in April by American Bureau of Shipping.
The crane cost around $40 million to build.