Dual barge-truss system aims at 20,000-ton lift
Amoco's 1,300-ton eight pile deck in Eugene Island 367 (Gulf of Mexico) is lifted intact with Versatruss' barge-truss lifting system. A design study shows Chevron's LL-652 platform in Lake Maracaibo being lifted with Versatruss' system. [21,552 bytes] The charter of a heavy lift crane vessel is costly and the small size of the heavy lift fleet means that finding a suitable vessel for installation or de-commissioning could present a major problem, particularly in remote regions
Nov 1st, 1998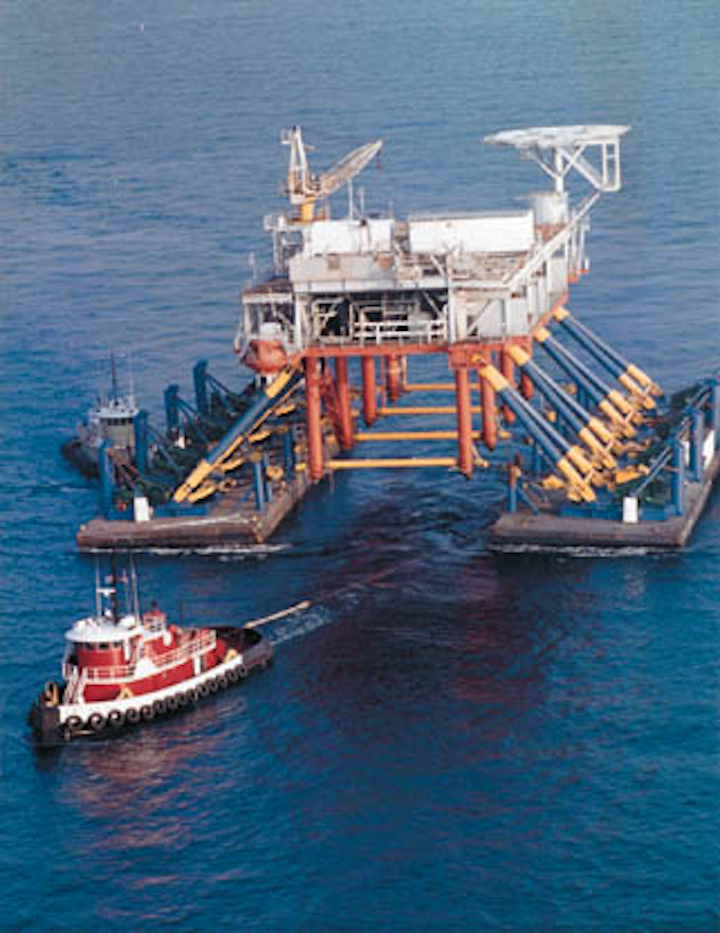 Lifting system major alternative to cranes
William Cash
Versatruss Americas L.L.C.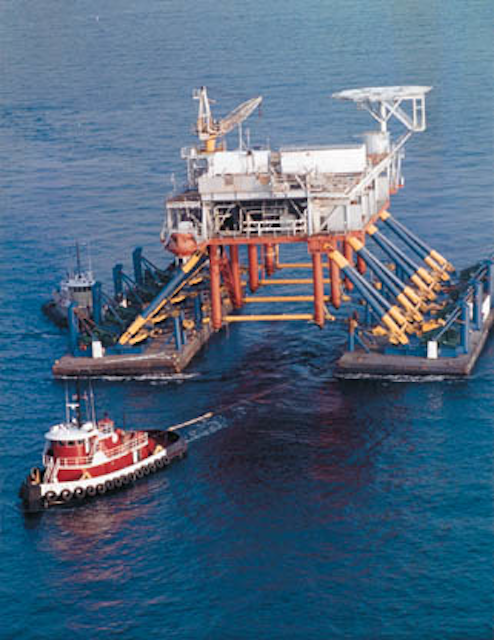 Amoco's 1,300-ton eight pile deck in Eugene Island 367 (Gulf of Mexico) is lifted intact with Versatruss' barge-truss lifting system.
The charter of a heavy lift crane vessel is costly and the small size of the heavy lift fleet means that finding a suitable vessel for installation or de-commissioning could present a major problem, particularly in remote regions of the world.
The maximum lifting capacity - around 11,000 tons for the largest semisubmersible heavy lift vessels - also means that the lifting of a large deck or jacket will require a number of separate lifts, with structural modifications and hookup required for each lift.
A major alternative to conventional crane vessel lifts is the Versatruss lifting system. This system is designed to lift as much as 20,000 tons in one operation using a matched pair of barges rigged with lifting booms, winches, and standard marine equipment. The barges are equipped with custom-made booms connected to each side of the deck. The deck is then lifted by pulling the two trusses together with hoists connected to the deck's lower level beams, thus increasing the angle of inclination of the booms and raising the deck.
The Versatruss system was invented by Jon Khachaturian, President of rigging specialist Versabar of Belle Chasse, Louisiana, and was developed to handle heavy topsides required by Versabar customers.
Removal options
Conventional methods of platform, installation, and removal, have been performed by offshore crane vessels or heavy lift vessels (HLV). Included are float-over systems, which have been used to install the topsides or decks of platforms only. As yet, float-over systems have not been utilized for deck or platform removals.
Installation or removal of an offshore installation can be undertaken by HLVs, which are an established offshore construction technology. A typical operation would involve a crane vessel positioning itself adjacent to a platform and lifting the different components of the offshore structure in a pre-determined sequence.
The lifted equipment is then installed or placed on prepared cargo barges or the deck of the crane vessel for transport to a suitable disposal sites either onshore or offshore. In total, there are over 150 crane vessels available world-wide of three main types: shearlegs, monohull/HLVs, and semisubmersible crane vessels.
Shearlegs: This type of vessel is normally used, for inshore lifts or load-outs in benign sea conditions. The largest vessel has a 5,000-ton lift capacity. These vessels are not normally self propelled, and have a standard anchor type mooring system.
Monohull/HLVs: These vessels can work in harsh sea conditions and have a single crane lift up to 4,000 tons. The largest vessels are combination derrick pipe lay vessels, which have dynamic positioning systems and are self propelled.
Semisubmersible crane vessels: These vessels can operate in all types of harsh environments and were designed to operate in the northern North Sea in sea states up to Force 8. Equipped with two cranes, these vessels can lift in excess of 11,000 tons. They are self-propelled and have dynamic position systems enabling them to operate in very deep water without using mooring systems.
There are several float over systems available on the market. Two major systems are:
The Brown & Root high-deck system
The ETPM smart-leg system.
Both systems were designed to install decks greater than 10,000 tons in weight. The concepts use a slot or "U" cut out in the top of the jacket through which the transport barge is indexed. The barge is then ballasted down and the deck is lowered onto the jacket with the aid of sand jacks and fendering systems.
Offshore Shuttle: Another system, although not proven, is the offshore shuttle. This is a "U" shaped unmanned offshore vessel relying on tug boats for operating assistance. When installing or removing structures, the vessel is ballasted down so that it submerges and encapsulates the jacket or deck. A typical offshore shuttle is 150-meters long by 80 meters wide by 60 meters high and weighs about 12,000 tons.
Truss advantages
The principle economic advantage offered by the Versatruss concept is the ability to complete an integrated facility onshore which creates the opportunity to bring an offshore facility on-line more quickly. Other advantages include:
No major structural design modifications are required of conventional jacket and deck design concepts to suit the Versatruss system.
Stand-by rates for a Versatruss offshore spread can be significantly less than a derrick barge spread required for lifts of similar tonnage.
Versatruss is ideal in very shallow water where access for a larger lift vessel would require dredging operations or is not feasible.
Unlike the conventional float-over operations, lifting and lowering a deck using a Versatruss system is done "on the hook," which means the lift operation can be stopped or reversed at any time.
There is not a practical lift capacity of a Versatruss system, and detailed studies have been completed which demonstrate the viability of Versatruss for lifting topsides as heavy as 20,000 short-tons.
Large topsides installed using the Versatruss system can be removed in the same manner, dramatically reducing salvage costs and offering unprecedented reuse opportunities.
Does not require a sophisticated mooring system.
The system can access areas unobtainable to conventional lift barges like, Lake Maricaibo in Venezuela which has a height restriction under the bridge or the Caspian Sea which can only be accessed via the small Volga River.
Recent operations
Although the first Versatruss patent was issued in 1987, a working model, which actually demonstrated the Versatruss system in action, in a test tank was not completed until the spring of 1995. Versatruss, with the help of Bisso Marine, Mobil Exploration and Producing Southeast (New Orleans), and Mobil Research and Development (Dallas), completed a full scale test of the system using a 200-ton, four-pile deck and two 40 ft by 140 ft barges in the fall of 1995. The test was conducted in the Intracoastal Waterway at Versabar's facility in Belle Chase, Louisiana.
Mobil Exploration and Producing contracted with Bisso Marine of New Orleans and Versatruss to perform the first offshore salvage using Versatruss. In June of 1996, Mobil's West Cameron 77 four-pile deck in the Gulf of Mexico, weighing about 200 tons, was lifted and set onto a transport barge.
In August, 1997, Versatruss contracted with Amoco to perform a salvage operation in the US Gulf's Eugene Island 367 in 350- ft water depths. A 1,350-short-ton deck was lifted using an eight-boom system, demonstrating the feasibility of lifting decks with more than four legs. The deck was towed from Eugene Island 367 to Gibson, Louisiana in the catamaran configuration, a distance of nearly 150 miles at a speed of 8-10 knots. Tow data collected during the operation indicates that the catamaran configuration is a stable transport method.
Planned projects, studies
A Chevron-led consortium, including Statoil, Arco, Phillips, and PdVSA, has contracted with Versatruss to install three topsides and jackets in the LL-652 oil field in Lake Maricaibo in Venezuela. The three include:
Compression platform: A 6,000-ton deck and a 1,500-ton jacket in 28 meters water depth in December 1998 and March 1999
Process platform: A 4,500-ton deck and a 1,500-ton jacket in 27 meters of water in December 1998 and January 1999
Water injection platform: Installation of a 3,700-ton deck and a 1500-ton jacket in 27 meters of water in December 1998 and February 1999.
To date, studies and analysis of the Versatruss System have been performed. Chevron, Mobil, and Amoco have conducted internal studies, and detailed analysis has been concluded by Han Padron Associates of Houston and REL of Manchester, England.
The results conclude that Versatruss can accommodate conventional structures with little modification, and that stability and integrity of the structure under tow offers many transport and installation opportunities.
Other major studies conducted on the system include the following:
Amoco N.W. Hutton: Reverse Engineering of Manchester U.K. performed feasibility studies for the use of the Versatruss System on the North West Hutton 20,000-tons topside removal.
Texaco/Chevron Gemini Spar: Han Padron Associates and Winmar of Houston performed studies for using the system to install a 20,000-ton topsides onto a spar in the Gulf of Mexico.
Amoco King Spar hull: Versatruss International has worked at assisting with offloading of a 15,000-ton truss spar hull from the transport vessel.
Phillips Maureen gravity base structure: Reverse Engineering of Manchester (UK) performed feasibility studies using the Versatruss system to give added stability and buoyancy when the three legged gravity base structure is deballasted and relocated to a new site.
Chevron California: Winmar Consulting Services of Houston performed a scoping study for Chevron USA Production Company to determine the feasibility of the Versatruss system for the decommissioning of the topsides and upper jacket sections for five deepwater platforms off California - Gail, Grace, Hermosa, Hidalgo, and Harvest. The topsides have a weight range of 4,500-9,400 tons. The jackets are in water depths of 320-740 ft.
The Chevron California project, when undertaken, will be one of the largest decommissioning projects in the world. The study looked at the Versatruss system to lift the topsides intact to maximize re-use opportunities and re-sale value. The Versatruss was also studied to lift the top 100 ft of each jacket for placement in a nearby artificial reef site.
Modeling, analysis
Versatruss International uses a customized finite element modeling (FEA) process developed by Reverse Engineering, which features the creation of virtual computer environments for predicting the behavior of engineering systems. These FEA analysis results and techniques have been verified by physical testing and can be used for both new design and structural integrity/fitness-for-purpose assessments.
The strategy is to model in detail the marine environmental and operational loading during the various design and/or decommissioning scenarios. Consequently, all simulations are time dependent with large FEA structural models developed to accurately capture the load path through the structure, together with the global motions. In addition, the analyses are fully coupled to the environmental loading with the hydromechanical loads updated at each time-interval, depending on the position of the structure.
This strategy has been applied to assess the response of the Versatruss lifting system to environmental loading, using FEA methods. The system is considered an articulated steel structure with components that undergo relative rigid body motions. FEA methods are used to determine the barge response and to calculate the associated package and Versatruss component response in terms of member loads, displacements, and deformations.
The technology provides increased insight into the behavior of the system to identify the sensitivity of the operation to various physical parameters (what-if scenarios) and as an aid for the operator or marine contractor when performing a Versatruss lift.
The system currently is being examined using two different FEA techniques. Decoupled analyses are performed using SACS as a structural analysis tool with WAMIT to evaluate barge response. Coupled analyses are performed in the time domain using Offshore DYNA which updates the barge loading and rigid body motion in time. Both analysis techniques have been tailored to represent the unique features of the Versatruss System.
Certfication, approvals
Most offshore projects, whether platform removals or installations, will require insurance underwriting approval. The insurance company normally designates a marine warranty surveyor to ensure that the project is covered by a certifying authority and complies with API standard criteria.
For the Amoco 8 leg deck removal performed last year, the warranty surveyors were Noble Denton and Associates, with Insurance handled by Lloyds of London. For the upcoming installation project with Chevron in Venezuela, the warranty surveyors are Global Maritime with the insurance being carried out by AIG. Versatruss does not have problems meeting requirements of a certifying authority for the Versatruss system. as the system is designed to API standard criteria.
To further verify the system, detailed transportation analysis has been performed by third party naval architects. For the Amoco salvage and the upcoming Chevron Venezuela installation projects, Han Padron and Associates carried out and will be performing marine analysis.
Cost and scheduling
The main cost driver in an installation operation is the expense of the crane vessel. The cost of these vessels depends upon the type of vessel, the particular operation and vessel availability. The charter rates could range from around $20,000/day for a small shearleg crane barge, up to $500,000/day for one of the larger semisubmersible crane vessels (SSCV). Market forces drive the cost of the larger, twin craned SSCVs, of which there are only four worldwide. Therefore, the schedule and timing of each project is important to ensure that the installation vessel is contracted as early as possible.
Versatruss's system is marketed as a custom rental system available to operators and marine contractors for lifting structures up to 20,000 tons in one operation. The system uses a matched pair of rental barges, rigged with lifting booms, winches, and standard marine equipment.
The use of easily available equipment means less cost to maintain the lifting equipment on standby than is the case for a heavy lift vessel. This is an important factor of operations due to the difficulty of predicting suitable weather windows, and with problems of scheduling the fabrication and offshore installation workscope.
Copyright 1998 Oil & Gas Journal. All Rights Reserved.