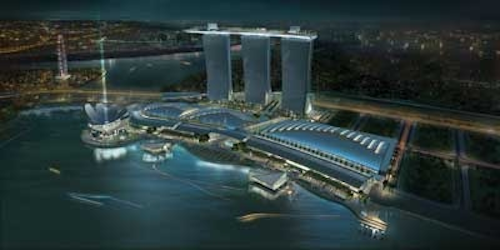 A pipelay barge purpose-built for operations in up to 100 m (328 ft) water depth in the Caspian Sea has completed its first full season in the Turkmen sector. The vessel, owned and operated by Bumi Armada, was designed by La Spezia-based Eastproject, which also helped devise and manage the final assembly procedure at Baku.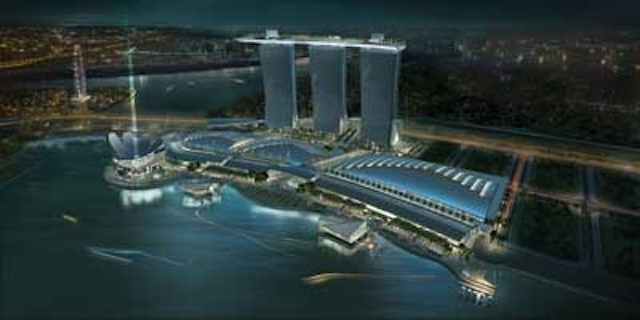 Illustration of the pipelay hoverbarge for ultra-shallow water operations.
Keppel Shipyard in Singapore constructed the 130-m (426-ft) long, 32-m (105-ft) wide barge. However, in order to transit to the Caspian Sea via the Volga Don canal system (maximum allowable width of 16.5 m, or 54 ft), the vessel had to be cut longitudinally and launched in two sections. A further complication was the need to address stability issues during the voyage from Singapore, due to the restricted keel draft (3.2 x 16 m, or 10.5 x 52 ft) and air draft (16 m). Prior to the launching, the two halves were also structurally prepared with gaskets so that on arrival at their final destination, they could be joined without the need for a floating dock, using a patented dry welding procedure.
The two structures were transported by Dockwise on a semisubmersible vessel to the Sea of Azov off Ukraine before being towed through the inland waterway system to Baku for joining and subsequent outfitting of the barge. Following equipment and sea trials, the barge was delivered to Bumi Armada in May 2010, 22 months after work started on the project.
Eastproject was responsible for the full vessel design, including pipelay calculations, the stinger, and engineering of the mooring system, the latter in association with Italian manufacturers Bruno Presezzi and Remacut. This incorporates specially designed watertight valves. In the event of a sudden storm in the Caspian Sea, the system allows for a quick shutdown of operations using a free-fall dynamic brake. Additionally, Eastproject assisted Ukrainian engineering partner Corall Sebastopol on the joining procedures, supplying 50 personnel at peak for this program. Last month, following the end of the vessel's first laying season, installation had started of a fully revolving AmClyde crane, adding a 900-metric ton (992-ton) heavy-lift capability.
Over the past few years, Eastproject has been working on another concept for a pipelay vessel with a very low draft for ultra-shallow water/swamp conditions, in the Caspian Sea and elsewhere. The company has also studied the support spread requirements needed to clear the vessel's path during maneuvers, and to transport the crew and support staff to and from the vessel.
Working with Hovertrans Solutions, Eastproject has developed a pipelay hoverbarge capable of welding and laying 12-m (39-ft) long stalks of steel pipes and flexible lines with a much higher daily output, it claims, than is currently achieved by conventional shallow-water barges and equipment. The pipelay hoverbarge would be assisted by a hoverbarge pipe feeder and lifting support. It would move around on an air cushion with a draft from swamp up to open sea, at speeds of up to 5 knots, with a power requirement for the air cushion feeder of around 3 MW, assuming a 550-metric ton (606-ton) pay load.
According to Eastproject Managing Director Sandro Foce, maintenance of the vessel would be straightforward, the hull comprising steel modular sections that allow for easy mob/demobilization for transportation into the Caspian Sea. The air cushion is maintained by special heavy-duty curtains that can be easily kept and replaced in sections. The company has proposed the pipelay hoverbarge and its support spread to an oil company operator in Kazakhstan, and Foce claims the vessel could operate year-round, including during ice build-up in the northern Caspian winter. There is also interest from a client for an application off West Africa.
Another development is the MODULAR, a multipurpose drilling and construction vessel for use in up to 1,500 m (4,921 ft) water depth. Eastproject has been working on this concept for five years and has applied for a patent in the EC and in the United States, as it sees strong potential in Brazil and the Gulf of Mexico. The MODULAR would be constructed with interchangeable modules that could be reconfigured according to the offshore application, during docking inside a submersible mother vessel. The latter would also provide power generation and accommodation.
The range of tasks, while operating in DP-3 mode, include conventional deepwater drilling; tender-assist drilling, while accommodating 600 personnel; intervention; S- and J-lay of rigid pipes; flexible pipelay; deepwater heavy lifts of up to 500 metric ton (551 ton); and diver/ROV-assisted subsea construction.
More Offshore Issue Articles
Offshore Articles Archives
View Oil and Gas Articles on PennEnergy.com