FLNG design innovation pushes technology forward
As the offshore market continues to contend with low oil and gas prices, many projects have been put on hold. But despite the downturn, work is progressing on a number of floating LNG projects.
May 4th, 2016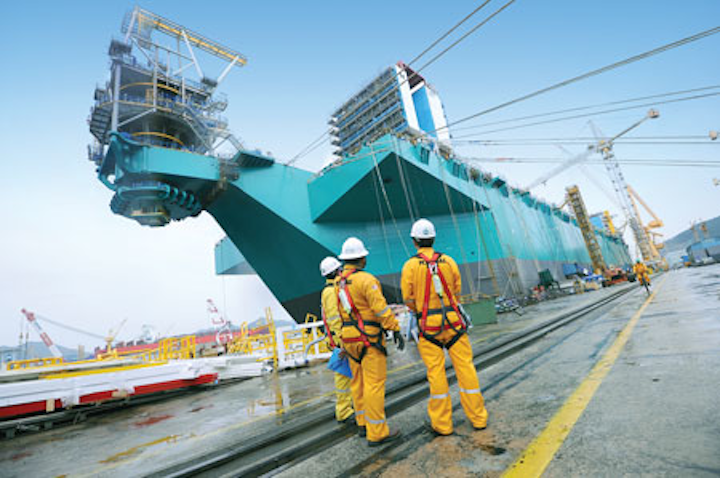 Tor-Ivar Guttulsrod
ABS
As the offshore market continues to contend with low oil and gas prices, many projects have been put on hold. But despite the downturn, work is progressing on a number of floating LNG (FLNG) projects. While the current environment in some ways works against these initiatives, the long-term gains continue to make FLNG a focus for companies that see the enormous potential for the market going forward in unlocking stranded reserves and bringing clean burning gas to the market.
In a recent report titled "Floating Liquefied Natural Gas Market 2016-2026 Capex and Capacity Forecasts for LNG FPSOs and FSRUs," analysts at Visiongain contend that the market will see $5.06 billion in capex this year for FLNG units alone.
Several FLNG projects have been delayed or canceled in recent months, and while a sustained low price environment could impact others, players in this arena continue to make strides toward realizing multiple first-of-a-kind facilities. Some of the postponed projects are optimizing solutions for the most cost-efficient development possible, while possibly also engaging the supply chain to contribute to more economical solutions in a time when engineering and construction company backlogs are typically shrinking.
Partnering in innovation
While classification societies do not own, design, or operate floating assets, they play a role as a verifier in the process of developing and building the units. As a verification agency, ABS is often involved at the front end of concept development when designers and developers wish to earn Approval in Principle (AIP) for their designs. The organization's role is to provide third-party review of new or novel design concepts. AIP is granted in acknowledgement that a proposed concept or design complies with the intent of ABS rules and/or appropriate codes. The AIP process gives companies that are introducing new technologies or concepts to earn recognition by an independent party that attests to the acceptability of the concept at that stage of development.
Beginning more than a decade ago with the introduction of the first FLNG designs, ABS has awarded AIP for more than a dozen concepts and has performed reviews for pre-front-end engineering and design (pre-FEED) and FEED work on others. Several of the designs that earned AIP will be developed into FLNG vessels that in time will be used to produce natural gas from fields around the world.
Original concepts
One of the earliest designs for which AIP was granted was a unit for Petrobras in an operating partnership with BG, Repsol, and Galp Energia for the presalt reservoirs of the Santos basin offshore Brazil. The operators carried out a competitive FEED with three consortia. ABS supported two of the three consortia - the SBM Offshore- and Saipem-led groups - with class service throughout FEED. SBM built on a generic newbuild solution it had developed with Linde as the foundation for the Petrobras effort and was granted two additional AIPs for this design.
The Petrobras FLNG unit was expected to operate in Santos basin presalt pole blocks BM-S-9 and BM-S-11, approximately 186 mi (300 km) off the Brazilian coast. The unit was planned to be installed near the FPSOs and to receive, process, and liquefy up to 14 MMcm/d of associated gas. It was designed to store and transfer processed products (LNG, propane, and butane) to vessels, which, in turn, would transport the gas to the consumer market. In the end, Petrobras elected to develop this area with a pipeline instead of progressing the FLNG project.
Other early designs that were awarded AIP include the Braxton & Associates unit designed for LNG/LPG/NGL processing and storage with 170,000 cu m (187,392 cu ft) of LNG capacity and 35,000 cu m (38,580 cu ft) capacity for LNG and NGL. The vessel was to process 300-400 MMcf/d of LNG. Another early FLNG design, submitted for AIP by Teekay, Mustang, and Samsung Heavy Industries, also integrated LNG/LPG/NGL processing plants on a single hull with a processing capacity of 2.5 million metric tons (2.7 million tons) per annum (mtpa) and cargo tank capacity of 200,000 cu m (7,062,933 cu ft) of LNG and 10,000 cu m (353,146 cu ft) of LPG. In 2008, Waller Marine secured AIP for its Maverick FLNG unit, featuring integrated gas and LNG processing plants with capacity for 125 MMcf/d of gas and an LNG cargo tank capacity of 87,000 cu m (3,072,376 cu ft).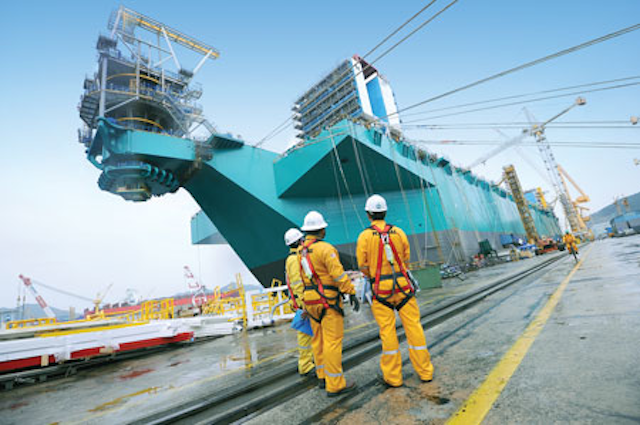 PFLNG SATU was christened in early March 2016, marking another milestone for Malaysia's national oil and gas corporation in the global LNG business. ABS was selected to class the second FLNG vessel. (Image courtesy Petronas)
In 2005, ABB was granted AIP for an LNG/LPG FPSO topsides concept that targeted mid-scale LNG applications. The concept deign was an offshore application and marinizing of the NicheLNG process, a proprietary dual turbo-expander based LNG liquefaction scheme developed by ABB Lummus Global.
The Niche LNG concept was to be held on station via an external turret mooring system at the bow, with offloading tandem-style from the stern. The equipment layout, while similar to a typical FPSO, allowed for processing facilities onboard that incorporate gas feed pre-treatment (removal of CO2, mercury etc., dehydration of the gas and LPG extraction) and LNG liquefaction. The unit, which was not progressed beyond the design phase, was designed for typical gas reserve potential of 0.5 to 3 tcf with production potential of up to 2.5 mtpa.
More recently, SBM also introduced an FLNG designed for small to medium fields for which ABS awarded AIP - a midscale unit that could process LNG, LPG, and condensate on a single hull. SBM envisioned vessels that would be converted LNG tankers, an approach that would lower costs and deliver a shorter construction schedule. In this novel topsides layout, two LNG tankers were joined to form a twin hull to provide space adequate for the process facilities and the necessary space between sections of equipment to satisfy safety requirements.
Works in progress
Units currently in development include the FLNG for Delfin LNG. Bechtel, which was awarded AIP for an FLNG conversion design, is working on a number of FLNG projects. The company was selected to perform FEED work for the newbuild unit, which will be the first US-based FLNG vessel to go into service at Port Delfin, a proposed deepwater port and FLNG facility approximately 50 mi (80.5 km) offshore Louisiana. In fact, the Delfin LNG project will be the first offshore floating natural gas liquefaction facility in the US.
Farther north, several of the proposed Canadian west coast projects also are contemplating floating solutions. It will be interesting to watch to see how well these proposals progress and which ones actually come to fruition.
Developments and deliveries
A major project that is progressing is Shell'sPreludeFLNG. Measuring 1,600 ft (488 m) long, 240 ft (74 m) wide and 144 ft (44 m) deep and weighing around 600,000 metric tons (661,386 tons), PreludeFLNG will produce at least 5.3 mtpa of liquids - 3.6 mtpa of LNG, 1.3 mtpa of condensate (equivalent to 35,000 b/d) and 0.4 mtpa of LPG. Shell made its final investment decision (FID) on the vessel in May 2011, and the hull was completed and launched in November 2013.
Gas is to be transported from the reservoir via dual insulated production flowlines and flexible risers to the vessel, where impurities such as water, mercury, and CO2 will be removed. The gas is to be liquefied and stored onboard awaiting LNG carriers that are to receive LNG directly from the FLNG via loading arms in a side-by-side configuration.
According to Shell, this vessel will be the largest floating offshore facility in the world once it enters operation.
Malaysia's Petronas has been one of the FLNG sector's success stories. Its first unit, originally referred to as PFLNG1, received its official name,PFLNG SATU, in early March 2016, marking another milestone for Malaysia's national oil and gas corporation in the global LNG business.
Petronas described its new FLNG facility as a "significant achievement and a game changer," noting that it paves the way for opportunities to monetize gas resources from remote, marginal and stranded fields, which otherwise would not be economical to develop.
At the time of the naming event, plans were in place for the unit to be ready for sail away in 2Q 2016. ThePFLNG SATU, which has the capacity to produce 1.2 mtpa of gas, is to be moored on Malaysia's Kanowit gas field, 112 mi (180 km) offshore Sarawak.
PFLNG SATU will be the world's first FLNG vessel when it begins operations later this year.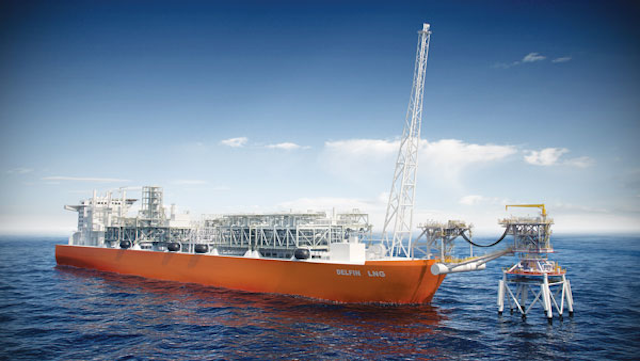 Delfin is constructing a newbuild unit that will be the first US-based FLNG vessel to go into service at Port Delfin, a proposed deepwater port and FLNG facility approximately 50 mi (80.5 km) offshore Louisiana. (Image courtesy Delfin)
Meanwhile, work is progressing onPFLNG2. ABS was selected to class the second vessel and to provide technical services in September 2014. The second Petronas newbuild is to be moored via an external turret on the deepwater Rotan gas field offshore Sabah. Designed to produce 1.5 mtpa, the vessel is expected to operate on site for a minimum of 20 years without dry docking.
On the lease contractor side, both Golar and EXMAR have moved forward and into construction. EXMAR's 0.5 mtpa unit built in China at Wison was initially intended for Colombia, but is now looking for a new site. The unit is mechanically complete and is undergoing commissioning. Golar is in the construction phase for its first FLNG conversion, which is going to Perenco in Cameroon. Golar also has placed orders for generic conversion of two more Moss hulls, and it appears as the first of these will be used for the Ophir Fortuna project in Equatorial Guinea.
The next major operator project expected to reach FID is Eni's Coral in Mozambique. The company has government approval, and FEED competition is complete. Press reports indicate sanction is targeted for this year.
OncePFLNG SATU, Preludeand other units such as Golar's first conversion enter operation, valuable operational experience will be gained giving operators as well as financiers and insurers more confidence in the solution going forward, and it may become less cumbersome to reach FID going forward.
At about the same time that the class contract was awarded forPFLNG2, ABS awarded Sevan AIP for the industry's first cylindrical FLNG production unit. The concept is based on a proven circular and geostationary Sevan FPSO design for deepwater and harsh environments.
The Sevan FLNG unit will be capable of operating in more than 3,000 m (10,000 ft) water depth. Its unique hull shape will enable a high volume of LNG storage, while eliminating the need to weathervane in rough seas. This design supports gas processing and liquefaction up to 4 mtpa and storage up to 240,000 cu m of LNG and 36,000 cu m of condensate.
Pending concept developments
Another recent recipient of AIP is Gravifloat's GF-LNG, a box-like unit that is designed to capitalize on the advantages of shipyard construction - schedule predictability, construction quality, and schedule control. These units can be used in a modular arrangement as import and export terminals in shallow water, as they are floated in and connected to a pre-installed bottom frame. Each Gravifloat unit can be outfitted with membrane or SPB tanks, and the storage volume and process, support and living quarter area available can be adjusted by number of units. Since each module is fixed to the seabed after being floated in, modules can be connected with rigid and cryogenic connections. In other words, the design offers the benefits of a floating solution without the disadvantages of sensitivity to sea-motions. Gravifloat is currently being considered for both new liquefaction as well as regasification projects.
The future of FLNG
Although developments in the FLNG sector have slowed, a rebound in the demand for natural gas has the potential to create an environment in which these units are needed. Worldwide recognition that gas is the cleanest-burning hydrocarbon has sharpened the focus on gas development, which will have a place in a greener and more environmentally stringent world.
The offshore industry understands the need to continue developing technology regardless of market conditions. The challenges that exist today will still be there when oil and gas prices inevitably rebound, and the technologies to address those challenges will be needed. In its role as a classification society, ABS continues to work with innovative companies to design novel concepts that will take the oil and gas industry into tomorrow's frontiers.
Editor's note: In late February, Petronas announced that its PFLNG 2 project would be delayed due to a series of capex-reduction measures implemented due to the market downturn. No new commissioning date was given.
FSRUs thrive in challenging gas market
While lower gas prices have created a difficult environment for most gas subsectors, the emergence of a spot market and the availability of low-priced LNG has created a relatively favorable market for floating, storage regasification units (FSRU). Analysts often include FSRUs when forecasting offshore gas sector activity. According to Visiongain's "Floating Liquefied Natural Gas (FLNG) Market 2016-2026 Capex and Capacity Forecasts for LNG FPSOs and FSRUs," issued in early 2016, FSRU spend this year will total approximately $2.10 billion.
Part of the reason for this positive news is the fact that the amount of LNG production is growing globally, and FSRUs are make it comparatively easy to process gas for use. And since FSRU construction costs are about half of the cost for an onshore facility and can be built and delivered in 2-3 years in comparison to the 5-7 years needed to build an onshore import terminal, they make good sense economically.
The number of players in this arena, while somewhat small today, continues to increase. Excelerate Energy, EXMAR, Golar LNG and Höegh LNG have been pioneers in the FSRU sector. More recently, others have joined the ranks, and more companies are likely to step into the mix over the next few years.
A December 2015 report by King & Spalding pointed to varying charter lengths as one of the drivers for increased FSRU utilization. Examples include short-term charters, which are allowing countries like Egypt and Kuwait to use FSRUs as a "bridging solutions." In the case of Egypt, this means using FSRUs while offshore gas discoveries are commercialized and in the case of Kuwait, it means using FSRUs while land-based terminals are developed. The report points out the contrast between these contracts and others, such as one between Petrobangla of Bangladesh and Excelerate Energy, that are much longer term - in this case 15 years. According to the report, changes in the ways FSRUs are financed also act as a catalyst for growth.
The end result is that FSRUs are gaining a rather strong foothold in many parts of the world, and there are likely to be more of them on the market in more creative applications.