China plans growth into vessel-building giant
China is confident it can overtake Asian vessel building rivals Korea and Japan by the year 2015, and current activity indicates the country's determination to reach that goal.
Dec 1st, 2006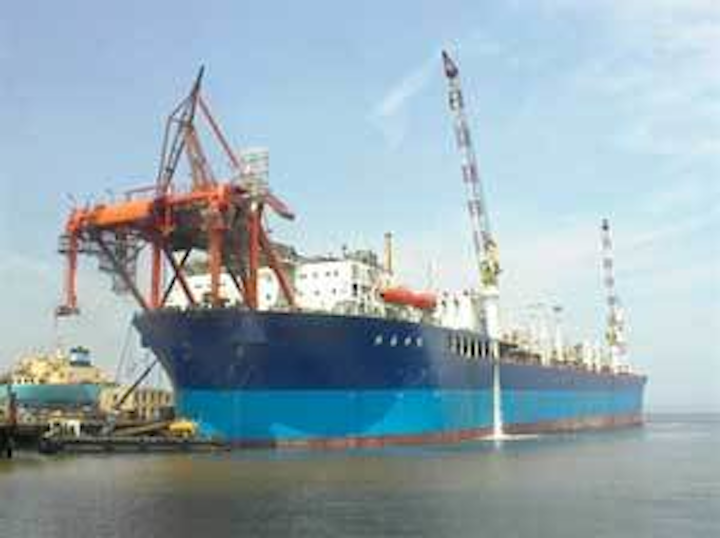 2015 targeted as milestone for capacity
China is confident it can overtake Asian vessel building rivals Korea and Japan by the year 2015, and current activity indicates the country's determination to reach that goal.
China's share of the world shipbuilding market has grown almost three-fold since 2003, going from 5.2% to 16.5%, according to DNV. Today there are Chinese built vessels in 40 countries on all five continents.
As strong as growth has been, it will pale in comparison to the planned increase. China's major shipyard groups, the China State Shipbuilding Corp. and China Shipbuilding Industry Corp., have moved to add FPSOs, LNG tankers, and VLCCs, as well as large containerships and ro-ro vessels to their list of builds.
FPSO demand
The demand for FPSO construction over the next five years will contribute to China's chances of making its production target. International Maritime Associates Inc. forecasts up to 130 production floaters will be ordered over the next five years. Of this number, 75-95 will be purpose-built or converted from existing hulls, and 28-35 will be redeployed existing units moving from fields that will reach the end of their productive life during the period. The group estimates capital spending for the orders to reach $35-44 billion.
There currently are more than 30 facilities worldwide that fabricate floating production units, and there are 97 projects either in bidding, design, or planning which could use floating production and/or storage.
The number of floating production systems worldwide has increased 230% in the past decade to reach around 180 units. Of these, 61% are FPSOs, 21% are production semisubmersibles, 10% are TLPs, and 8% are spars. There are also more than 80 floating storage facilities without production capability.
Expansion plans
CSSC plans to expand its current capacity of 4 million dwt to more than 14 million dwt by 2015. Its most modern yard, Shanghai Waigaoqiao Shipbuilding, finished its first ship in mid-2003, delivered just over 1.2 million dwt in 2004, and expects output of 2.2 million dwt this year and 2.6 million dwt by 2008.
"We currently are concentrating on three vessel types: capsize bulkers, 105,000 dwt aframax tankers and FPSOs of 105,000-300,000 dwt," says Qi Ya Xian, deputy director of SWS sales and marketing. "The next step will be to build VLCCs and containerships."
The CSSC group plans to build the world's largest single shipyard at Chanxing Island on its way to becoming the world's largest shipbuilder by 2015.
"The first phase will involve the relocation of Jiangnan shipyard in 2007," says Hyu Keyi, Jiangnan technical director. "The second phase will involve the development of a new shipyard in the Guangzhou area, plus the expansion of other CSSC shipyards. Total capacity is intended to reach 12 million dwt."
CSIC has a two-fold plan to increase capacity to 6 million dwt and output to 5 million dwt by 2010, and 9 million dwt and 8 million dwt by 2015. This plan includes additional drydocks at Dalian, Dalian New, and Bohai, and completion of the new Qingdao yard with its four VLCC docks and 2 million dwt output capacity.
FPSO construction
The history of FPSO construction in China dates to the 1980s when Hydong and Jiangnan built three units for CNOOC. Dalian New constructed the 150,000-dwt unit for Qinghuangdao 326 field in 1999. Dalian New has done hulls for four FPSOs to date. It also has built drilling platforms for CNOOC and PetroChina, and four hulls for Ocean Rig of Norway. Shanhaiguan also has done FPSO work on VLCC conversions for Petrobras. While the FPSO hull work was done in China, completion of the topsides was done either by China National Offshore Oil Co. or contractors outside of China.
At Jiangnan, the FPSO contracted in 2003 was designed with oil storage of 87,500 metric tons and 13,000 cu m/d. The first of two 150,000-dwt FPSOs built at Shanghai Waigaoqiao for CNOOC was a 262-m (860-ft) vessel with an 11-m (36-ft) moonpool turret and the second featured an external turret. Both had 1 MMbbl of oil capacity.
At present, CNOOC and ConocoPhillips China Inc. have a contract with Shanghai Waigaoqiao for a 280,000-dwt FPSO hull for Peng Lai oil field in Bohai Bay. The $200-million contract covers design, some procurement, and construction of a 310-m (1,017-ft) long, 60-m (197-ft) wide, 29-m (95-ft) deep hull, the largest yet built in China. The FPSO will have storage capacity of 2 MMbbl of crude oil upon delivery in 2Q 2007 to block 11/05.
On order
Based onOffshore magazine's 2006 Worldwide Survey of Floating Production, Storage and Offloading Units, among those under construction is the Penglai FPSO destined for Penglai block 19-3 phase 2 and 25-6 in 4Q 2008. Capacities are 190,000 b/d of oil processing and 2 MMbbl storage. The Conoco/Phillips developed field is in 25 m (82 ft) of water. It is 310 m (1,017 ft) long by 60 m (197 ft) wide by 29 m (95 ft) deep at 280,000 dwt. It is being built at Shanghai Waigaogiao yard.
Awaiting release to bid, is theWenchang FPSO destined for Wenchang 8-3, 14-3, 15-1, and 19-1 in 135 m (443 ft) of water.
Of the FPSOs in operation, five have hulls newly built in a Chinese fabrication yard. These include the following:
Bohai Ming Zhu operated by ConocoPhilllips/CNOOC in Penglai 19-3, block 11/05. The hull is 218 m (715 ft) long by 33 m (108 ft) wide by 18 m (59 ft) deep and was built at Shanghai Jaingnan. It can process 45,000 b/d of oil and store 390 MMbbl.
Bohai You Yi Hao operated by Japan China Oil Development in Bozhong 28-1. It is 217 m (712 ft) long by 31 m (102 ft) wide by 18 m (59 ft) deep and built in Hudong. It can process 12,000 b/d of oil, 3 MMcf/d gas, and store 390 MMbbl.
Bozhong operated by CNOOC/Chevron in Bozhong 25-1 field. It is 272 m (892 ft) long by 50 m (64 ft) wide by 21 m (69 ft) deep and was built in Shanghai. It can process 72 ,000 b/d of oil, 15 MMcf/d gas, and store 792 MMbbl.
Chang Qing Hao operated by CNOOC in Bozhong 34-1. It is 215 m (705 ft) long by 31 m (101 ft) wide by 18 m (59 ft) deep and was built in Shanghai Hudong. It can produce 12,000 b/d of oil, 3 MMcf/d gas and store 368 MMbbl.
Offshore Oil III operated by Nanhai West Oil Corp. for Devon Energy China in Panyu 4/2, 5/1. It is 262 m (860 ft) long by 46 m (150 ft) wide by 24 m (79 ft) deep and was built in Shanghai Waigaogiao. It can produce 70,000 b/d of oil, 500 Mcf/d gas and store 1 MMbbl.
null
Editor's Note: This article contains excerpts from a DNV forum item by Stuart Brewer and updates from Matthew Flynn of DNV
Century dawns at QHD 32-6 oil field FPSO ai Shi Ji named
One of the world's largest FPSOsHai Shi Ji or Bohai Century, as it was named in a special ceremony, was designed and built in just under two years by Dalian New Shipyard and China Offshore Oil Engineering Co.
The FPSO will travel to its offshore field location approximately 20 km (12 mi) offshore northeast China in Bohai Bay. The Qinhuangdao (QHD) 32-6 project is a partnership between CNOOC, Texaco, and BP.
The vessel is 287 m (942 ft) long by 51 m (167 ft) wide, and has 1 MMbbl oil storage capacity.