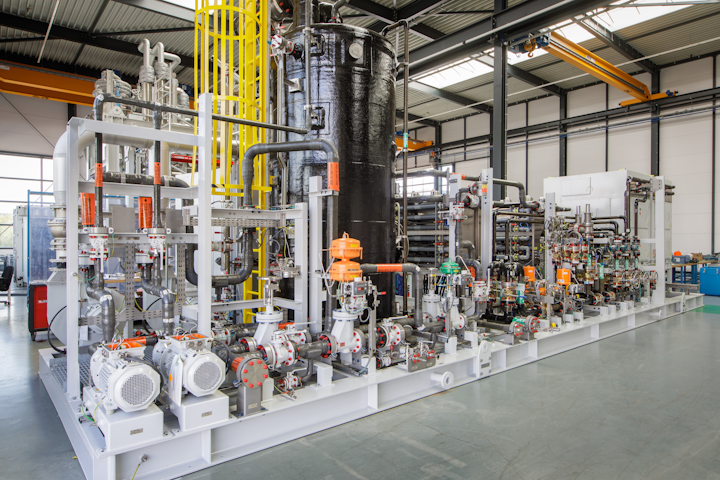 (Courtesy Frames)
Offshore staff
ALPHEN AAN DEN RIJN, the Netherlands – Frames is supplying an electrochlorination package to MODEC for the FPSO Carioca MV30.
Petrobras will deploy the vessel at the Sepia field in the Santos basin, 250 km (155 mi) offshore Rio de Janeiro.
The equipment will generate and inject sodium hypochlorite into the seawater systems.
Production of hypochlorite involves use of electrolysis to convert sodium chloride in seawater to sodium hypochlorite.
Frames' hypochlorite generation system comprises electrolyser modules containing electrolyser cells that determine the unit's total hypochlorite production capacity.
Hydrogen gas produced as a by-product of electrolysis is removed by degassing.
The system uses self-cleaning cell technology provided by partner Evoqua Water Technologies. Self-cleaning is said to raise process safety by eliminating the need for acid cleaning, also reducing the package's operating cost and preventing biofouling of seawater systems.
The Carioca MV30 will be capable of processing 180,000 b/d of crude, 212 MMcf/d of gas, with 240,000 b/d of water injection and 1.4 MMbbl of crude storage capacity.
12/06/2019