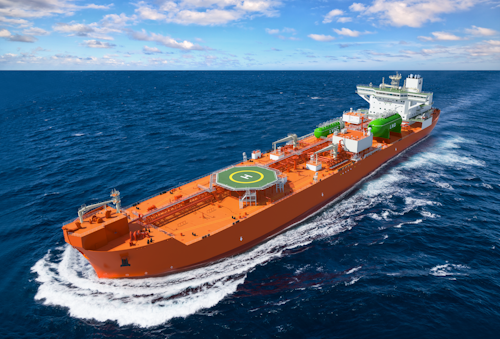 (Courtesy AET)
Offshore staff
GEOJE ISLAND, South Korea – Petroleum tanker owner and operator AET has named its two new LNG dual-fuel dynamic positioning shuttle tankers (DPSTs) Eagle Blane and Eagle Balder.
The 123,100-dwt vessels will work for Equinor on a long-term charter for operations at oilfields in the Norwegian North Sea, Norwegian Sea, the southern Barents Sea, and on the UK continental shelf.
According to AET, these are the cleanest DPSTs ever built, designed to emit 40-48% less carbon than equivalent vessels built in 2008, meeting the International Maritime Organization's (IMO) target of reducing carbon dioxide (CO2) emissions by 40% against 2008 baselines by 2030, and of halving CO2 emissions by 2050.
The vessels are also said to emit 85% less SOx, 98% less NOx, 98% less particulate matter, and 93% less black carbon particulates than DPSTs burning conventional fuel.
Both were built at the Samsung Heavy Industries Geoje Shipyard.
The vessels, powered using LNG as their primary fuel, will also be capable of capturing 100% of the harmful volatile organic compounds (VOC) that escape into the air from crude oil cargoes during loading and voyage for re-use as a supplementary fuel.
They are said to employ a more efficient system for dynamic positioning, and this, combined with the LNG dual-fuelling and VOC recovery systems, means they should save up to 3,000 metric tons/yr (3,307 tons) of fuel compared with conventional DPSTs of the same size.
AET Sea Shuttle is a joint venture between Norwegian shipping company ADS Shipping and AET Tankers headquartered in Singapore, as owner and commercial operator of the vessels.
MISC Group's marine services arm Eaglestar and Norwegian third-party ship management company, OSM Maritime provided project management for the newbuilds.
10/16/2019