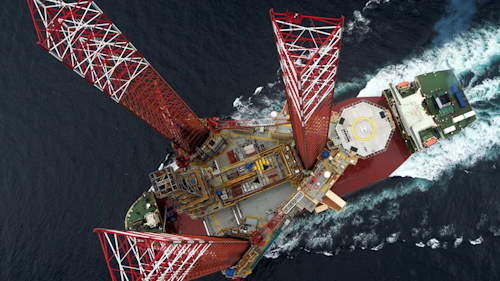 (Courtesy Maersk Drilling)
Offshore staff
COPENHAGEN, Denmark – Equinor has exercised two two-month options with Maersk Drilling, under which the jackup Maersk Intrepid will continue working at the Martin Linge field development in the Norwegian North Sea.
In addition, the companies have signed a further two-month extension in direct continuation of the rig's current program which will keep it on contract until the end of August 2020.
Total value of all the add-ons is $60 million.
During the contract period, Maersk Drilling will complete upgrades to turn the jackup into what it describes as the first hybrid, low-emission rig, setting a new standard for low-emission drilling on the Norwegian continental shelf.
The work will combine use of hybrid power with low levels of nitrogen oxide (NOx) emissions, and adding data intelligence to further reduce energy consumption and carbon dioxide emissions.
The project has a grant from the Norwegian NOx Fund, and will also benefit from Equinor's decision to introduce compensation formats in order to stimulate emission reductions.
The Maersk Intrepid will also be equipped with the NOVOS drilling system to enhance its digital profile. The system helps the driller executed processes consistently, the contractor said, and facilitates interfaces with third-party advisory algorithms to improve drilling performance.
The ultra-harsh environment CJ70 jackup, designed for year-round operations in the North Sea, has operated offshore Norway since it was delivered in 2014.
09/19/2019