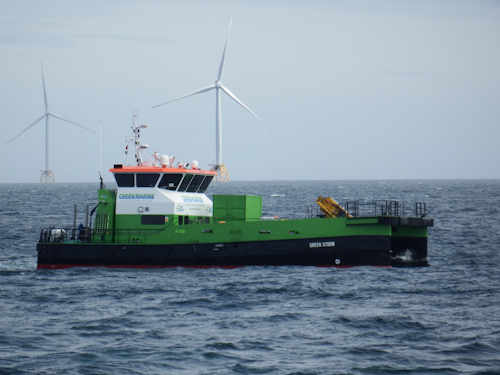 (Courtesy Green Marine)
Offshore staff
ORKNEY, UK – Equinor has awarded Green Marine a three-year contract to deliver operations and maintenance work for the Dudgeon offshore wind farm in the southern North Sea.
Green Marine will supply its Damen-built 2610 Twin Axe vessel, Green Storm, to assist in the operations and maintenance of the wind farm alongside support from the company's onshore team.
The Green Storm is a dedicated vessel for the offshore wind industry. It transports personnel and cargo to offshore installations.
Simon Underwood, Equinor's marine & logistics leader for the Dudgeon project, said: "The Green Storm is an excellent vessel that will allow us to continue safe and expeditious operations offshore at the Dudgeon windfarm.
"The Green Storm provides the technicians with a comfortable and efficient transfer platform that enhances efficient productivity whilst maintaining the highest level of safety. She is a welcome addition to our fleet and will work in tandem with our service operations vessel."
The Dudgeon offshore wind farm is located off the coast of Cromer in North Norfolk. Since its completion in late 2017, the 402-MW offshore wind farm has been producing enough energy to power more than 410,000 UK homes from its 67 6-MW wind turbine generators.
08/26/2019