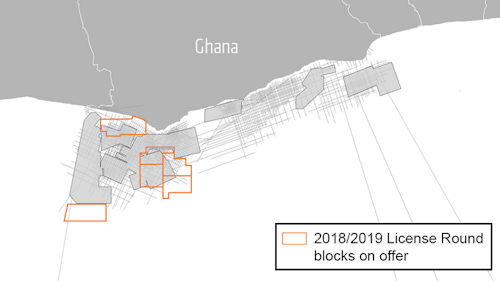 Offshore staff
OSLO, Norway – A new PGS MegaSurvey will target prospectivity over areas likely to be offered under Ghana's 1st Offshore License Round.
The company expects first data to be available this summer.
The program comprises 22,600 sq km (8,726 sq mi) of 3D data and 24,000 line km (14,913 mi) of 2D data, extending from the Tano basin in the west and through the Salt Pond basin, with some coverage over the Keta basin to the east.
PGS' MegaSurveys are regional scale, merged post-stack datasets. They are derived from multiple surveys that are re-binned to a common grid then matched to produce a phase-balanced and uniformly-scaled contiguous regional volume.
Operators can use the data to pursue analogues of existing interests, identify new prospects, or place their field-scale geological understanding into a basin-wide context.
Ghana's government included six blocks in the country's 2018/19 license round. Three of the blocks are on offer through an open competitive tender, two more via direct negotiations, with the other reserved for state oil company (GNPC).
The government received around 50 block applications from 16 companies. Fourteen have been invited to submit tenders for blocks 2, 3, and 4.
The Ghana MegaSurvey, PGS added, completes its coverage of the West Africa Transform Margin from Côte d'Ivoire to Nigeria, providing analysis of the region's tectonostratigraphic evolution.
PGS has also been undertaking reprocessing of data over Congo's shelf area with state-owned SNPC, and the first results are now available.
The 2016 Congo License Round blocks have been offered in two phases. Phase I blocks are about to be awarded, while the recently opened Phase II focuses on shallow-water shelf blocks and remaining deepwater open acreage.
Presalt plays and rift structures have been identified in Congo's shallow-water acreage, close to existing infrastructure. Mesozoic salt basins with associated fields and discoveries extend across the area to the onshore.
Using a modern reprocessing flow PGS, working with SNPC, claims to have revitalized the entire basin area with an improved and consistent regional geological perspective.
Wells have been tied to a common 3D data set to enable a regional interpretation and identification of prospects, plays, and migration paths.
The Congo MegaSurveyPlus comprises 12 surveys, all reprocessed from field data using latest broadband processing techniques, to deliver pre-stack depth migration, pre-stack volumes and clearer images, PGS said, adding that increased bandwidth and signal fidelity allow for better velocity models and more reliable images.
MegaSurveyPlus Phase I is available now with Phase II due to be ready in May.
03/08/2019