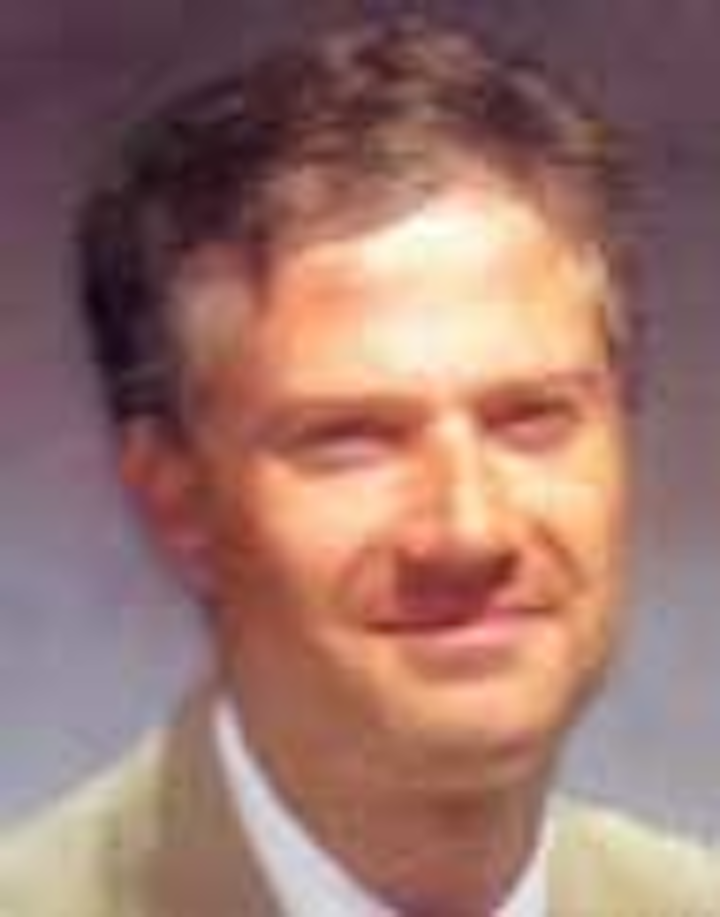 | | | |
| --- | --- | --- |
| | | Jeremy Beckman • London |
ExxonMobil has launched the $14-billion Hebron development, 350 km (217 mi) offshore Newfoundland. The project takes in the Hebron, Ben Nevis, and West Ben Nevis oil fields, extending over four licenses. They will be produced via a gravity base structure (GBS) platform with an integrated topsides deck and living quarters, strengthened to withstand sea ice and roaming icebergs. Oil production capacity will be up to 150,000 b/d with storage in the base for 1.2 MMbbl. Construction of the GBS has started at the Bull Arm yard in Newfoundland and Labrador, and work on the topsides should begin later this year. First oil is scheduled for late 2017. ExxonMobil and partners Chevron, Suncor Energy, Statoil, and Nalcor Energy aim to recover more than 700 MMbbl during the field's 40-year lifetime.
South America
Anadarko is reportedly teaming with Ecopetrol to explore three blocks in the Caribbean Sea, offshore Colombia. These include Fuerte Norte and Fuerte Sur and cover a total area of 10,320 sq km (3,985 sq mi). Following seismic acquisition, drilling could start at the end of 2014.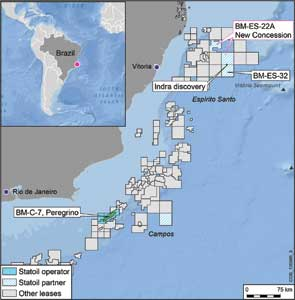 Statoil's farm-in concession in the Espirito Santo basin.
Peru's government has approved Pacific Rubiales' farm-in to 49% of the Peruvian offshore block Z-1 license from operator BPZ Energy for $150 million. The transaction will help fund a new phase of exploration.
In the ultra-deepwater Espirito Santo basin offshore northeast Brazil, Statoil has agreed to take Vale's 25% interest in the Petrobras-operated BM-ES-22A concession. This comprises two blocks adjacent to the BM-ES-32 license, where Statoil is already a partner, and which contains the 2010 oil discovery Indra. Assuming regulatory approvals, the company expects to participate in an ongoing appraisal well on an extension of Indra into BM-ES-22A, and more exploration drilling could follow later this year.
•••
Production has started from Sapinhoá, Petrobras' second giant field development in the presalt Santos basin. The FPSOCidade de Sao Paulo, in block BM-S-9, should initially produce 15,000 b/d of oil from one well, eventually rising to 120,000 b/d and 176 MMcf/d of gas from six production wells. Some of the gas will be set aside for reinjection, with the remainder exported through the subsea Lula-Sapinhoá-Mexilhão pipeline for treatment in Caraguatatuba on the Sao Paulo state coast. A second FPSO, Cidade de Ilhabela, should enter service on Sapinhoá during the second half of 2014.
•••
Petrobras has three more deepwater oil finds off Brazil. A well in the Campos basin near the P-56 platform, serving the Marlim Sul field, found heavy oil in a postsalt Eocene accumulation named Mandarim. Characteristics appear similar to oil produced from the main Marlim field. A tieback to P-56 could follow.
In the Santos basin, another presalt well discovered oil in carbonate reservoirs in the Carcará structure in block BM-S-8. However, development appears unlikely before 2016. Finally, a fifth well on the Sud de Tupi area has encountered oil, again in carbonate rocks beneath the salt layer. It was due to be deepened, followed by a formation test.
West Africa
Plains Exploration & Production (PXP) has agreed to take a 52% operating interest in the Mazagan exploration concession offshore Morocco from current incumbent Pura Vida Energy. If ratified by the government, PXP will fund 100% of activities that will likely include two wells, up to a limit of $215 million. The permit is in the Essaouira basin, with prospects at Miocene and lower Cretaceous levels. The first well, probably drilled next year, will target the 1.5-Bbbl Toubkal structure.
•••
London-based Elenilto has become operator of the Senegal Offshore Sud Shallow Oil production-sharing contract, which spans 7,920 sq km (3,058 sq mi) in the southern Senegal Casamanca basin. Analysis of existing 2D seismic suggests potential of 500-800 MMbbl of oil in the main leads. Elenilto has identified two areas of interest and plans a 3D seismic survey, followed by drilling.
•••
The semisubmersibleEirik Raude is drilling the first of two exploration wells offshore Liberia for African Petroleum. Bee Eater-1 is on block LB-09, 9.5 km (5.9 mi) northwest of last year's Turonian oil discovery, Narina-1. It will test a possible westerly extension of Narina, updip of the presumed oil/water contact. The location of the next well has yet to be determined. African Petroleum estimates prospective resources for the giant Bee Eater/Narina fan system at 840 MMbl, with more than 2 Bbbl potentially spread among other structures on LB-09 and adjacent block LB-08.
•••
Hess too has an oil discovery at the Turonian level to the east, offshore Ghana. The Pecan-1 well on the Deepwater Tano/Cape Three Points license encountered 245 ft (74.6 m) of net pay in two separate intervals in 8,245 ft (2,513 m) of water. It was then side tracked and suspended. This was the company's fifth find on the block, where gas condensate has also been proven. Next up for Hess will be a well on the Cob prospect, 15 mi northeast of Pecan-1.
•••
ConocoPhillips expects to complete the sale of its Nigerian business unit by mid-year to Oando for $1.79 billion. The package includes a 95% operating interest in offshore license OML 131 (including the Chota field), and 20% of OPL 214, containing the Uge field.
•••
Harvest Natural Resources has proven oil at presalt level offshore Gabon. The semisubScarabeo 3 drilled the Dussafu Tortue Marin-1 well on the Dussafu license in 380 ft (116 m) of water. It intersected total pay of 195 ft (59.5 m) in the Gamba formation and in stacked reservoirs in the Dentale formation. Further tests and a side track were due to follow.
Black Sea
Sterling Resources has struck gas with its second exploration well offshore Romania. The Eugenia-1 well, operated by subsidiary company Midia, intersected 22 m (72 ft) of gas-bearing late Cretaceous sandstones on the Pelican block. More gas could be present at the Eocene level.
CGG Veritas'Oceanic Champion has been acquiring the first 3D seismic over the Romanian shallow-water Neptun block for operator OMV Petrom. The program was designed to cover an area of 1,600 sq km (618 sq mi). Previously two wells were drilled, neither yielding commercial finds.
Middle East
Norwegian operator AGR has discovered gas in deepwater off Israel. The Aphrodite-2 well, drilled in 1,107 m (5,600 ft) of water, hit the target in lower Miocene sands. Reserves could be "significant," according to AGR, which has a minority 5% operating interest. The location is in block 370 on the maritime border with Cyprus.
•••
Ganoub El Wadi Petroleum Holding Co. (Ganope) has opened Egypt's latest international bid round. Acreage offered includes blocks 14 and 15 in the Red Sea and blocks 16-20 in the Gulf of Suez. Deadline for applications is May 30.
•••
Saudi Aramco has completed the floatover installation of its largest offshore platform to date, on the Safaniya field off Saudi Arabia. Tie-In Platform No. 20 (Safaniya TP-20) weighed more than 6,000 metric tons (6,614 tons), more than three times the company's conventional TPs. It was built by McDermott in Jebel Ali, UAE. The new structure is part of a first-phase program to upgrade the field, and will receive power through a new 47-km (29-mi), 230-kV composite submarine cable due to be installed this month.
East Africa
Statoil and ExxonMobil have achieved a third gas discovery in deepwater block 2 offshore Tanzania. The Lavani-2 well, designed to appraise the Lavani-1 find, was drilled by theOcean Rig Poseidon in 2,580 m (8,464 ft) of water. When deepened within the Palaeogene it encountered gas in the Saffron structure. The partners will next appraise the Zafarani discovery and acquire 3D seismic to work up new targets on the block.
•••
Eni and Anadarko have signed a heads of agreement over coordinated development of their gas reserves off Mozambique, in the Rovuma basin Area 1 and Area 4. They also plan to jointly build LNG facilities onshore in Cabo Delgado province, northern Mozambique. Anadarko's new partner PTTEP says Area 1 alone holds 35-65 tcf-plus of recoverable gas, and that three consortia are performing competitive front-end engineering design contracts for installation of subsea production systems. These are Technip USA; Subsea 7 (US) and Saipem; and Allseas USA and McDermott.
Indian Sub-Continent
Eni is taking a 25% stake in ultra-deepwater offshore Indus block G in Pakistan's Indus basin. The partners, which include OGDCL, PPL, and United Energy Pakistan, will draw up a study program for future exploration. Nearby, Eni already holds majority interests in offshore Indus basins block C and N.
•••
ONGC has contracted Larsen & Toubro to build and install three unmanned wellhead platforms for the Heera and South Heera fields off western India. They will be connected to the Heera process complex by subsea cables for remote operation. Work should be completed by April 2014.
Asia/Pacific
Dockwise says it has broken its own record for a heavy-lift topsides installation, for the SHWE field development offshore Myanmar, in the Bay of Bengal. The launch bargeHYSY229, operated under a joint venture with China's COOEC, installed the 30,000-ton SHP topsides on top of the 22,000-ton SHP jacket via the floatover method. Dockwise's previous record lift was 21,000 tons. Hyundai Heavy Industries built the SHWE topsides in Ulsan, South Korea.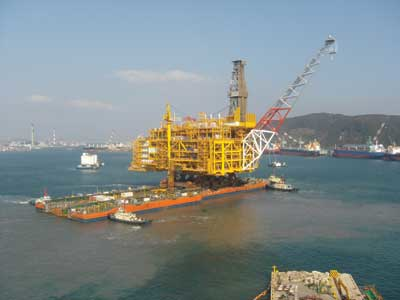 HYSY229 near Hyundai fabrication yard, preparing for sailaway of the SHWE platform.
Woodside Energy has agreed to farm into 50% of block A-6 in the Rakhine basin in Myanmar's western offshore area, with MPRL E&P remaining operator for the current exploration period. Woodside's proposal included a 3D seismic survey, and potential future drilling.
•••
CNOOC has started oil production from two developments in the Pearl River Mouth basin of the South China Sea. Panyu 4-2/5-1 is a field adjustment project in water depths of 100 m (328 ft), tied into existing facilities. The Liuhua 4-1 field is in 268 m (879 ft) of water. Here CNOOC installed a new subsea production system, again linked to in-place infrastructure.
Subject to regulatory approvals, the company will have a new partner in the South China Sea Yacheng gas field later this year, after BP agreed to sell its 34.3% interest to Kuwait's KUFPEC. The location is 100 km (62 mi) south of Hainan Island.
Australasia
Chevron continues to build a pool of gas discoveries in the Carnarvon basin off Western Australia, this time in the Exmouth Plateau area. The Pinhoe-1 well was drilled in the WA-383-P permit, 124 mi (200 km) north of Exmouth, in 3,048 ft (929 m) of water. It encountered roughly 197 ft (60 m) of net gas pay in Barrow and Mungaroo sands. Another well in deeper water, in a more northerly location - Arnhem-1 - found 149 ft (45.5 m) of gas pay in upper Mangaroo sands. Both finds are farther out from discoveries factored into the greater Gorgon and Wheatstone development.
•••
New Zealand Petroleum & Minerals has awarded new offshore permits to three consortia. Two in the Pegasus basin, covering blocks 12PEG1 and 12PEG2, went to Anadarko; another on block 12GS2 in the Great South basin went to Shell, OMV, and Mitsui; and a permit for block 12TAR9 in the Taranaki basin was issued to Todd Exploration and Cue Taranaki.