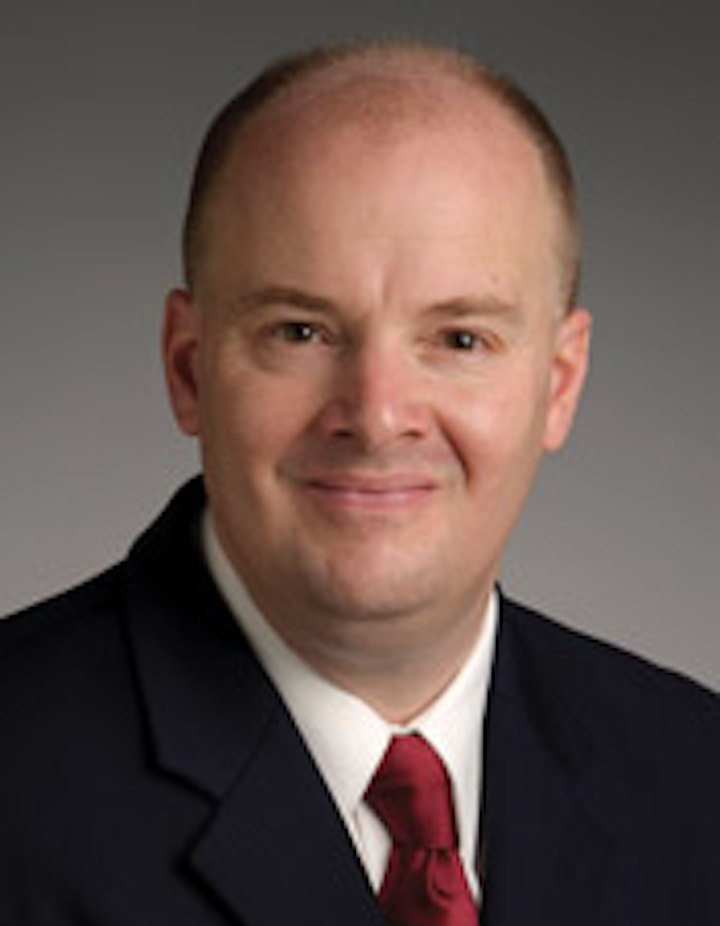 | | | |
| --- | --- | --- |
| | | Bruce Beaubouef • Houston |
A Central Gulf of Mexico lease held in mid-March resulted in 52 companies submitting 407 bids on 320 tracts, with $1,214,675,536 in high bids.
Lease Sale 227, conducted by Interior's Bureau of Ocean Energy Management (BOEM), included 7,299 blocks, covering about 38.6 million acres, located from three to about 230 nautical miles offshore, in water depths ranging from nine to more than 11,115 ft (three to 3,400 m). BOEM estimates the areas available for sale could result in the production of up to 890 MMbbl of oil, and 3.9 tcf of natural gas.
Each high bid on a tract will now be evaluated by BOEM to ensure fair market value before a lease is awarded.
The top five bidding companies by dollar were as follows:
1. Exxon Mobil Corp. - 7 high bids totaling $220,254,446
2. Shell Offshore Inc. - 38 high bids totaling $139,925,720
3. BHP Billiton Petroleum (Deepwater) - 24 high bids totaling $107,160,240
4. Venari Offshore LLC - 15 high bids totaling $86,796,442
5. Plains Exploration & Production Co. - 11 high bids totaling $92,575,000.
The sale builds on a number of recent offshore lease sales, including a November 2012 sale that made more than 20 million acres available, and a sale last June that made more than 39 million acres available.
The administration's Outer Continental Shelf Oil and Gas Leasing Program for 2012-2017 (Five Year Program) makes available for exploration and development all offshore areas it defines as having the highest conventional resource potential, including areas that are estimated to hold more than 75% of the nation's undiscovered, technically recoverable offshore oil and gas resources.
The March lease sale is the second under the new Five Year Program, and the first of its five scheduled Central Gulf of Mexico lease sales.
Each high bid on a tract will now go through a strict evaluation process within BOEM to ensure the public receives fair market value before a lease is awarded.
Sale statistics for Central Sale 227 will be available atwww.boem.gov/sale-227.
Energy XXI/Apache venture to explore shelf
Energy XXI says it has entered into an agreement with Apache Corp. to explore for oil and gas pay sands associated with salt dome structures on the central GoM shelf. The area of mutual interest (AMI) includes several salt domes within a 135-block area.
In addition, Energy XXI has acquired a 25% working interest in 21 non-producing primary-term leases with Apache. A new wide-azimuth seismic program is under way to define the potential of the AMI, covering approximately 633,000 acres.
"This joint venture exemplifies our interest in exploring salt structures where new seismic data, remapping, and remodeling could uncover significant hidden hydrocarbons," said John Schiller, Energy XXI chairman and CEO. "Our Pendragon exploration well, being drilled in the Vermilion area, is a similar analog. We are very excited about the potential of this new joint venture with Apache, a world-class operator with extensive expertise in the Gulf of Mexico."
Anadarko announces Shenandoah appraisal well results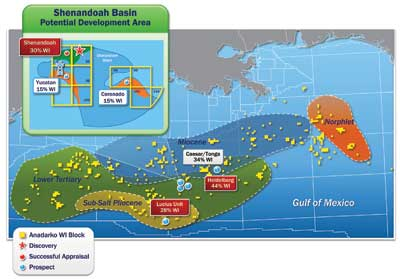 Anadarko Petroleum Corp. reports that its Shenandoah-2 well, located in Walker Ridge block 51 in the deepwater Gulf, has encountered more than 1,000 net feet of oil pay in multiple high-quality Lower Tertiary-aged reservoirs.
Anadarko Petroleum Corp. has announced that its Shenandoah-2 well in the deepwater Gulf has encountered more than 1,000 net feet of oil pay in multiple high-quality Lower Tertiary-aged reservoirs.
The Shenandoah-2 well, located in Walker Ridge block 51, was drilled to a total depth of 31,405 ft in approximately 5,800 ft of water, more than 1 mi southwest and approximately 1,700 ft structurally down-dip from the Shenandoah-1 discovery. The Shenandoah-1 discovery well was drilled in early 2009 on Walker Ridge block 52 and encountered more than 300 net feet of Inboard Lower Tertiary oil pay.
Similar to the initial Shenandoah discovery well, log and pressure data from the Shenandoah-2 well indicate excellent-quality reservoir and fluid properties. The well was drilled to test the down-dip extent of the accumulation, and the targeted sands were full to base with no oil/water contact.
"The successful Shenandoah-2 well marks one of Anadarko's largest oil discoveries in the Gulf of Mexico, with more than 1,000 net feet of oil pay and reservoir rock and fluid properties of much higher quality than previously encountered by industry in Lower Tertiary discoveries," said Bob Daniels, Anadarko sr. vice president Deepwater and International Exploration. "With ownership in the successful Shenandoah wells, the adjacent Yucatan prospect, and the very encouraging results from the nearby Coronado well, Anadarko is strategically positioned in the Shenandoah basin, which has the potential to become one of the most prolific new areas in the deepwater Gulf of Mexico."
Anadarko is the operator of the Shenandoah-2 well and the previously announced Shenandoah-1 discovery well, located in Walker Ridge block 52, with a 30% working interest. Other co-owners in Shenandoah are ConocoPhillips (30%), Cobalt International Energy (20%), Venari Resources LLC (10%), and Marathon Oil Co. (10%).
Black Elk Energy holds West Delta 32 fundraiser
Black Elk Energy Offshore Operations, LLC reports that it has successfully hosted the West Delta 32 charity event, designed to assist the families of workers injured or killed in the accident on the platform last November.
Black Elk Energy and Oilfield Helping Hands teamed up to host a special tribute sporting clay shoot for the six families affected by the incident. The sold-out event was held on March 15 at the GOL Shooting Range in Maurice, Louisiana.
Net proceeds from the fundraiser will be used to establish a higher education fund for the children of the victims. As a result of the charitable contributions and personal efforts made by members of the energy industry, Black Elk Energy and Oilfield Helping Hands were able to donate over $130,000 for this cause.
More Offshore Issue Articles
Offshore Articles Archives
View Oil and Gas Articles on PennEnergy.com