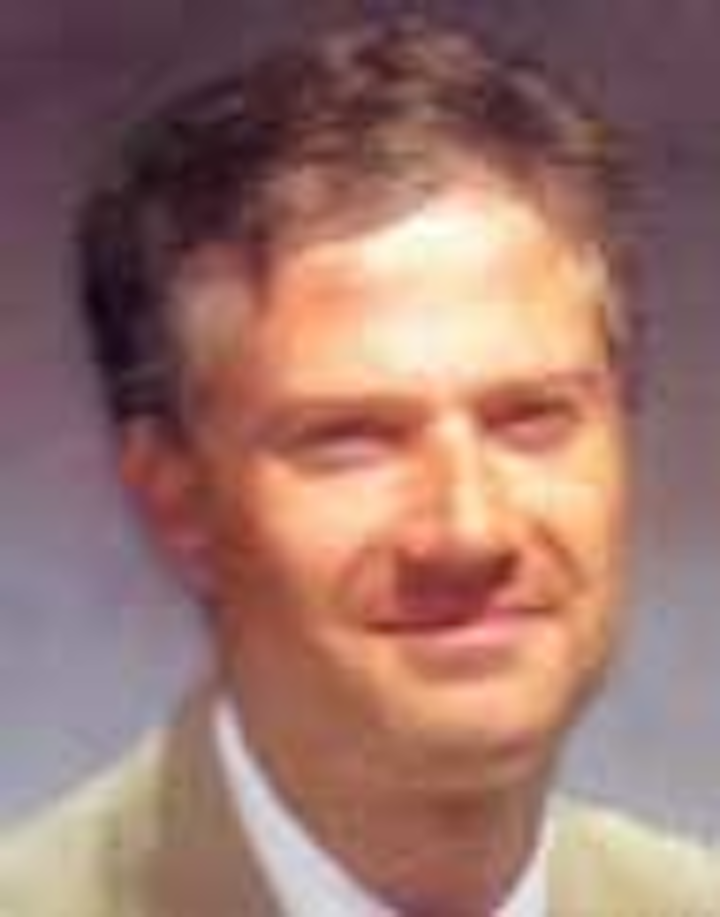 | | | |
| --- | --- | --- |
| | | Jeremy Beckman • London |
Shell has suspended exploratory drilling offshore Alaska. The precautionary measure follows damage to the drilling rigKulluk caused by stormy conditions, after the 2012 program had been completed. This involved top-hole drilling on two wells in the Beaufort and Chukchi seas. Both the Kulluk and Shell's other contracted rig, Noble Discoverer, were due to head to Asia for maintenance and repairs prior to resuming their offshore programs at an unspecified date.
Buccaneer Energy, however, was confident of spudding the first of two wells on the Cosmopolitan prospect in the Cook Inlet, using the jackupEndeavour - Spirit of Independence. Pending approvals from the US Coast Guard and the Alaskan Oil & Gas Conservation Commission, drilling was due to get under way last month.
South America
Guyana's government has granted CGX subsidiary ON Energy a new petroleum prospecting license (PPL). The Demerara concession covers the former offshore portion of the Annex PPL, extending over 3,975 sq km (1,535 sq mi), and which was previously a subset of the company's Corentyne petroleum agreement (PA). Initial terms call for acquisition of a minimum of 1,000 sq km (386 sq mi) of 3D seismic and drilling of one exploration well. The area is updip from a 3D survey that ExxonMobil and Shell shot recently over the adjoining Stabroek PA.
•••
The FPSOCidade de Itaji has produced first oil for Petrobras from the Baúna field in the postsalt southern section of the Santos basin. One well was onstream on startup, with a further five producers, four water injectors, and one gas injector to be connected over the next few months. The floater, chartered from OOG-TK, was converted at Jurong Shipyard in Singapore to process up to 80,000 b/d of light oil and 2 MMcm/d of gas. It is moored in 275 m (902 ft) of water on block BMS-40, 210 km (130 mi) offshore, with oil offloaded to relief tankers.
Earlier this year, Petrobras started production from the giant Sapinhoá field in the ultra-deepwater, presalt Santos basin. Now an extended well test is under way on the Sapinhoá North area of the BM-S-9 concession, in 2,140 m (7,021 ft) water depth, using the FPSOCidade de São Vicente. The six-month test will involve compiling data on reservoir behavior and oil flow in subsea lines from the 3-BRSA-788-SPS well, producing at around 15,000 b/d. Petrobras aims to have a third floater, the Cidadede Ilhabela, in service elsewhere on the Sapinhoá field during the second half of next year.
•••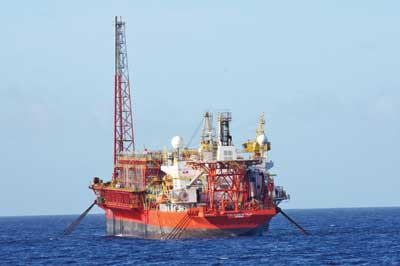 Petrobras has started production in the Santos basin Baúna field. (Photo courtesy Petrobras News Agency)
Also in the presalt area, Petrobras has confirmed two new oil discoveries in water depths close to 2,000 m (6,562 ft). The Sagitário well, 194 km (120 mi) offshore São Paulo state, was the first on block BM-S-50, in a frontier region west of the main presalt finds to date. Oil was encountered in carbonate reservoirs below the salt layer at a depth of 6,150 m (20,177 ft). The other new discovery, on the Florim structure, found oil in carbonates 206 km (128 mi) offshore Rio de Janeiro state. A production test was due to follow.
•••
Borders & Southern (B&S) has commissioned new 3D seismic survey work over its licenses in the offshore South Falkland basin. In April 2012, the company discovered gas/condensate with its first well on the Darwin prospect. The new programs, which include acquisition of 1,100 sq km (425 sq mi) of fresh data, will assist interpretation of various Early Cretaceous leads close to Darwin, with potential combined reserves in the 120-720 MMbbl range.
A screening study by E&P, part of the ThyssenKrupp Group, has concluded that both Darwin East and West could be developed via subsea wells connected to an FPSO, with production capacity for up to 56,000 b/d of condensate, and reinjection of gas to aid liquids recovery. But B&S first needs to firm up recoverable volumes via appraisal drilling.
West Africa
Tullow Oil plans a frontier drilling campaign this spring in the offshore Mauritanian basin targeting deeper plays not tested by previous wells. TheWestLeo, which has worked for the company offshore Ghana, should drill three of the four wells lined up for this year.
•••
African Petroleum (AP) has discovered more oil in Turonian sandstones offshore Liberia. The Bee Eater-1 well, drilled by the semisub Eirik Raude, was designed to test part of a giant fan structure at a location 9.5 km (5.9 mi) west of the Narina-1 oil well in the LB-09 block. Bee Eater-1 encountered further oil deeper down at Albian and Cenomanian levels in the Darter and Egret prospects. In light of extended downtime caused by a malfunction in the rig's BOP, AP opted not to drill a second well as planned, but is seeking another rig to resume the campaign.
•••
CNR International has contracted FMC Technologies for subsea production equipment for further development of the Baobab field, 26 mi (25 km) offshore Cote d'Ivoire. The location is in block CI-40. FMC Technologies will supply six subsea trees, eight wellheads, three manifolds, and subsea/topsides control systems, with delivery scheduled for 2014.
•••
Hess has notched its seventh successive discovery on Ghana's Deepwater Tano/Cape Three Points block. Pecan North-1, drilled by theStenaDrillmax drillship, encountered 40 ft (12 m) of net oil pay in a Turonian reservoir. Hess has begun pre-development studies on the block.
•••
Esso Exploration and Production Nigeria has commissioned Subsea 7 and West African Ventures for subsea installations on the Erha North field development, in water depths of 1,000-1,200 m (3,281-3,937 ft). Subsea 7 will fabricate and install 25 km (15.5 mi) of flowlines, 15 km (9.3 mi) of umbilicals, and 17 rigid jumpers for connection to the FPSO. TheSevenBorealis and SevenPacific vessels will manage the offshore installations, with Cameron supplying the subsea production systems. Start-up from Erha North is expected in 2015.
Mediterranean Sea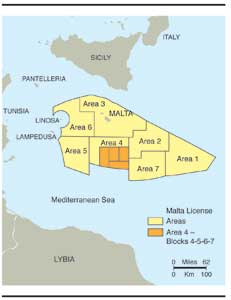 Drilling could start later this year on Malta's Offshore Area 4.
Mediterranean Oil & Gas (MOG) is preparing for its first exploratory well offshore Malta. The company has contracted AGR Well Management to supply a rig to drill the Hagar Qim 1 well this fall in the Area 4 license. UK-based Genel recently agreed to farm into the permit, providing finance for the program.
In the central Adriatic Sea offshore eastern Italy, MOG hopes to confirm the award of the d30 BC MD Ombrina Mare production concession, which it first applied for in 2009. The Ministry of Economic Development has granted technical approval of the Ombrina Mare oil and gas field development plan. Once clearance comes through for the environmental impact assessment, MOG plans to drill a pilot development well in 20 m (65 ft) of water. The field holds reserves estimated at 40 MMbbl and 6.5 bcf.
•••
Lebanon's government has started pre-qualification for the country's first licensing round. Initial submissions were due in by the end of March. Available data includes various offshore 3D and 2D seismic surveys either newly acquired or reprocessed by PGS and Spectrum. The Ministry of Energy and Water says these provide structural insights and a detailed grid over Lebanon's offshore basins.
Middle East
Maersk Oil has booked the newbuild jackupAlJassra for development drilling on Al Shaheen, Qatar's largest oil field. The Pacific Class 400 rig, ordered by Gulf Drilling International, is close to completion at the PPL Shipyard in Singapore, and should arrive in Qatar in mid-year. Maersk plans to use its extended reach drilling capability to exploit the field's long, thin reservoirs. The company is targeting 51 new wells on Al Shaheen.
East Africa
Eni has added a further 4 tcf to its gas inventory in Mozambique's offshore Area 4 Mamba Complex. This follows the successful delineation well Coral 3, 65 km (40 mi) off the Cabo Delgado coast, which encountered 117 m (384 ft) of gas pay in an Eocene reservoir. The well also confirmed hydraulic communication with the previous two wells on the Coral structure. Following another delineation well, Mamba South 3, Eni planned to resume exploration drilling in the southern part of Area 4.
•••
Wessex Energy and its partners have completed reprocessing and interpretation of 1,000 km (621 mi) of shallow water data over the Juan de Nova Est permit in the Mozambique Channel, northwest of Madagascar. The seismic data was originally acquired by TGS-Nopec in 2011. The partners will combine the results into a regional review of petroleum systems in the area, with a view to identify leads in shallow and deepwater areas, and have postponed planned farm-in discussions until the review is complete.
India
BP and Reliance Industries plan to invest about $5 billion over the next three to five years on their joint activities in the KG D6 block off eastern India. They are working on various projects to harness around 4 tcf of reserves, including development of the R-series and satellite fields, and drilling to test potential gas below the current reservoirs.
•••
ONGC has claimed a new world record water depth for its latest exploration well in the Krishna-Godavari basin, drilled by Transocean'sDhirubhai Deepwater KG1 drillship. This spudded the NA7-1 well on the KG-DWN-2004/1 block in 3,165 m (10,385 ft) of water, eclipsing the 3,107 m (10,194 ft) record held by sister rig Dhirubhai Deepwater KG2. That well was drilled for Reliance off eastern India in 2011.
Asia/Pacific
Rosneft and ExxonMobil have agreed to extend their cooperation in the Russian Arctic. They will jointly explore seven new blocks, including Severo-Vrangelevsky-1, Severo-Vrangekevsky-2, and Yuxhno-Chukotsky in the Chukchi Sea. The other four are further west in the Laptev and Kara seas. These are some of the world's least explored and more promising offshore areas, Rosneft claimed.
Gazprom has approved the investment rationale for a new LNG plant on the Lomonosov peninsula on Perevoznaya Bay, close to Vladivostok. The proposed three-train facility will have the capacity to process 5 MM tons/yr of LNG, some supplied by gas from fields offshore Sakhalin Island. The first train could come onstream in 2018.
•••
Shell has contracted Technip for two pipelay jobs on fields offshore Malaysia. One involves installing two flexible gas export lines at the Laila and D12 fields offshore Sarawak, respectively 50 km (31 mi) northwest of Miri in a water depth of 75 m (246 ft), and 140 km (87 mi) from Bintulu in 50 m (164 ft) of water. These will be installed and connected to two fixed platforms using the Deep Orient construction vessel. Work is expected to be completed early next year.
For the Mailkai deepwater project offshore Sabah, Technip will lay one 50-km (31-mi) gas line and one 55-km (34-mi) liquids line, plus steel catenary risers, connecting the Malikai TLP site to the Kebabangan platform. Water depth is 650 m (2,132 ft).
Australasia
Santos says installation is complete on the offshore section of the pipeline for the ExxonMobil-operated PNG LNG project in Papua Guinea. This entailed construction of gas production and processing facilities in the Southern Highlands, including onshore/offshore pipeline infrastructure. The offshore section recently underwent pressure testing. First LNG is slated for 2014.
•••
OMV was due to assume operatorship this month of the PEP 51313 permit in New Zealand's offshore Taranaki basin. According to partner Cue Energy, OMV will earn its interest by funding drilling, testing, and completion of the first well on the Whio prospect, 4 km (2.5 mi) from the Maari offshore production complex. Drilling could start in late 2013, pending arrival in the area of theKan Tan IV rig.
More Offshore Issue Articles
Offshore Articles Archives
View Oil and Gas Articles on PennEnergy.com