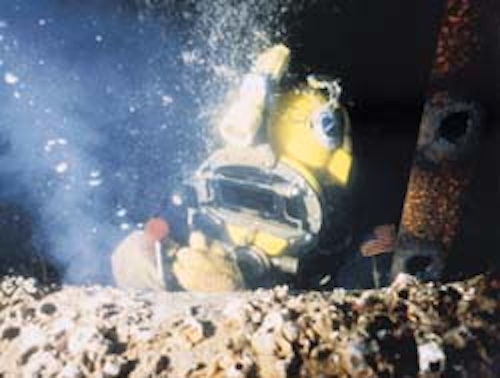 Leonard LeBlanc
Houston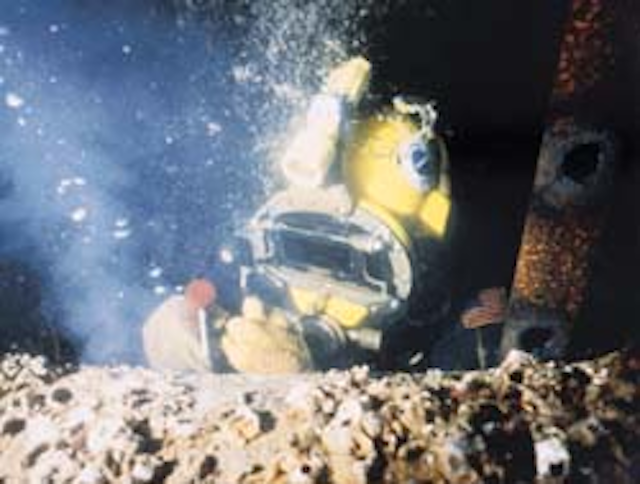 Wet welding, shown here, is undergoing a flurry of research as contractors seek new ways to lower underwater construction costs. Global Divers, the Colorado School of Mines, the US Navy, the US MMS, the UK HSE are sponsoring a joint industry project to improve the performance of underwater welds.
Foam pigs remove paraffin in systems
not designed for them
The Brazilian national oil company, Petrobras, is having enormous success pushing foam pigs through pipes, manifolds, gas-lift valves, and christmas trees not designed for pigging and removing large amounts of paraffins from deepwater production lines. Three early tests of offshore pipelines indicate excellent results:
Pigging of a six-mile long, 12-in. diameter multiphase line by a single pig pushed out 200 tons of paraffin onto the deck of a production vessel.
A Moria Field 4-in. diameter flexible flow line with flow characteristics of a two-in. line, was cleaned out with eight foam pigs of increasing diameter, leaving the line with the flow characteristics of a 3.6-in. line.
The latest success was the 12-mile long Marlim-04 well pipeline in water depths of 3,369 ft. Oil flow from the well was increased to 1,550 cu m/d, from 1,180 cu m/d, and the wellhead pressure reduced to its historical minimum after four foam pigs were run.
Conventionally, thermal and chemical methods are used to dislodge paraffin buildup on production piping and equipment, either continuously or intermittently. Pigging is an alternative, but the presence of valves, tree blocks, various pipeline and manifold tubing diameters, and sharp turns discourages pigging operations.
However, thermal and chemical methods can be very expensive, especially if the well was not designed for such methods. Typically, initial production tests will indicate (pour point, nucleation) whether paraffin deposition will prove to be a problem over the range of temperature and pressure variations experienced during production routing. Then, a paraffin treatment program can be designed into the system. However, when the problem shows up later, there is little to do other than to stop production and deploy cutting tools or attach heat tracing equipment, at great expense.
Petrobras has used chemical (thermochemical) methods on an intermittent basis with moderate success, but the process required mobilization of a completion rig. Research began on ways to mechanically clean the lines with pigs.
The challenge was how to get the pigs through minimum diameter gas lift lines (2.5-in. diameter), through manifolding valves, and christmas trees intact to conduct a reasonable paraffin removal operation on 7-in. diameter production flow lines. The solution was sequences of low-density compressible spherical and cylindrical foam pigs that could be pushed through small diameter pipes and orifices without shredding. Petrobras uses foam densities of 22-33 kg/cu meter and shapes them according to the need.
A Deepstar research committee on hydrates and paraffins has developed a scenerio of thermal, chemical, and mechanical means to attack paraffin production. Less attention was paid to mechanical methods at the outset because of the presumed difficulty and cost associated with setting up pigging loops and the lack of research on foam pigs. Following that Petrobras research and collaboration, that situation has changed.
REFERENCES:
Lima, P., Couto, N., Candido, S., Castello, R., "Cleaning of the world's deepest flowing using foam pigs," DOT Conference, November, 1995, Rio de Janeiro, Brazil.

Pima, P., Alves, S. "Application of low density foam pigs offshore Brazil," OTC 7864, May, 1995, Houston.
Polymer gel inhibits water production
in mature gas wells
While the final results lack clarity, the process of rapidly flowing polymer gels into a formation to block water flow in gas wells is just what British Gas needed on Morecambe Bay. The last ditch effort saved flagging wells.
The method is not predictable on gas wells, even though tried by a number of operators on various fields to stem water flow. Only one in three applications is successful. The polymer works much better on oil wells, because the aqueous polymer solution tends to flow into water zones rather than oil zones, thereby blocking water production.
In gas wells with water production, the rocks in each zone are equally wet, leaving no preference for the gels. However, British Gas believes that rapid flowing of the polymer gel into the producing zone yields a solid unbroken layer in the water zone, but a fragmented layer in the gas zone. In the latter, paths are provided for gas flow. Even in wells that are 100% water producers, gas flow can be redeveloped.
British Gas' ongoing study of the gel water reduction process indicates more study is needed on gels for low reservoir temperatures, the use of magnetic resonance imaging to study gel flow in porous rocks, and extension of the process to solve other types of reservoir problems.
JNOC study seeking
causes of CT yield
Believing that the use of coiled tubing for expanded drilling and completion is being held back by steel fatigue and yield, Japan National Oil Corporation is funding heavily a research program to match problems with steel properties. The study (DEA-107) is being held under the supervision of the Drilling Engineering Association.
Drilling and primary completion work in deeper wells requires larger coiled cubing (CT) strings and higher internal pressures than experienced before in workover and re-completion operations, degrading steel performance. At present, the option is to switch to tougher titanium CT, which carries a higher price tag.
JNOC hopes to developed a fatigue resistant steel or at least a short list of ideal steels especially for CT drilling and completion, to ascertain whether seamless or welded tubing is the best method of manufacture, and to research the use of high-speed diffusion bonding welding to join lengths of CT prior to reeling. To aid the study, fatigue problems will be matched against each steel's yield ratio, elongation, toughness, steel texture, material cleanliness, microstructure, grain size, and other elements.
Copyright 1996 Offshore. All Rights Reserved.