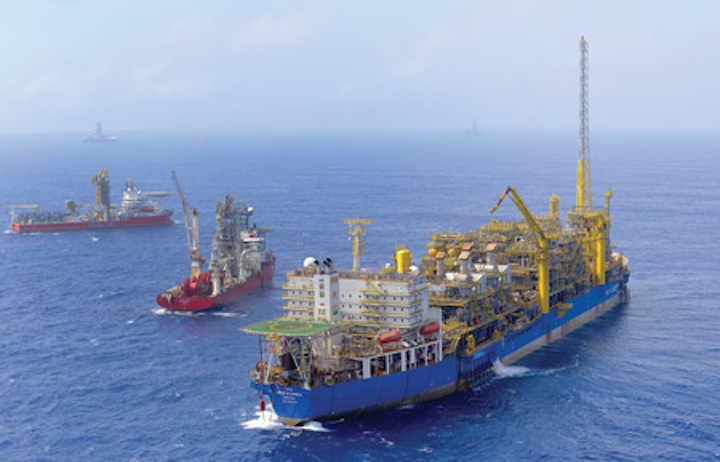 Gene Kliewer
Contributing Editor
Offshore oil and gas operations in Brazil remain confused as governmental investigations into allegations of corruption at Petroleo Brasileiro SA (Petrobras) continue while drilling and production successes mount. At the time of this writing, the ultimate result of official oversight of Petrobras is far from settled.
Now, influences from outside Brazil are being drawn into the melee. Prosecutors are cited as notifying the US Department of Justice (DOJ) that four non-Brazilian companies may have paid bribes to win contracts which could lead to actions under the US Foreign Corrupt Practices Act.
This prospect became obvious when a DOJ investigation of SBM Offshore NV alleging improper payments was dropped after the company agreed to pay the Netherlands' prosecution office $240 million.
In Brazil proper, the Brazilian Institute of Corporate Governance earlier this year told Petrobras that its board of directors had decided to suspend Petrobras for a year. While complimenting Petrobras on its steps to address the issues, the IBGC issued the suspension to give the company time to transform its governance.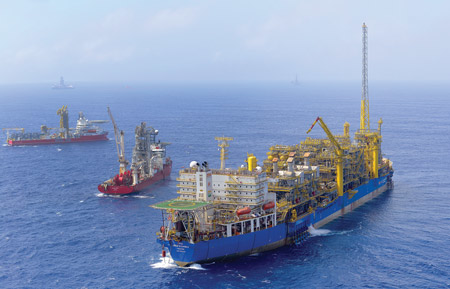 Deepwater and ultra-deepwater discoveries off Brazil feature subsea completions and FPSO production facilities. (Photo courtesy Petrobras)
This past April, Petrobras requested to assist Brazil's Federal Prosecutors Office with seven criminal lawsuits stemming from Operação Lava Jato (Operation Car Wash) in an effort to repair any damages incurred by unlawful acts enumerated by the investigation.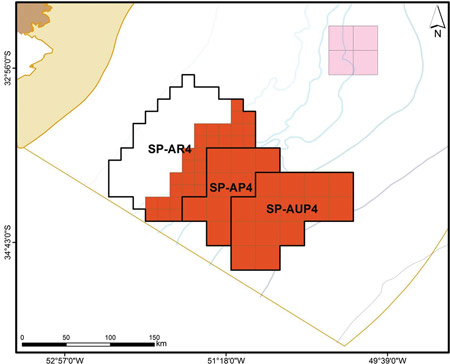 Brazil Bid Round 13 includes these 51 offshore Pelotas basin tracts. (Map courtesy ANP)
Petrobras' balance sheet has taken a hit as a result of the problems. It recorded its biggest-ever loss as a result of a $16.8 billion write-down for 2014. In reporting the loss, the company said about 12% was due to the corruption probe and the rest was due to a combination of bad planning, declining oil prices, downstream projects that did not happen, and the high cost of goods under national content rules. The losses translate into spending cuts which translate into less work offshore.
Petrobras and the government also are negotiating a revision in the existing Transfer of Rights Agreement. Signed in 2010, the agreement gives Petrobras the right to produce as much as 5 Bbbl of oil in certain presalt areas but it also calls for a revision of the contract value after completion of an exploration phase and declaration of commerciality for the blocks covered. Further movement on the agreement awaits completion of assessments by two independent certification surveys, one by a company hired by Petrobras and the other from a company hired by the Agéncia Nacional do Petróleo, Gás Natural e Biocombustíveis (ANP).
Looming for this coming Oct. 7 is the state Bid Round 13 which is to consist of 269 exploration blocks, 84 of them offshore and 51 of the 84 are in the Pelotas basin.
Despite the governance problems, Petrobras continues to record successful operations offshore.
One example is the confirmation of light oil in a second well into the presalt reservoirs of ultra-deepwater block BM-S-8 (Carcará). Well 3-SPS-105, informally known as Carcará North, is in the area of Discovery Evaluation Plan of the discovery well 4-SPS-86B (4-BRSA-971B-SPS - Carcará), 4.6 km (2.85 mi) to the north in 2,072 m (6,798 ft) of water.
Petrobras is the operator of the consortium (66%), in partnership with Petrogal Brasil (14%), Barra Energia do Brasil Petróleo e Gás (10%), and Queiroz Galvão Exploração e Produção S.A. (10%).
The group hopes to resume drilling well 3-SPS-104DA (3-BRSA-1216DA-SPS - Carcará Northwest), continuing the scheduled operations under the Discovery Evaluation Plan.
The Discovery Evaluation Plan of Carcará, approved by the ANP, is expected to finish by March 2018. •