OGA seeking to reverse slide in UK offshore exploratory drilling
Exploration is at the very heart of the oil and gas industry. Without it, there would be no offshore production, an industry in the UK that has generated hundreds of thousands of skilled jobs, formed a vibrant supply chain servicing oil and gas activity at home and abroad, and made a key contribution to Britain's security of energy supply.
Aug 11th, 2016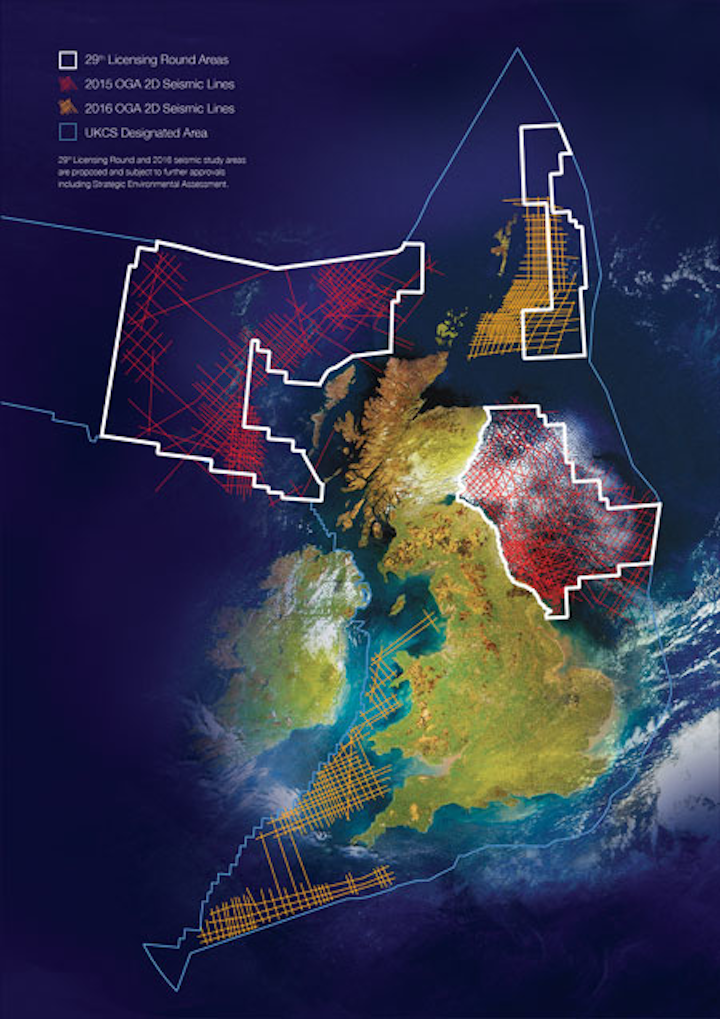 Dr. Nick Richardson
Oil & Gas Authority
Exploration is at the very heart of the oil and gas industry. Without it, there would be no offshore production, an industry in the UK that has generated hundreds of thousands of skilled jobs, formed a vibrant supply chain servicing oil and gas activity at home and abroad, and made a key contribution toBritain's security of energy supply.
Unfortunately, exploration is often the first area to suffer when oil prices dip and given the sustained downturn of the past 18 months, it is no surprise that exploration for new UK offshore resources has fallen to its lowest levels since the 1970s. However, despite the challenges of a diverse basin made up of frontier and mature areas, with increasing operational costs and a diverse mix of companies operating mature assets, there is recognition that significant prospectivity remains on the UK continental shelf (UKCS).
Of the 13 exploration wells drilled in UK waters in 2015, more than half were successful, discovering just over 150 MMboe of technically recoverable reserves. The future viability of exploration on the UKCS is not in doubt and theOil & Gas Authority's (OGA) remit to secure the remaining reserves, underpinned by recommendations from Sir Ian Wood's seminal 2014 report,UKCS Maximising Recovery Review, will reignite interest in exploration offshore the UK.
OGA and its role
TheOGA was established last year following the publication of Sir Ian's review. At this point, a barrel of Brent crude was priced at around $60. Fluctuations in oil price since have created a challenging economic environment for companies across the operator and service sector chain, and following a prolonged period of low oil prices, the impact has intensified. This has underlined the need for a structural change in the way the UK oil and gas industry does business and has galvanized a collaborative approach from government, industry, and the OGA.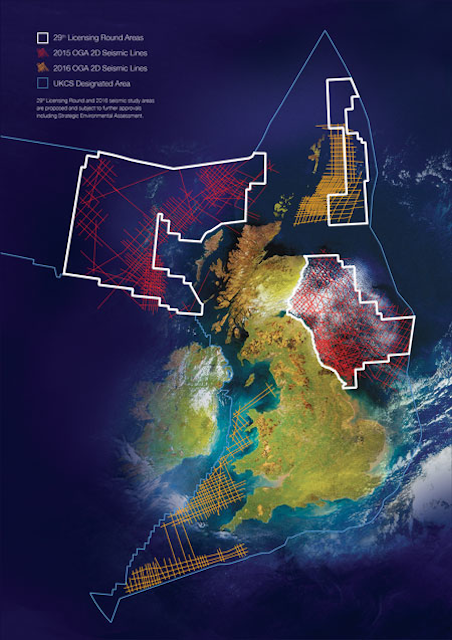 OGA 2015 seismic areas, projected 2016 seismic, and 29th UK licensing round areas. (All images courtesy OGA)
The overarching objective of the OGA is to maximize economic recovery from the UKCS, partly through its role as a regulator, licensing offshore and onshore oil and gas and carbon storage in a flexible and pragmatic way. But the Authority's aims extend to influencing wider industry culture and behaviors, encouraging collaboration, and promoting the UKCS as a basin still very much open for business and investment.
Sir Ian Wood's review stated: "Recovering more oil and gas resources from the UKCS, and attracting more players and investment, will be to the benefit of all parties." The OGA's commitment to revitalize exploration has a key role to play in this regard. Investing in exploration and sustaining activity can help protect skills, minimizing the personal impact on those working in the industry and positioning the UKCS for future recovery.
A mature basin
At first glance of an offshore map of the UKCS, it can be seen that while most of the exploration and production has taken place over the last 40 years, leading to recovery of an estimated 42 Bboe, there remain virgin territories. While OGA's plan to revitalize exploration is looking forward to help sustain a future for the industry, it is also about revisiting areas that have been ignored by industry for decades. In many of these areas, there is no collective understanding of the geology within the industrial community and modern exploration techniques have yet to be applied. Why is this the case, and what can we do as the Authority to stimulate activity that will allow these frontier areas to be re-examined in new light?
In 2015, acting on Her Majesty's Treasury's Driving Investment plan to reform the oil and gas fiscal regime, the UK government provided £20 million ($26.8 million) to fund the OGA's first seismic acquisition program, an initiative devised to significantly improve the sparse modern seismic coverage in under-explored frontier areas of the UKCS, focusing on the Rockall Trough and Mid-North Sea High (MNSH) areas. Frontier exploration has attracted increasing attention as the pressure to find new sources of hydrocarbons has encouraged operators to add potentially high-impact prospects to their established portfolios.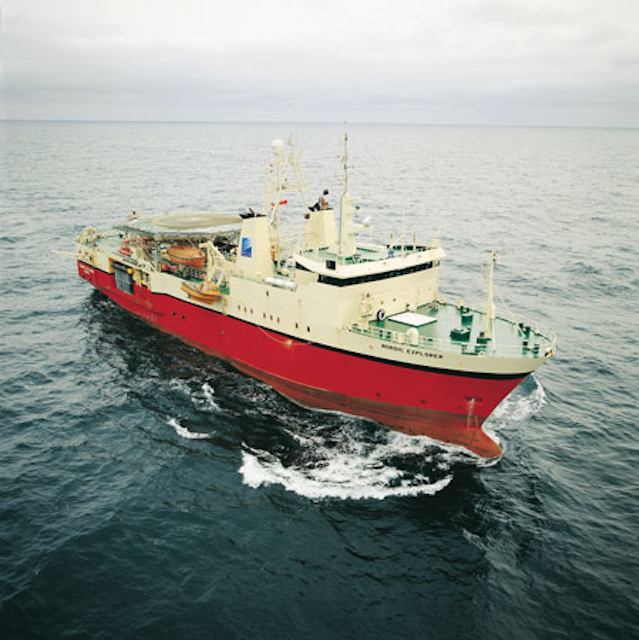 PGS'Nordic Explorer on the East Shetland Platform. 
The Rockall Trough area in the Outer Hebrides offshore northwest Scotland is under-explored, with just 12 exploration wells drilled since 1980. It does have a proven working petroleum system - the Benbecula gas discovery was made in 2000 - but prior to the OGA's seismic acquisition program, most of the geophysical data in this area was acquired more than 15 years ago. In the MNSH area, new advances in seismic acquisition broadband technology, such as longer streamer length and advances in processing technology, have improved deeper imaging, and consequently our understanding of source rock distribution and hydrocarbon migration.
Over five months, the OGA's chosen contractor WesternGeco acquired almost 20,000 km (12,427 mi) of new 2D seismic over an area of 200,000 sq km (77,220 sq mi) without incident and under budget. The Authority, recognizing the importance of quality seismic data to inform future offshore licensing rounds, made the full data packages freely available one year later for download via ukoilandgasdata.com. The data has attracted wide interest within the industry having been downloaded more than 3,000 times by individuals, universities, and companies of all sizes. Uniquely for modern, broadband seismic, the raw "field data" has been made available, opening the use of the dataset to a full-range of innovative applications.
To continue building knowledge of these frontier areas, OGA subsequently launched an Exploration License competition with a total £500,000 prize ($0.67 million) fund to encourage geoscientists and engineers to develop innovative interpretations and products using the data acquired during surveys of the Rockall basin and MNSH areas. The competition received unprecedented interest with more than 60 applications from across the world. Of the 11 projects initially selected, three were recently selected to move forward into the third phase and receive further funding.
The quality of the datasets offers a significant opportunity to improve understanding of the petroleum geology and exploration potential in these underexplored areas through consistent, regional interpretation. Of particular interest are the insights that the data can provide into the petroleum prospectivity of the Palaeozoic section in the mid North Sea. The OGA's program targeted deeper Palaeozoic penetration and also acquired data close to shore to transfer critical onshore knowledge. The 29th Offshore Licensing Round will make these frontier areas of the Rockall Trough, MNSH and part of the East Shetland Platform available for licensing once it launches later this summer.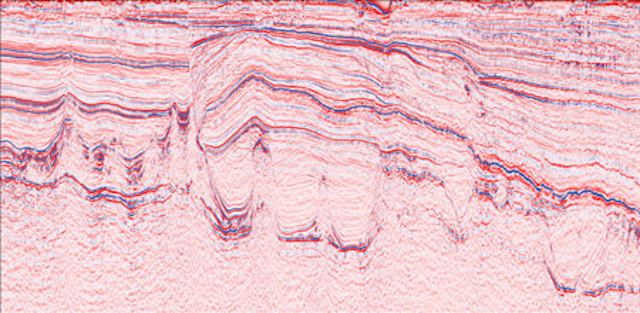 Mid-North Sea High two seismic lines.
More potential remains
Following the success of the 2015 data acquisition, a second £20-million fund was allocated to expand the program. Following engagement with industry and the MER UK Exploration Board, OGA selected the frontier areas of the East Shetland Platform and South West Britain. Both are thought to offer potential prospectivity at a number of stratigraphic levels ranging in age from the Devono-Carboniferous in the East Shetland Platform, to late Mesozoic plays in the South West of Britain. Recently contracts were awarded to PGS and WesternGeco for the East Shetland Platform and South West Britain respectively and their designated vessels are expected to collect between 10,000 and 15,000 km (6,214 and 9,320 mi) of 2D seismic data which will be supplemented by reprocessed legacy data. Acquisition is expected to be completed in late 2016 and will likely be released to the industry during 2Q 2017, ahead of the 31st Offshore Licensing Round in 2018.
Further challenges
However, the lack of high-quality, modern seismic data is not the only obstacle facing the oil and gas industry's exploration community. Wells are expensive and can render small pockets of hydrocarbons uneconomic. As part of the 21st Century Exploration Roadmap (21CXRM) project, OGA completed and published a rigorous analysis of the root cause of failed wells drilled in the Moray Firth and central North Sea between 2003 and 2013. This highlighted the opportunity for significant improvement in technical work to avoid drilling poor prospects, prompting the Authority to implement a pre- and post-drill evaluation quality assurance process with operators, sharing lessons learnt from dry hole analysis.
In addition, the OGA's Exploration team is committed to working with colleagues across the Authority on shared objectives such as decreasing well costs. The Technology Leadership Board's (TLB) Well Construction Cost Reduction workgroup has committed to halving well costs through a combination of efficient adoption of existing technology, adaptation of technologies from other geographies and industries, and development of new technologies. A recent study by the group demonstrated that for a typical normal temperature/normal pressure oil well in the UK central North Sea, the number of days taken to drill the well could be reduced by around 30% by employing technology that eliminates some of the "dead" time spent running casing and also by reducing the likelihood of non-productive time during certain sections of the well. Supporting the deployment of technology and reducing well construction costs could enable an estimated 40 additional new wells per year to go forward and support the unlocking of 5 Bboe of reserves.
The author
Dr. Nick Richardson is currently Exploration and New Ventures Manager for the Oil & Gas Authority, tasked with implementing a licensing regime that encourages high levels of exploration, using analysis and insights to proactively influence and help incentivize exploration on the UKCS. Prior to joining OGA, he was a Senior Exploration Geologist with Dana Petroleum in Aberdeen. His career has included a short spell in the professional services industry working for PwC, followed by various geoscience roles for the Swiss Federal Institute of Technology (ETH Zurich), Shell, and Maersk Oil.