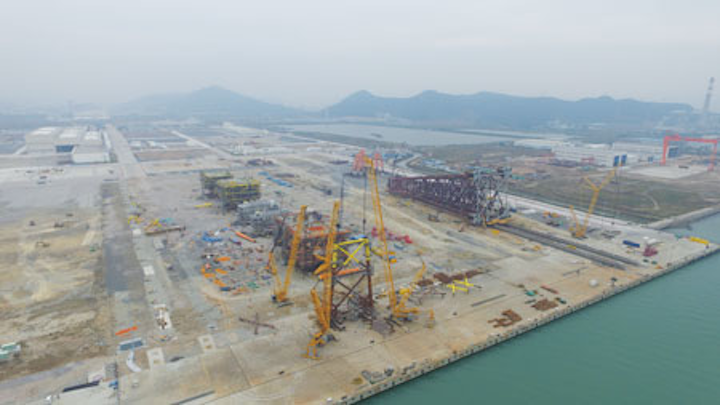 Long-time partners to operate China's Zhuhai fabrication yard


Sarah Parker Musarra
Editor
In August of last year, Fluor Corp. signed with Offshore Oil Engineering Co., Ltd. to form the COOEC-Fluor Heavy Industries Co., Ltd. joint venture. Under the partnership, which will be an independent company under Chinese law, the collaborators will own, operate, and manage the Zhuhai fabrication yard, located near Hong Kong in the Guangdong province of China.
In speaking withOffshore, Gerald Stone, senior vice president of Fluor and chairman of the board for CFHI, explained that the move was an integral part of the company's strategy to progress from being an engineering, procurement, construction (EPC), and maintenance provider toward becoming a more fully integrated solutions company.
"Clients in all markets are demanding capital efficiency and schedule certainty, and Fluor recognized that the best way to deliver these results is through our ability to control projects from concept to installation," Stone said. "The partnership leverages the strengths of both Fluor and Offshore Oil Engineering Co., Ltd. to provide that delivery certainty and capital efficiency our clients are demanding."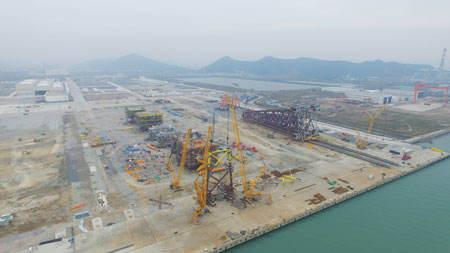 Through the CFHI joint venture, Fluor and COOEC will own, operate, and manage the Zhuhai fabrication yard. Located on the South China Sea, Fluor said it is the largest fabrication yard in the world. (All images courtesy Fluor Corp.)
CFHI is currently in the process of finalizing all necessary approvals and expects to assume ownership, operations, and management of the yard early this year.
Pending these approvals, Fluor will put forward an initial cash investment of $350 million. It will follow that up with an additional $139 million in 3Q 2016. COOEC, who has invested in Zhuhai's development since 2013, will infuse the joint venture with the yard's existing assets, including its buildings and equipment. It will also contribute some cash.
Although the management of the yard will be evenly split between the two companies, COOEC will hold 51% ownership in the joint venture, with Fluor set to hold 49%.
The 'critical path'
For more than a century, Fluor has been engineering and constructing large and complex projects. It has developed a suite of skills diversified throughout a project lifecycle, with mega-project execution; project controls; procurement; commissioning and start-up; project management; health, safety, and environmental management; and quality management as a few of these.
However, the company saw that by not being able to enact control over the fabrication aspect of a project, it lacked the ability to enact total control over aspects like quality, schedule, and cost.
"We realized that when others were performing fabrication on our projects, those companies essentially controlled the critical path of a project and we could not guarantee performance," Stone said.
By owning this piece of the design cycle, Fluor saw that it could offer more integrated services, delivering a project from concept through installation. As a result, it could lower associated costs; reduce the number of required interfaces; and provide a much higher degree of delivery certainty and capital efficiency to their clients, Stone said.
Fluor then set out to make strategic investments and similar global partnerships with fabrication and modular experts to increase its fabrication capacity, and has been doing so over the last few decades.
Fluor teamed with Empresas ICA, SAB de CV to form the ICA Fluor joint venture, which concentrates on Mexico, Central America, and the Caribbean.
The partnership owns the Industria del Hierro (IH) fabrication and module yards, which have been operating since the 1960s in Tampico, Mexico. Mata Redonda and El Empalme yards comprise IH, with the former yard housing offshore platforms and large-scale module projects and the latter accommodating modules.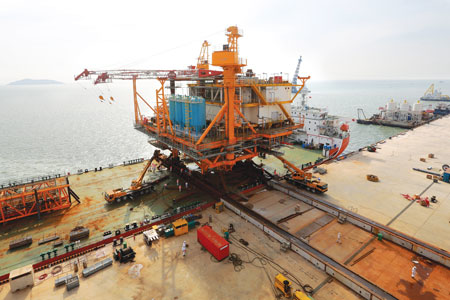 Fluor has steadily worked to grow its fabrication and modular construction business through joint ventures. Zhuhai will be its fifth fabrication yard.
Fluor next partnered with AG&P in 2012 to operate the Batangas yard in the Philippines, which focuses on the Asia/Pacific market.
After maintaining a 60-year presence in Canada, Fluor joined up with Supreme Group to create Supreme Modular Fabrication Inc. not even a year later, in 2013. The equitable partnership offers module assembly and fabrication from its Edmonton, Alberta-area module yard.
The Sakhalin Island, Russia yard is operated by joint venture ANGS. Formed in 2014, it is comprised of Russian construction specialist CJSC OrenGroup and Fluor Daniel Eurasia, Inc.
With this increased fabrication capacity bringing the company success by affording it the control it had been seeking, Fluor looked to further the scope of its strategy.
"With the efficiencies created at other yards, Fluor was looking to expand our capability to deliver that same control in fabrication for the world's largest projects," Stone said. "The Zhuhai fabrication yard provided that opportunity."
With Fluor and COOEC's CFHI partnership on Zhuhai, Fluor will up its global fabrication presence to five yards and expands its regional presence.
"Ownership, operations, and management of the Zhuhai fabrication yard, the largest in the world, allows us to control the critical path of a project - fabrication. We can now manage a project, no matter the scale, from concept to installation, and provide that delivery certainty," Stone said.
Cost-savings is always top-of-mind for oil and gas companies, but with crude crashing below $30 at the beginning of 2016 and the industry facing the "lower for longer" market scenario, high levels of efficiency and lower costs are more imperative than ever.
The right opportunity
The two EPC giants have a 15-year history together, which they hope to build upon with this latest joint venture.
In November 2009, Fluor and COOEC entered into a formal alliance to pursue offshore projects in the Asia Pacific region, including China and Australia. It focuses on both shallow-water and deepwater projects, as well as fixed and floating projects. In a statement made at the time the venture was announced, Fluor also said that the alliance was open to being leveraged globally in other regions and industries.
The companies later partnered together on the phased Bohai Bay development project, which was recognized with an award from operator ConocoPhillips.
"We know each other well and respect each other, and the joint venture builds off this relationship," Stone said, explaining what drew Fluor to the partnership.
In 2013, COOEC had made its initial investment into Zhuhai's development when discussions were occurring with Fluor concerning further collaboration opportunities as a part of the 2009 alliance agreement.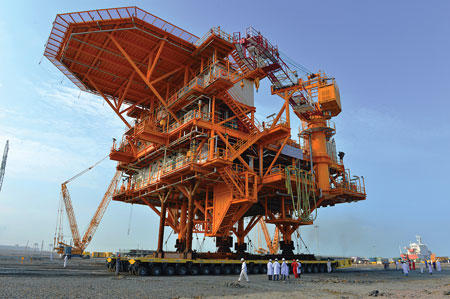 Zhuhai will allow Fluor to offer turnkey solutions despite a project's size or scale.
The topic of the Tianjin-headquartered company's then-new investment in the Zhuhai yard was introduced. After analyzing the yard's capabilities, it became clear to Fluor that this joint venture was the right answer, with Stone calling it the perfect opportunity. Less than two years later, the partners committed their plans to paper.
"Of the various opportunities we explored to strengthen Fluor's fabrication opportunities, the Zhuhai fabrication yard offered unparalleled advantages in terms of scale, design, and location, and is the best way to strengthen our fabrication capabilities and serve and grow our client base," Stone said, noting that Fluor also foresees opportunities in the FPSO and decommissioning sectors to result from the joint venture.
Stone said that this joint venture built on the two EPC companies' respective, complementary strengths. He explained that Fluor contributed the processes, procedures, and management capabilities to do "some of the world's largest and most complex jobs, in the harshest and most remote conditions," while COOEC brought the expertise and experience in fabrication, with a cost-competitive execution model.
He went to describe COOEC as "extremely dynamic and competitive in the global industry," noting that they also have extensive downstream assets; along with offshore heavy lift; construction and pipelay vessels; as well as a growing fleet of subsea vessels.
Zhuhai yard
Located in the Zhuhai Gaolan Port Economic Development Zone, Stone said that the yard was positioned "at the epicenter of growth" in its oceanfront home along the South China Sea, pointing out that this access to global markets and to the region's many suppliers and vendors could result in cost savings for the joint venture's clients.
Ground was broken at Zhuhai in 2013, and its first load-out occurred last year. In the short time since, the yard can already list both China National Offshore Oil Corp. (parent company of COOEC) and PTT Public Co. Ltd. as customers, with Stone noting that it had already built a strong reputation for meeting fabrication needs in the Asia Pacific region.
Fluor says Zhuhai is the largest yard in the world. At 2 million sq m (21.5 million sq ft) - the size of 312 regulation soccer fields - the yard can accommodate fabrication modules weighing more than 50,000 tons (45,359 metric tons), or around the size of a cruise ship. Its assembly hall could house two Boeing 747 airplanes. Its facilities are likewise large in scale: Its climate-controlled blast and paint facilities alone cover more than 34,000 sq m (36,5972 sq ft).
"With the size of these facilities, we can paint major components for topsides and hulls in one piece, fully assembled, rather than painting pieces and then assembling them," Stone said.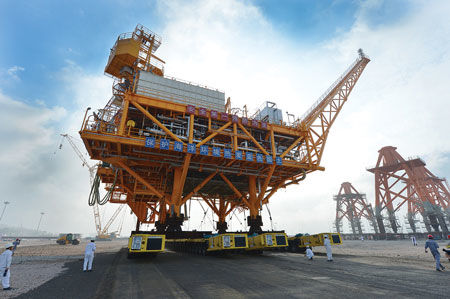 The Zhuhai yard has three new projects set to begin in 2016. It has already fabricated projects for China National Offshore Oil Corp., COOEC's parent company.
The yard was specifically designed for the fabrication of large, modularized facilities, so there is efficiency in its design. The workflow starts at the back of the yard and moves toward the quayside, so it reduces transportation requirements. Items always move with the direction of the work, alleviating the need for unnecessary transports.
Additionally, with its 2 km (just under 1.25 mi) of quayway and three skidways, the yard will maximize volume throughput for mega-projects on a tight schedule, Stone said.
Zhuhai is being developed in stages. Phases I and II, which optimized the material flow and load-out, have already been completed. Phase III is slated to start later this year, and will round out the yard's service offerings.
Upon completion, the yard will hold engineering offices; three warehouses; and several workshops, including steel-cutting, structural-welding, blast and painting; and piping and outfitting.
Build-out is expected to be completed in 2019, when the partners expect to achieve a capacity of around 400,000 metric tons (440,924 tons) per year. Zhuhai's current capacity is 100,000 metric tons (90,718 tons) per year.
The long-term goal of the partnership is to set the new standard for delivery certainty of offshore and onshore fabricated projects.
It is all about the delivery certainty - to be a 'one-stop shop' for these projects," Stone said. "By being able to control a project's destiny, we can deliver the budget, schedule, quality and safety results our clients need."