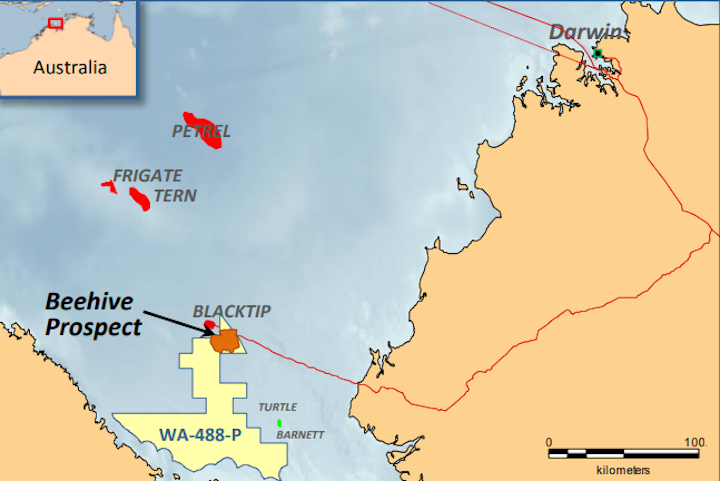 (Courtesy Melbana Energy)
Offshore staff
MELBOURNE, Australia – Santos has taken up an option to acquire a 40% interest in the WA-488-P permit offshore northwest Australia from Melbana Energy.
However, TOTAL E&P Australia Exploration has decided not to exercise a similar option, leaving Melbana and Santos as the remaining partners.
The decisions follow a review by the two companies of a newly processed 3D survey over the 388-MMboe Beehive prospect and surrounding area.
Santos can now acquire an extra 40% in the permit in return for funding full costs of an exploration well on the Beehive. If it does not agree to the new offer, Melbana will retain a 100% interest.
Melbana Chairman Andrew Purcell said: "Santos' recently announced decision to acquire the northern Australian assets of ConocoPhillips, consistent with its aim to be a leading regional LNG supplier, make it a particularly exciting time for the energy sector in northern Australia.
"There is a great deal of interest from industry in these developments and we are confident that our Beehive prospect has a role to play there given other recent regional successes, its shallow water position close to existing infrastructure and the increased confidence in the prospect resulting from the newly processed 3D seismic survey…"
11/05/2019