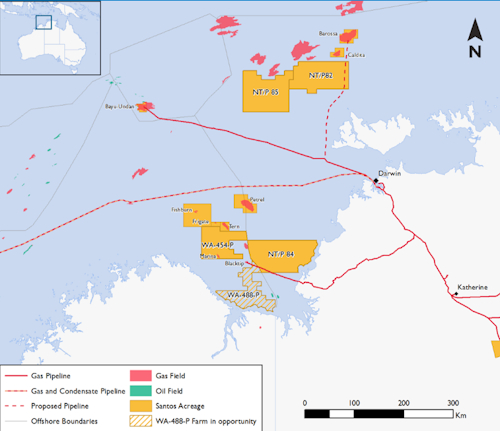 Offshore staff
ADELAIDE, Australia – Santos has reached agreements that will lead to an alignment of its interests in four exploration permits in the Bonaparte basin offshore northern Australia.
Following a transaction with Beach Energy, the two companies will become 50/50 partners across the NT/P82, NT/P85, NT/P84 and WA-454-P permits, all of which Santos will operate.
NT/P82 and NT/P85 are south of the Barossa project area, over which Santos commissioned the 4,347-sq km (1,678-sq mi) Bethany 3D seismic survey in 2018.
Front-end engineering is under way for the Barossa field, which is currently the front-runner to provide future gas supplies to the Darwin LNG plant.
NT/P84 and WA-454-P are close to the Petrel/Tern/Frigate field complex in the Petrel sub-basin. Under separate agreements with Neptune Energy, Santos will assume a 100% operated interest in the Tern and Frigate fields and 40.25% of the Petrel field, both subject to approvals.
Santos' managing director and CEO Kevin Gallagher said: "This alignment of equity and operatorship will allow for a more strategic approach to the next phase of exploration in the region...
"The next step for these permits is to evaluate new and existing seismic data to build inventory and define potential targets for drilling within the next few years. Permits NT/P82 and NT/P85…will be a key focus for this work."
Last month Santos delivered first oil from the Van Gogh infill project, a subsea tieback to the FPSONingaloo Vision in the Exmouth basin offshore Western Australia.
Work on the project started last September and involved drilling and completing two subsea wells and connecting them into existing offshore infrastructure.
The two dual-lateral wells were designed to access bypassed oil not drained from the original wells. The program entailed drilling 3,500-m (11,483-ft) long horizontal sections in the reservoirs at a depth of only 950 m (3,117 ft) below the seabed.
Production fromVan Gogh began in 2010, with the nearby Coniston and Novara fields tied back to the FPSO in respectively 2015 and 2016. Santos operates the Van Gogh-Coniston-Novara project with a 52.5% interest.
02/25/2019