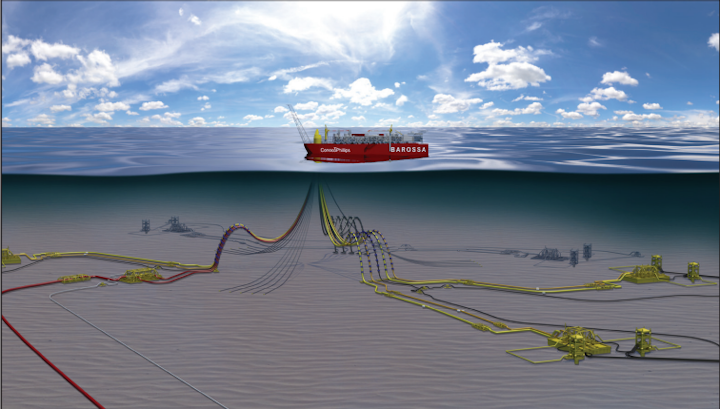 (Courtesy ConocoPhillips)
Offshore staff
ADELAIDE, Australia – Santos has agreed to buy ConocoPhillips' northern Australia business for $1.39 billion, plus $75 million contingent on a final investment decision (FID) for the Barossa field development.
The deal brings Santos operated interests in the 3.7 MMt/yr-capacity Darwin LNG complex, and the Bayu-Undan, Barossa, and Poseidon fields in the Timor Sea.
Barossa FID should go through by early 2020. The plans call for subsea wells tied back to an FPSO for gas processing and condensate export, with a 260-km (161-mi) pipeline transporting the gas to the existing Bayu-Undan pipeline for onward delivery to Darwin LNG.
Contracts have been issued for the subsea production system and gas export pipeline, and exclusive negotiations are in progress with Darwin LNG for the supply of backfill gas.
Evaluation of tenders continue for the FPSO, subsea umbilicals and flowlines and drilling rig packages.
Barossa should generate first LNG in 2024. Santos estimates development capex to first gas at around $4.7 billion, with the field extending the operating life of Darwin LNG by over two decades.
Life extension work at Darwin LNG will incur capex of around $600 million associated with Bayu-Undan end-of-field life work and start-up of Barossa.
Santos aims to reduce its operated equity in the projects to 40-50%.
Wood Mackenzie senior analyst David Low said: "South Korea's SK E&S is expected to make the first move and acquire 25% in Bayu-Undan and Darwin LNG.
"Gaining equity alignment across the Barossa project and the Darwin LNG plant would remove a key hurdle for taking FID on the Barossa project.
"This further consolidates Barossa as the leading backfill candidate for Darwin LNG, and puts in place an Australian operator for whom field development will be a portfolio priority."
But although Barossa might be an attractive brownfield investment, it is also a large and complex project, Low pointed out. Executing the development on time and on budget will test Santos' credentials.
Acquiring control of Darwin LNG also offers the company a future option for monetising other stranded gas fields in the area such as Petrel, Tern, and Frigate.
Low said ConocoPhillips will probably redeploy the proceeds from the sale into its North American unconventional and Alaskan positions. Earlier this year the company divested its Timor Sea Sunrise and UK North Sea interests.
"This will not be the last big deal in the Australian M&A scene, and we are confident there are more major transactions coming down the pipe."
10/14/2019