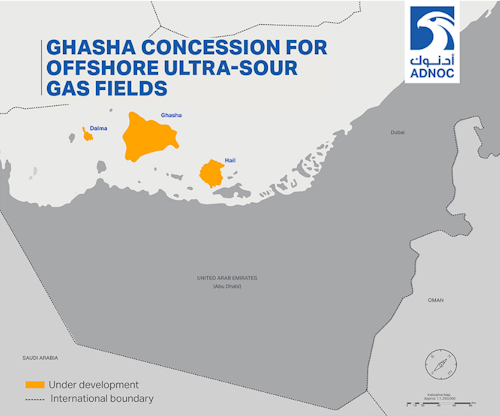 (Courtesy ADNOC)
Offshore staff
ABU DHABI, UAE – The Abu Dhabi government and the ADNOC have awarded PJSC Lukoil Oil Co. a 5% stake in the offshore Ghasha ultra-sour gas concession.
This comprises the Hail, Ghasha, Dalma and other sour gas fields.
The award marks the first time that a Russian company has joined an ADNOC concession.
ADNOC maintains a majority stake in the concession, which also includes Italy's Eni, Germany's Wintershall Dea, and Austria's OMV.
By about 2025, the Ghasha mega-project is expected to produce more than 1.5 bscf/d of natural gas, which is said to be enough to provide electricity to more than two million homes. Also, more than 120,000 b/d of oil and condensates are expected to be produced.
In addition, ADNOC, Lukoil, and the Management Company of Russian Direct Investment Fund have signed a framework agreement to explore potential future cooperation in relation to the Ghasha concession.
10/15/2019